Monday Conversation #2: Big James Stewart
Everybody knows Big James, the ever-present and outgoing father of Amp'd Mobile Supercross Series leader James Stewart. Big James is always at the podium celebrating when James wins, and he's always there when things don't go well for his oldest son. Either way, he's always fun to talk to.
James Jr. likes to do his post-race Monday Conversations after a win, but we thought this time he might get a break and listen to Dad speak instead. We surprised Big James after the press conference, but maybe we stepped into something....

Racer X: Hey Big James, we decided you're doing the Monday Conversation instead of James.
Big James: Hey, I'm on probation! I'm not allowed to do any interviews. On probation.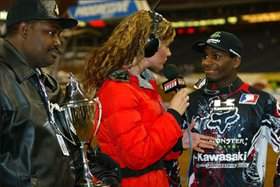 Big James listens in on his son's interview with Erin Bates.

What's that about, some secret?
[Smiles] No, he said I sometimes kinda get him in trouble with my arrogant talk.

James said that?
Yeah!

So how was this evening for you? You enjoyed it?
I enjoyed it. I love coming to Texas. Last year I had the opportunity to go to the drag race; this year I'm going to fly to Pomona to the drag race.

Where'd you watch that main event?
Down on the floor, where I normally go.

Were you into this one?
Very much into it.

First lap, he comes around fourth or fifth, what are you thinking?
First lap, I noticed Chad was a couple positions ahead of him. I said, "That's good." I knew he was either going to push Chad around or Chad was going to drag him around.

He lined up two passes in a row in those "outside whoops," as they called them. Did you get a view of those passes?
No, but some of those and lines on the track we talked about. That was the strategy going in. We didn't want to be in that position, but unfortunately it happened that way.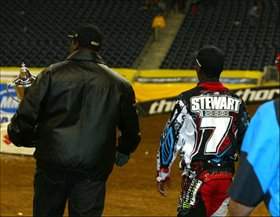 Big James carries another trophy

Math question, do you have the points lead number?
Eighteen?
James Jr: Twenty-one!
So I'm a week behind on points. We're trying to win a championship!

So are you in there giving James advice before a main event?
We talk a little. I advise every time we talk. It's just how we communicate. We go to different parts of the track and look for different options, different obstacles to look for. We talk about all these things.

Just when he stepped away from the podium, TV grabbed you and him both and you talked a bit. You seemed as happy as he did!
I'm always happy. This is Big James! This is me. I'm always happy. You guys know that. Everybody knows Big James. I'm always happy.

A couple of races ago, we chatted and you said, "Don't go saying nothing about boring races!" Was this a good one?
Very exciting. You know why it's exciting? We work hard during the week. I mean, we work extremely hard during the week. This guy [pointing to James] is mad at me when we go to the track, but you know what? When we get to the weekend he is going to be smiling. I push him and I push him and I push him.

When he's in Florida, are you out at each practice day?
Everywhere.

Do you keep lap times or just time on-track?
Lap times are something to get you in trouble. We don't keep lap times. I don't even do it at all. I think it's overrated.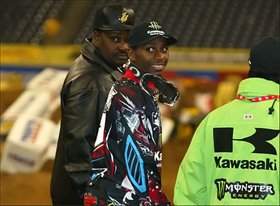 Big James pushes his son to be the best

Do you follow the internet much during the week?
I bet I haven't done that in a year and a half. Well, I'm on eBay now. I'm an eBay guy!

David Bailey just released a video asking the top riders to stand for something and get behind this new Leatt Brace neck brace. Do you or James have an opinion on that?
I think it's cool. And I'm all about chest protectors. James will tell you, I ride him all the time about chest protection. You put these things on your whole career as an amateur, then you get pro and all of a sudden it's not cool as a pro. We're looking to change that.

[To James Jr.] Okay, how did he do?
James Jr.: He did good. He's off probation now!