450 Words: Houston
February 12, 2007 11:02am
Where have all of the heroes gone? Watching Houston over the weekend—another James Stewart romp—one was left to ponder a bleak near future for everyone not wearing a green shirt. Stewart climbed from a mid-pack start to the lead in a sensational first six laps, but the rest of the race was a case of waiting to see how far Kevin Windham would fade and wondering what's going on out there.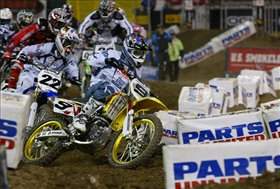 RC called out Ivan on the CBS broadcast
We can start with
Chad Reed
. The San Manuel Band of Mission Indians rider was off his game for much of the race, losing three more valuable points to Stewart, who now has a lead that measures nearly one full race. Reed just didn't look solid or settled out there. His shoulder injury is now more than six weeks behind him, and while he's been impressive for someone riding hurt, he's losing too much ground on Stewart to stay in this title hunt much longer. Reed's fastest time was a full 1.3 seconds off the winner's, and Chad started in front of the red-hot Stewart.
It was great to see Windham out front and, as
Ricky Carmichael
pointed out from the booth, this is the race where he usually gets going. But once he fell back to third behind James and Chad, Kevin began to flounder. Maybe it's because it's been so long since he's been a factor, but the last few laps were hard to watch for any K-Dub fan, as #14 was having a hard time looking his usual smooth self—let alone riding as fast.
Ivan Tedesco
got called out a little by RC on CBS, but it was deserved. After losing touch with the leaders, a mid-race spill allowed
Travis Preston
,
Michael Byrne
, and
Heath Voss
—all former factory riders—to get around him. Worse yet, he did not pass a single one of them back.
The struggling wasn't limited to the preseason contenders. Butler Brothers MX team leader
Jason Thomas
failed to qualify, as did MDK's
Nick Wey
, who popped his thumb out of place in a heat-race crash.
Josh Summey
, the Moto XXX rider with top-ten speed, also failed to qualify in Reliant Stadium.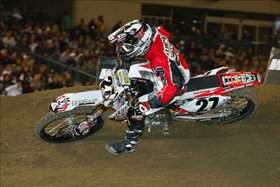 Nick Wey, a podium contender, missed Houston with a dislocated thumb.
Team Solitaire's
Ryan Clark
did make it, but it's now six races into the 2007 season and Clark has yet to make the top 15 in the main event. The same goes for Kyle Lewis, who, like Clark, is much better than his results have shown this season. The Moto XXX team leader was 18th in Texas.
Is it the new qualifying scheme that has the veterans struggling? Is it the seemingly more technical tracks? Is it the frantic pace being set by Stewart that has just about everyone else off their game? (Well, everyone but
Tim Ferry
, who gets to see Stewart ride more than anyone as his Monster Kawasaki teammate—Ferry has finished in the top five in every race of the season.)
Don't look for a change anytime soon: Stewart loves San Diego—that's where he won the first SX race of his career back in 2002—and Carmichael is not stepping back out of the broadcasting booth until Atlanta.