Rev-Up: The Great Southern Supercross
[Author's note: Throw some Pantera in your headphones while you read this for the full effect. Whoever correctly calls out the number of Pantera references I made in this week's column gets stickers.]


Hello, everyone, and welcome to the Rev-Up. This weekend, the 2007 Amp'd Mobile AMA Supercross Series will move out of the flatbill metropolis of Southern California and into the wide-open spaces of Southern Texas. And after what I saw and heard last weekend, the timing couldn't be any better. Clearly, the contingents of Southern California motocross fans have grown spoiled, what with their good fortune of getting to enjoy three rounds of racing action in the course of a month. I mean, give me a break—booing a cat for putting on a hell of a show? What is your major malfunction, folks?
Sure, it is every fan's right to do whatever they want with the ticket they paid for, and I am not losing any sleep over the Bentley-and-Lamborghini-driving Stewart having to endure a sound lashing form the crowd. What has me steamed and perplexed is how selfish and ungrateful last week's crowd came off. After all the bad noise about Stewart running away and the remainder of the series being a snoozer, we saw a sweltering 20-lap battle for THE LEAD! And yet you boo?
Let's see how the folks down South feel about their opportunity to watch the madness unfold. Those Texans are one of a kind, so let's get Revved Up about why they'd better be ready to rock this weekend.
Supercross Lites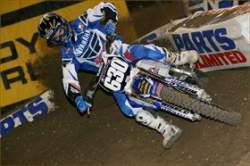 Matt Lemoine has been riding well all year
photo: Simon Cudby
There has been some insane racing going on with these boys. From the desperation of
Josh Hansen
to the plight of
Josh Grant
to the week-in-and-week-out consistency of
Jason Lawrence
, there is a lot more to get excited about than RV Park's vulgar display of power. There is a cryptic warning out West that says we may see a challenger for the premier-division title quicker than we thought. He gets good starts, doesn't fade, and doesn't seem to crash. Simply put, he has mastered the art of shredding. As we mosh into this Saturday night, I would keep an eye out for Mathew Lemoine to take it around the track with a little extra sauce. He's from Louisiana, but he has spent many a weekend railing Texas loam. And I have to give a special shout-out to
Kyle Cunningham
. Ol' boy has had a tumultuous season so far. Over the bars at A1, got Hansened in Phoenix, and then took a YZ250F to the chest a week later. He was back last weekend, and I think he'll let his mouth for war be heard this time around for his home-state race.
Supercross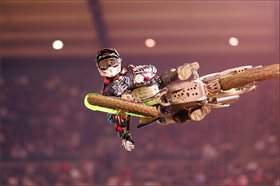 1-1-1-2-1 = Domination
photo: John Clark
Make no mistake,
James Stewart
has taken it to a new level of confidence and power. No doubt, #7 has reinvented the steel in ways that baffle the mind. Watching
Bubba
ride five minutes alone on the track is enough of a show in itself, but that isn't supercross racing, folks. The race requires you to overcome 21 other vultures breathing heavy behind the gates. It's 20 laps of mayhem that most regular people would say borders on chaos. And lately, one man has been bringing the pain in a big way.
How cool is it to see "The Thunder" back in the game, guys? When Reed is running on all eight cylinders, he is a joy to watch. Chad rides with attitude, and you can tell when he's determined and truly in the mood to battle. The past two weeks have been good to Chad. They delivered with stuff that dreams and championships are made of: confidence. He was in the hunt in San Francisco and brought out the fishing pole and did some reeling at A3. I think he wants some more. I think he is ready to break out the primal concrete sledge and pound his way to a win.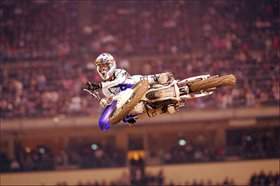 3-3-2-3-2 = Lurking and very much in the hunt
photo: John Clark
Now grab a knee, folks. When these two animals start trading paint and throwing some block passes at each other, take it for what it is! Respect that you are watching two of the nastiest supercross riders on the planet laying it on the table and will be witnessing strength beyond strength. Don't freaking boo! But I don't think that's going to be a problem this Saturday night - Texans do everything big. Those people down in the Dirty South thump their chests about the fact that they live deep in the heart of Texas. These cats are devoid of the fickle L.A. scene, where everyone is trying to be cool. We don't need that anymore, it's on sale at the freakin' dollar store! In Texas it is take no prisoners and take no shit. It's home of the Cowboys From Hell, and it's time to get it on.
Thanks for reading, see you next week.