Welcome to the Shift Number Cruncher. Let's start by going back to the season-opening press conference, where someone asked Stewart if he could win a championship this year, or would he continue as "the Peyton Manning of Supercross."

Well, in a 24-hour period, from Saturday night 'til Sunday night, this statement had to ring in James' mind as he completed his sweep of Anaheim, extended his points lead to exactly 18, and then watched #18 Peyton Manning claim his first Super Bowl ring! Right now, being "the Peyton Manning of Supercross" must be looking pretty good to James.

So in Manning's honor, and with the help of some of my colleagues, I've dug up some guys who've raced with the #18 from around the world. Enjoy.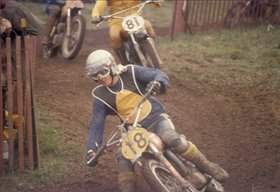 Torleif Hansen
Wallenberg Archives


Torleif Hansen
Check out this super-old-school picture of Torleif Hansen taking care of business at the 1971 St. Peters, Missouri Inter-AMA race. Hansen was one of those Swedish motocross gods who helped teach America how to race, like Torsten Hallman, Rolf Tibblin, Ake Jonsson, Bengt Aberg…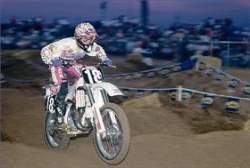 Jeff Emig
Courtesy of Moto Verte
Jeff Emig
Nineteen-ninety-one was a breakout year for Jeff Emig. He rode his first few 250 supercrosses and won four rounds of the 125 West Series. He almost won the title, but McGrath came back at Oklahoma City and rode with a broken leg to capture his first professional title.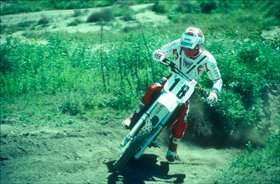 Scott Burnworth
Racer X Archives
Scott Burnworth
This is a gorgeous shot we found of our old friend Scott Burnworth railing a loamy California berm, circa 1986. Check out the
Where Are They Now we did on Scott
a couple weeks ago.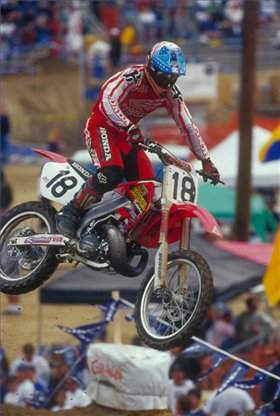 Ryan Hughes
Racer X Archives


Ryan Hughes
Here's Ryno charging at the 1999 Glen Helen National. Hughes goes down in the books as one of the fastest and most determined racers of his era. He earned number 18 twice in his career ('93 & '99).Hughes is now racing WORCS bikes with another famous championship number, albeit one with a few more titles than Manning: 4.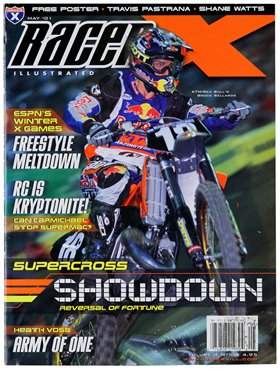 Brock Sellards RXI Cover
Brock Sellards
Ohio's Brock Sellards has been around for a long time. He has been beaten down time and again, but he is still making a good living for himself racing motorcycles. "Cool Brock," as he was called in his younger years, is still winning races on the arenacross circuit. He wears the permanent #18 right now, and he even ran it on the Racer X cover a few years back while riding for KTM.
Racer X Canada
's Danny Brault sent us these #18s: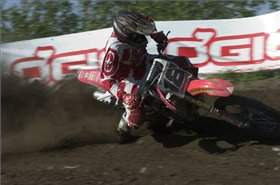 Kyle Keast

photo: Jason Griffiths
Kyle Keast
Kyle wore #18 on the way to his first Canadian National MX1 podium at the Gopher Dunes round in 2006.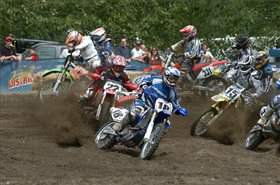 Julian Cerny

photo: Jason Griffiths
Julian Cerny
Calgary, Alberta's Julian Cerny raced with #18 in 2005. Cerny finished sixth overall in the Plus 30 Pro class at the World Vet Championships last fall.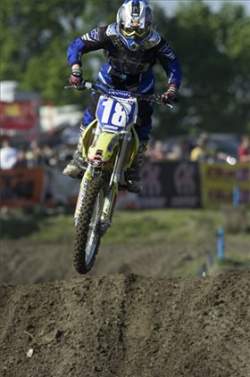 Malerie Prochnavy

photo: Allison Kennedy
Malerie Prochnavy
Reigning Walton TransCan and Western Canadian National Champion Malerie Prochnavy.
Road Racer X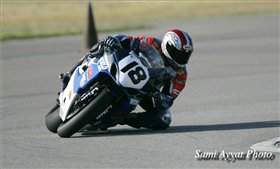 Ulrich
photo: Sami Ayyat
Check out this Sami Ayyat shot CJ sent us. It's
Chris Ulrich
, son of
Roadracing World
editor and M4 EMGO Suzuki owner John Ulrich and a longtime fixture on the AMA scene. He's also a journalist, and he runs the www.roadracingworld.com team. He has finished an AMA series as high as third (250cc GP class, 1999), and he won the Laguna Seca round of the 2001 750cc Superstock class.
Other Notables
-
Stephane Roncada
wore #18 in 1998 for Honda of Troy and won the Minneapolis SX.
-
Todd DeHoop
earned #18 twice in his career (1989 & 1996).
-
"Factory" Phil Lawrence
raced with #18 in 1994 on Suzukis.
-
Keith "Bones" Bowen
earned 18 for the 1992 season
-
Fred Andrews
was #18 in 1988 and '90.
-
Danny "Magoo" Chandler
raised eyebrows in 1984 with the #18, but then he ended up going to Europe for a KTM factory ride.
-
Mike "Too Tall" Bell
, the former SX Champion for Team Yamaha, ran the #18 in 1983 as his career was winding down.

Other Stuff on #18
Eighteen is a pretty substantial number. As the legal drinking age in Canada and the age sufficient to go to war, I found an uncanny number of odd facts associated with the dozen-and-a-half digit. The remains of the spacecraft that allegedly crashed to the ground near Roswell, New Mexico, now sits in Dayton, Ohio, in "Hanger 18." On page 18 of the 2007 Amp'd Mobile Supercross Souvenir Yearbook there is a picture of James standing between
Chad Reed
and
Ricky Carmichael
celebrating his Las Vegas win. February 18, 2007, is the Chinese New Year. The date will also mark the 48th running of the Daytona 500. A spooky fact about that is that during the 2001 event there was an 18-car pile up on lap 173. Then on lap 199 of 200, Dale Earnhardt lost his life when he hit the wall – on February 18th.
That's all she wrote. If you have any other #18s worth mentioning, send them to me at
andy@mxsports.com
and we'll get you in the Redux.