Bench Racing Ammo: A Broom in the House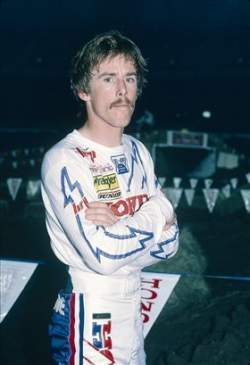 The Silverdome was hit by The Hurricane nine times
Courtesy of Moto Verte
Five years ago, promoters took notice that the Anaheim Supercross never seemed to have a problem selling out. And with the series getting fired up during the crisp winter month of January, where better to hold three races? Since the three-Anaheim seasons started back in 2001, some riders have come really close to sweeping it. In 2001, Jeremy McGrath came out swinging and knocked down wins at the first two races. Ironically, it was
Ricky Carmichael
who not only kept him from the sweep but single-handedly ended the winning part of Supermac's career when he busted the whip heard around the world at the third stop and never looked back.
Carmichael would go on to win two of the three rounds in 2003 and 2005, but each year the win at the first Anaheim remained elusive, and thus the broom remained in the closet for The GOAT. Coincidentally, the man who came 1.5 seconds from stopping Stewart from the first ever sweep of Anaheim almost swept the venue in 2004, when
Chad Reed
won the first two visits before being beaten by
Kevin Windham
on his third try.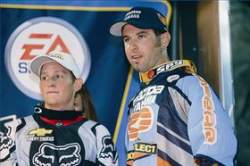 The King and The GOAT each have eight wins at The Big A
Courtesy of Moto Verte
While Anaheim is the only current venue that sees multiple visits, there used to be a round where a rider could score 50 points in a single weekend. From 1977 to 1993, the Pontiac Silverdome held a doubleheader weekend that saw quite a few riders make good on the 50-point sweep. During this time frame, Damon Bradshaw, Rick Johnson, David Bailey, Donnie Hansen, and Bob Hannah were all able to sweep both nights of racing. Nobody owned Pontiac like "The Hurricane," though: Buckwheat won the Pontiac Supercross nine times, including an astonishing six in a row! That is domination that not even the King of Supercross, Jeremy McGrath, or current points leader
James Stewart
have seen. In addition, Reed had to be bummed they decided to mow down the Silverdome last year, because he had won the race three times in a row.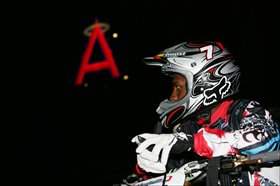 This year, James Stewart performed the first Anaheim hat trick

photo: Simon Cudby
All the same,
James Stewart
is the only rider in supercross history to win three supercrosses at a venue in the same year. As for all of the "New King of Anaheim" hype—not so fast. With eight career wins, including four in a row, nobody can call Anaheim his house but McGrath. But the amazing Mr. Stewart now has a golden broom in the closet at Jeremy's house, and unless someone stops him, there may be a new name on the front door soon.