Monday Conversation, Part 2: Tim Ferry
Monster Kawasaki's Tim Ferry got great starts at Anaheim 3 and made the podium, even hanging with Stewart and Reed enough to measure what it's going to take to hang with those two. Ferry, 31, is factory again after a strong summer on a MotoXXX Honda CRF450R. He is now third in AMA Amp'd Mobile Supercross points after five rounds, 14 points behind Reed. The consistent and gracious Ferry took a few minutes to chat outside the Kawasaki truck after making his first press conference since no one knows when—his third at Anaheim 2 did not come until Nick Wey was docked a few days later over the fuel situation.

Racer X: Hey, long time no podium. Welcome back.
Tim Ferry: It went good. When I sat down in the press conference I knew that question was going to come up. I didn't know…. I knew it had been a while! The night was good. I got good starts the whole time. I came out third or fourth in the main. It was a pretty boring race probably if you watched me, but the track was tricky tonight. I was just trying to keep it on two wheels and got that podium.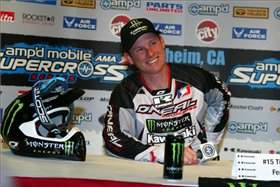 Now 31, Ferry has enjoyed a career as a four-stroke specialist, and he's still going strong
Going into the main, what did you expect?
I expected to do what I did, actually. I knew my speed was there. My endurance is good. I know that James and Chad were a little faster in practice and in the race. I got to actually see them and sprint with them in the beginning, and maybe I can build on that and get up there and battle with those guys.
You said you got to watch James and Chad in that race. What did you see?

Mainly, they sprint really hard. They take quite a few chances—maybe a few more than I was willing to take tonight. They sprint. They go for it. For the most part, I've been in control this year, even tonight. A little more on the edge, a little more speed would be good. Let's just take it race by race and see what happens.
What does RC stepping out, at least part-time, do for people who want a podium spot? Is it on your mind all the time?

I think that gives everyone a little boost. [Kevin] Windham in his heat race had killer lap times. We haven't seen that all year. He's one of those guys that, when there's a spot, he steps it up. I think Ivan is going to get better, and Nick is riding hard. I think DV, once he's healthy, will be good. There will be some good racing. I'm just glad to be a part of it now. Last year I was at the tail end of all those guys, and this is a new year for me.
You had some injuries for a while, but you did have a good summer last year, didn't you?

Yeah, but I had compartment syndrome in my thigh last summer from the second day of outdoor testing. They actually had to cut it open. I have like a seven-inch scar down my thigh. I didn't really tell anybody; I thought I would sound like a broken record. I just laid low and came out at the third national and just went to work, and Kawasaki took notice, and that's why I'm here right now.
Aren't those bikes good right out of the box? It seems people remember when that bike appeared for the first time at the U.S. Open and Byrne was awesome all weekend.

I first noticed it when Byrne rode it at the U.S. Open. That's when I first started talking to Fish [Kawasaki team manager Mike Fisher]. They were looking for a test rider at the time, and I really wasn't ready for that. I still want to be a racer, and it didn't work out. It's funny, it's a year later and I'm with the team and testing with them. I did notice that at the U.S. Open, it looked good and solid. Right now the bike is just killer on the starts. That's what's making this season different—the starts.
There was a lot of bench racing over four-strokes and displacement, and we asked Reed and Ramsey about 450s on Thursday, and they both said 450s are okay and were on board with four-strokes now. You were one of the first four-stroke guys. Are they still all that?

The two-stroke can no longer compete with a 450. The power is so much more rideable and so much more powerful. It makes whoops easier. I enjoy them. I've enjoyed them since I raced the 426 [Yamaha]. As soon as I got on a four-stroke, my career went up. This Kawasaki has been a perfect bike for me. Since the U.S. Open, it's been good.
You must have the record for going factory, privateer, factory again. Do you have a count?

[
Laughs
] People said I have the record. I don't think about that too much. I just try to do the best that I can. I worked really hard with MotoXXX, and they worked really hard with me last year to get a bike that I felt comfortable on and started turning some results. And beating Byrne every weekend,
Travis Preston
, some factory guys, they took notice. I'm excited because the sport has changed a lot, and it's giving riders in their late twenties a lot more opportunity than it did. I'm 31. I'm excited and having a good time racing and enjoying it again.