Monday Conversation, Part 1: James Stewart
James Stewart may be the new King of Anaheim, but it didn't feel like it when noisy boo-birds were reacting to some close racing with Chad Reed. But Stewart kept smiling and played it cool, knowing that the GOAT himself was a victim of fans forgetting what kind of racing makes supercross what it is! Stewart became the first to sweep all three Anaheims, a feat that has eluded RC and everyone else. Even so, it wasn't his best night, and he learned he had to control how much of the track he would hang it out on. That gave Reed enough room to pressure him a full 20 laps, so fans at least know supercross races are still, you know, races. We spoke with Stewart after the press conference about the close racing, the crowd, and the season.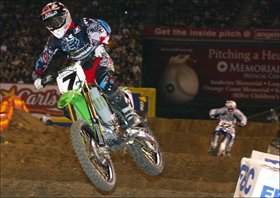 Stewart completed his 2007 Anaheim sweep
this weekend

Racer X: James, you won that "three Anaheims" thing—what's your first reaction?
James Stewart: I am super happy to accomplish something like that, with Ricky racing all those years, and MC. I heard about it a lot, but I was trying not to think about it. But after winning it, I am super happy.

Does this kind of weekend change anything at all?
No, like I said, I am super happy to do it, but each weekend is just building a pyramid. You have to keep building and getting stronger until you get to the top. Tonight I felt like I was riding good enough to win the main event, but tonight I don't think I rode my best. That's one thing that I've learned, that you pick and chose the races that you hang it out. Tonight was not one of those races. Chad rode really good. We had a great race and we went 20 laps, all the way through.

Reed has been saying he feels better than he has ever been. Do you think tonight was one of his better races?
Yeah, for sure. He's been riding really good. I felt like he gave all he had. I was able to step up enough to get it. I was struggling in a lot of sections where he was making up a lot of time that I didn't even know. He was catching me in these sections. I have an 18-point lead now and will just keep chipping away.

Is this one of those races like Phoenix where you leave talking about lines and bike setup?
I think in some sections I was not too good. Maybe it was line selections, but I was able to overcome that and pick and choose where I was going to push it at.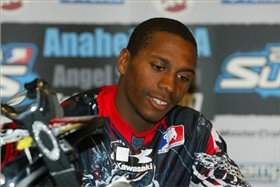 Although the Anaheim fans voiced their displeasure, JBS is keeping his cool

Did the crowd give you a bad rap, booing over that last pass on Chad?
I don't know…. Like I said in the press conference, I'm happy. I always try and go out of my way to please my fans and never ride dirty or anything like that. Even though they were booing, I was still smiling and trying to get them to understand I'm just out here racing like anybody else. I have no feelings toward anyone. Some of them that were booing me I just gave them a thumbs-up and moved on. I feel like, with Ricky going through it, he learned how to handle it. I'm just going to be myself. I don't have any hard feelings over it.

What was your reaction to the fuel business a week ago, having experienced one yourself?
I wish it would just go away. It's bad for everybody. I know fuel my fuel is good, so I leave it at that. I don't know what we use. I don't put gas in the bike. Whatever it is, seems to be working.

If we get past the halfway point or something and you have a good points lead, are you going to race conservative or are you going to throw down every time?
I don't feel like I'm throwing down right now, not to the point that I'm on the edge. I think tonight was one of those instances. I rode enough to try to win the race. We have an 18-point lead, and I'm super pumped about that after five races. All I can do is keep chipping away. I can't tell you if I'll lay down or keep hanging it out, but I'll be smart about it.

Did you know your teammate Tim Ferry was going to make the podium?
I saw at the end of the race, but I had to worry about my own self. I had a lot of stuff going on! I'm happy for Timmy. It's been a long time since we had two Kawis on the podium. It's good for Kawasaki and all the people that work there. I'm really happy for the team and I hope it happens some more.