Ricky Carmichael may be gone, but there's still hope for great racing to be had in Amp'd Mobile Supercross. James Stewart put an absolute whooping on a Carmichael-less field in Anaheim two weeks ago, but at Anaheim 3, Chad Reed was finally ready to do battle with him. The capacity crowd appreciated Reed's efforts, as the San Manuel Band of Mission Indians Yamaha rider battled Monster Kawasaki's Stewart hard for the entire main event, then came up just 1.5 seconds short of him at the checkered flag. Simply challenging Stewart proved that there might be some racing to be had this year after all.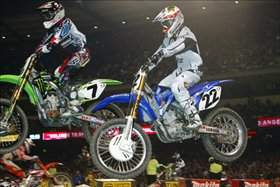 Stewart and Reed at A3
Early on, there weren't any indications that the race would turn out as great as it did, since Stewart clocked the fastest practice laps and the fastest laps in his heat race. The he took the early lead in the main and went into his customary blazing early sprint, putting about three seconds on himself and Reed. But Reed buckled down and tried to match his pace. By about lap three he was able to, and then he actually started closing the gap. The fans saw this happening, and suddenly Reed had gained 45,050 new best friends, as the Anaheim faithful cheered him on while he went after the leader. When Stewart bobbled in a slick corner and Reed got alongside him, the place exploded. SX A.C. (Supercross After Carmichael) could still produce some good racing!
And some drama. Reed snuck to the inside of Stewart in a timing section, but James had a little more speed in the whoops and was able to get back next to him and make a block pass—with contact—in a left-hander. After that, the crowd was not only made up of Reed fans, but also Stewart foes.
The move #7 made will surely be dissected for months, and it will probably never be determined if he meant to merely pass Reed or to touch him. Regardless, it allowed him to put about three seconds on Reed halfway through the main. With the lappers, Reed got close again, but he couldn't get James back by the end of the race.
Stewart wasn't quite out of it yet, though, because on the podium, the fans rained down with a chorus of boos. James said it was just close racing without any intent to knock anyone down.
So there was a chase for the win, passing for the lead at the midway point, and even some controversy after the race. That doesn't sound too bad now, does it?
And how cool was it to see
Tim Ferry
on the box three years after his last visit at Anaheim 1 of 2004? The guy has been down for the count, but he kept working and digging and now he's making a great go of it again. Well, done,
Red Dog
.