Racer X Race Report: Anaheim 3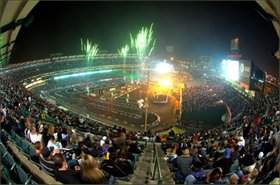 Anaheim 3, Ready to see what Reed has for Stewart
PK
In front of a very packed Angel Stadium, fans were treated to an all around great night of action and excitement. The night kicked off with some amazing opening ceremonies, followed up by some excellent qualifying action and some pretty good main events. All of the fans even got to see NASCAR's Brian Vickers do donuts in his #83 Red Bull Toyota down on to the start straight prior to the Lites main event. But enough of the BS; here's what went down in the main events.
Supercross Lites
It was Red Bull KTM's Josh Hansen grabbing the holeshot over Yamaha of Troy's Jason Lawrence and Josh Grant, but it wouldn't last long. No, Hansen didn't get passed—the race got red-flagged due to SoBe No Fear/Samsung Honda's Jake Weimer crashing in the first turn. Weimer was okay, and he rejoined the 21 other Lites-class riders for the restart.
The main beneficiary of the restart turned out to be Monster Energy Pro Circuit Kawasaki's
Ryan Villopoto
, who after starting around seventh on the first start, gladly took the $1000 Progressive Direct holeshot money. SoBe No Fear/Samsung Honda's
Josh Grant
came around in second, followed closely by Red Bull KTM's
Martin Davalos
.
Josh Hansen
and
Jason Lawrence
got the short end of the stick this time around, as both came around near tenth place.
But Hansen and Lawrence turned out to be some of the best action throughout the main event as Villopoto checked out for his fourth win of the season, giving him a sweep of Anaheim in '07. Josh Grant held down second place for the entire race as the rest of the riders jockeyed for position.
Monster Energy Kawasaki's Chris Gosselaar ran in third for about seven laps, but he slowed down dramatically for a few laps, allowing several rider to pass, including Red Bull KTM's Martin Davalos, who then looked like a shoe-in for the last spot on the podium. But Jason Lawrence clicked off smooth and consistent laps after passing Hansen, and slowly reeled in Davalos and made the pass, which resulted in the Ecuadorian casing a triple and losing a few more positions. Hansen and Josh Hill then had a brief battle going on, but the Yamaha rookie displaced the veteran Lites-class racer and finished in fourth. Josh Hansen finished fifth, putting three "Joshs" in the top five overall.
SX Lites Main Event Results

1. Ryan Villopoto (Kaw)
2. Josh Grant (Hon)
3. Jason Lawrence (Yam)
4. Josh Hill (Yam)
5. Josh Hansen (KTM)
6. Jake Weimer (Hon)
7. Chris Gosselaar (Kaw)
8. Kyle Partridge (Hon)
9. Kyle Cunningham (Yam)
10. Matt Lemoine (Yam)
Supercross class
As the 450s roared down the straight for the start of the Supercross main event, I saw nothing but blue, white and yellow fenders from the press box. But after the riders rounded the first turn it was the green #7 ducking into the lead, followed closely by the San Manuel Band of Missions Indians' Chad Reed. It was on.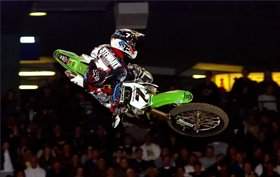 TFS photo

Stewart quickly put a few seconds between him and Reed, and it looked like this may be another yawner. For five laps the cushion stayed the same--around two seconds--but everything changed when Stewart bobbled going into a slick corner before a tricky triple-triple-triple section, allowing Reed to close up to his rear fender. But Reed hesitated and was forced to double the first two triples, thus staying in second. But less than a half lap later Reed got inside of
Bubba
and the two made a bit of contact. It was slow speed, but it seemed to surprise Stewart, allowing Reed to get into the lead. But it didn't last long, as Stewart quickly retaliated, shutting the door on Reed in a corner following the whoops.
At this point, every spectator in attendance was on their feet as a Reed shadowed Stewart's every move, waiting for the Australian to make his move. But it just was not to be for the L&M Racing Yamaha rider, as Stewart rode a near flawless final 10 laps. The duo did encounter several lappers, which enabled Stewart to tack a second or two to his lead, but Reed managed to again close the gap on the final lap to keep things interesting. But Stewart held on for the win, becoming the first rider in the sport's history to sweep all three Anaheim in the same year. Look out McGrath, there's a new King of Anaheim on the horizon.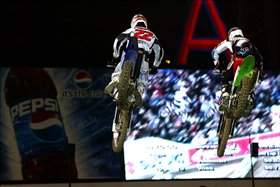 It's on!
Rounding out the podium—although it was unfortunately overshadowed—was Monster Energy Kawasaki's
Tim Ferry
. It was Ferry's first legitimate podium of the season, and his "Man Friend" Steve Matthes told us that it put Ferry solidly in third place. Congratulations, Tim! Rounding out the to five was MDK Motorsport's
Nick Wey
, and Rockstar Suzuki's
Michael Byrne
.
Props to Chad Reed for making this an awesome race tonight, and as his shoulder continues to heal we hope to see more of this in the upcoming races. And add #4 in to the equation a few more times and things could get very interesting, we hope. As Andy Bowyer said in his Rev-Up last week, this title is not over ladies and gentlemen!
Supercross class main event results:
1. James Stewart (Kaw)
2. Chad Reed (Yam)
3. Tim Ferry (Kaw)
4. Nick Wey (Hon)
5. Michael Byrne (Suz)
6. Nathan Ramsey (Yam)
7. Kevin Windham (Hon)
8. Heath Voss (Hon)
9. Paul Carpenter (Kaw)
10. Ivan Tedesco (Suz)
For complete results, be sure to check out the Yamaha Monday Wake-Up Call Monday morning here on Racer X Online.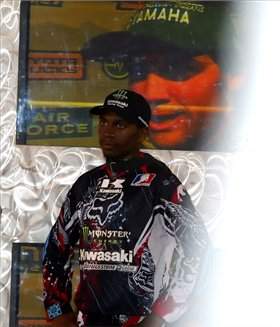 Stewart listening to the crowd cheering for Reed after some close racing.
TFS