Welcome to the Shift Number Cruncher. This week's column is dedicated to a rider that has dug pretty deep the past two years and is finally beginning to see some reward for his efforts. When I took a look at his number and did a one-and-a-half into the archive pool, I noticed a lot of riders shared similar careers, which interestingly enough began at the same spot. While we have seen some amazing supercross races so far in 2007, I have to say that the emergence of so many Loretta Lynn's alumni has been my favorite thing to see. And thus far in the 2007 Amp'd Mobile AMA Supercross Series, every rider who has stood on the podium in the Lites class has driven down Boone Hill at the Dude Ranch.

Last week I stood in the crisp salt air of San Francisco's AT&T Park and watched yet another Loretta's graduate reach the top of the mountain when Idaho's Jake Weimer rode his SoBe/Samsung Mobile Factory Connection CRF250R to the podium. So here is a nod to the great number 73 and it's interesting attachment to Loretta Lynn's.
Tom Carson
was on the mic chatting up the Asterisk Mobile Medical Unit the same night Jake grabbed his first podium. He also won his first Loretta Lynn's title this past August.
Earl "The Pearl" May
has been getting it done for almost three decades. In 1992 he raced with AMA Pro number 73 for the Boyesen Team alongside,
John Dowd
, Scott Sheak, and Dag Boyesen. He had been trying to win a title at Loretta Lynn's for a long time when he nailed down the 2004 Senior +40 title. He can still get around the track faster than most of you reading this—just ask
Ricky Carmichael
!
And speaking of RC, another friend in his camp—
Fox Racing
's Scott Taylor—wore the #73 back in his Seminole Honda days. His racing career didn't go far, but his eye for talent might be the best the sport has ever seen:
Tim Ferry
,
Ricky Carmichael
and
James Stewart
are just three of the riders Taylor helped out very, very early on.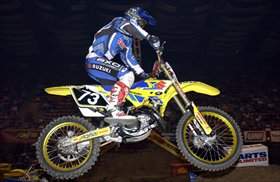 Evan Laughridge
photo: Steve Bruhn
Evan Laughridge
came flying out of Loretta Lynn's as the 2002 AMA Horizon award recipient. He won two titles that year and entered 2003 as AMA Pro number 73. He raced the arenacross series that year and suffered some crashes he never fully recovered from.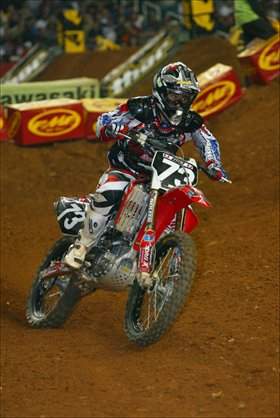 Justin Buckelew
photo: Steve Bruhn
New Mexico's
Justin Buckelew
is a four-time Loretta Lynn's champion. He would graduate to the pro ranks and immediately nail down a win at the 2000 San Diego Supercross, but then injuries took their toll on this classy racer. He ran the 73 in 2005 and pulled quite a few holeshots. Most notably the second moto at
Unadilla
over RC and Reed.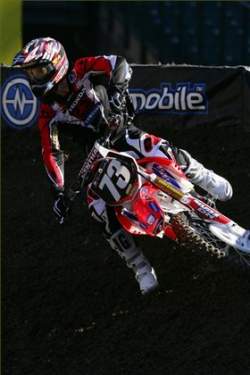 photo: Simon Cudby
Jake Weimer
has had a tough go of it in the beginning of his career. After suffering a horrific endo at the beginning of the 2006 supercross season it didn't get any better for him when he briefly returned only to suffer a pretty gnarly car accident that hospitalized him. Neither he nor his sponsors gave up on him and he has put in some very impressive rides in 2007 before landing on the podium last Saturday night. Well done, Jake!

Here are some other 73's from around the world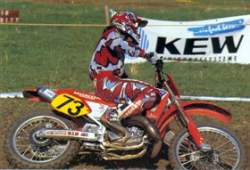 Yves Demaria
Here we have a wild Frenchman, Yves Demaria, running an interesting riding gear colorway and ringing out a CR500 on his way to winning a moto at the 1994 MXDN. He doesn't have crap to do with Loretta Lynn's though, except for the fact that his win in the first moto for France hurt Team USA's chances and opened the door to a brilliant British win. The three Americans were all Loretta Lynn's champs: Mike LaRocco, Mike Kiedrowski and Jeff Emig!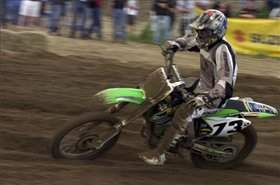 Scott Jendro used 73 in Canada
photo: Jason T. Griffiths
Other Notable 73s
California's Dylan Lord ran the 73 in 2006. Dylan raced Loretta's several times as a Team Suzuki standout.
Mexico's Erick Vallejo raced with the seven-three in 2004.
Damien Plotts ran #73 in 2002 and has two titles at Loretta Lynn's in 1992 and 1999.
Paul Carpenter had the sixth fastest lap time last weekend at San Francisco. He raced with #73 in 2000 with the DKNY/Faste by Ferracci Husqvarna squad and won the 250 B stock class at Loretta Lynn's in 1997 on a Team Green Kawasaki.
Chris Wheeler raced with number 73 in 1999 and is the 1994 250 B Modified champ.
Mike Treadwell raced with #73 in 1998. What is interesting and pertinent about him is he called me a couple weeks ago and wanted to ask if he could race the Vet class at Loretta's in 2007. Unfortunately, the fact that he raced and earned points at Southwick in 2006 excludes him till the 2008 event.
Other than that, Racer X's own Michael Farber, Jason Berry, and Jason Fleming were all born in 1973. 1973 was also the pivotal year of the infamous Watergate scandal. Oh yeah, TFS might respect this - Atomic #73 is called Tantalum and is used to make the camera lenses that take all of our beloved motocross pictures.
And I'm spent. If you have any other #73s worth mentioning, send them to me at andy@mxsports.com and we'll get you in the Redux and throw you some stickers.