Not too many sports have part-timers who can fight at the top, but Makita Suzuki's Ricky Carmichael won San Francisco with four races left in his career - and he wants to win those too! RC cruised behind James Stewart and Chad Reed with no plans to make a move until at least the halfway point in the main, and each made a mistake that cost them, while RC cruised in first, ending Stewart's streak of three wins since Anaheim 1.
Racer X: Ricky it's been a while—since Vancouver!
RC: Yeah. I like it when I see you after a press conference! It was a wild night, as you know. It was great for TV, and for the fans. That's what we need.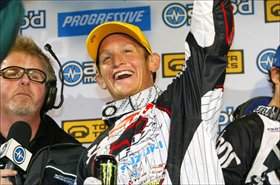 RC notched yet another SX victory in SF

Where do you want to start?
Chad got the holeshot, James was second pretty much down that rhythm lane, and I was third. I was just biding my time. I could tell James wasn't too amped up on making a move on Chad, so we were just kind of sitting there, waiting and waiting. I was a little bit back. I wasn't too worried. I messed up that rhythm lane a couple times early in the main because I was working on a new line. Once I got it made, I started picking it back up and caught back up to their tail.
So no one was doing anything to like the one-third mark or the halfway point?
I know I wasn't. I think James was just waiting on Chad. James was just waiting for the perfect opportunity. He got by him. He made a mistake in the triple-triple section and Chad got back by. After that, the chaos started going on. I was just waiting. If I needed to make a pass, it was going to be later. I didn't want to push the issue. You couldn't on that track.
James gave you some credit in the press conference and mentioned it was a race the smartest guy wins.
It was tonight, the veteran in me helped. I felt good tonight. The dirt was very good and forgiving. The bikes didn't have to be set up totally perfect. I have to say thanks to James for the kind words. I always tried to be gracious and give credit where credit is due, and he did.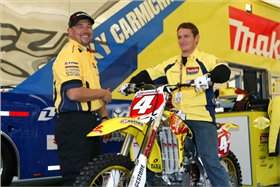 Both Mike Gosselaar and RC looked happy to be back under the Makita Suzuki awning

You talked in Phoenix how that race came down to lines and bike setup. Have you changed things for good by now on setup?
Yeah, we still need to work a little, but at the same time, there's no golden egg. I think we're close. We made improvements after Phoenix. It's a little more consistent for me and easier to set up for each race.
How is your mood on a race day without the old pressure? Anything different?
This weekend I found myself a little more motivated and a little more focused. At Anaheim and Phoenix, I knew I was doing a part-time schedule and I just said, I'll go out there and try to win. But I really wasn't focusing. This weekend I tried to focus a little bit more and things just happened better. I wasn't as focused in the first couple, and James was riding so good, he kicked my butt. He was riding good and pounced on my weaknesses.
Your next one will be Atlanta, right?
Yeah, Atlanta is very special, as you guys know. I won in '97 there on a 125, and '98. The only two years I haven't won there are '99 and 2000. I won 2001, '02, '03, '05 and '06. It's great, Georgia clay. It's a great venue for me. I love everything about that place - the smell, the scenery, everything. I have a bunch of people from home coming. It's going to be special.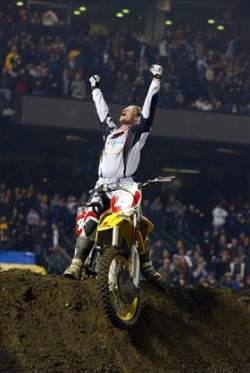 RC wasn't the fastest, but he definitely was the smartest Saturday night.

Then St. Louis?
Then St. Louis, Daytona, and Orlando. Orlando will be my last supercross. I have my goals. There are four more. I would like to win one more. I feel like I can do it. I feel like I have a shot at all four. I just want to race and have a good time. I know it's at the end and just want to have a good time and race.
Now that you can race with no title pressure, do you wish you had maybe just a few more like that?
Absolutely. I wish I could have enjoyed the past more like I do now, but that's part of it. It's hard to enjoy it like this when you have big goals and so many people are depending on you. Sometimes I miss that, like last week. You have to swallow that pride and know you made a decision. You have to make that decision, and I got that behind me.
Pass on this question if you want, but I'm curious: What was your reaction when you found out three guys got dinged over fuel?
I can't believe it. They changed some rules, then VP goes and makes fuel closer to the limit. It's playing with fire. We're running the same gas we did last year.
So no "Dash 1" stuff?
No. We're not running it. Our bikes run fine. We don't need more power. They run fine on the lower-octane stuff. It's unfortunate. I don't think the testing they do is accurate enough. I don't agree with it. The fuel thing is so wrong. It doesn't make a difference. If someone is going to cheat, it isn't going to be on fuel.