Kawasaki/Racer X Race Report: San Francisco
There seem to be two different types of supercross races. In one, a rider is simply much faster than everyone else. He gets a decent start and gets to the front of the pack quickly, and then he leaves everyone behind, pulling away and riding smooth to an easy win.
The other scenario doesn't happen quite as often, but it's amazing when it does. In this scenario, riders are evenly matched, and they use strategy and smarts to win the races. Everyone has their good and bad moments during the race, and the outcome is in doubt throughout. Everyone waits for their moment to make it happen, and finally, when it does, the crowd is left exhausted from cheering for so long.
Scenario two took place tonight in San Francisco. It was awesome battle between San Manuel Band of Mission Indian Yamaha's Chad Reed, Monster Kawasaki's James Stewart and Makita Suzuki's Ricky Carmichael, and ultimately it was Carmichael who came out on top, much to the delight of the fans who got to see him race his last supercross in California. Even after a week off, Ricky still had it.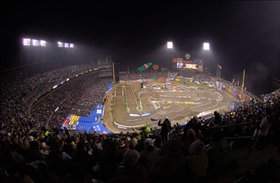 Photo by PK
But it wasn't just the fact that RC won it, it was how he won it that made the fans even happier. This was an epic battle between the supercross big three, and indeed you know it's good when you hear Carmichael claim he "didn't even want to get into the lead until later, not until at least lap ten." And Stewart, who finished second, said, "I was just experimenting with my lines. I knew it was going to be a long race."
Indeed all three sensed this were well aware of how this race would go. "I could feel it getting tense. It was exciting," said Reed. Reed pulled the $1500 Progressive Direct holeshot while Stewart and Carmichael soon took over second and third. The track was rough and rutted and everyone made their share of mistakes. Reed had the first rhythm section dialed and used it to keep Stewart at bay early. Eventually Stewart charged and got next to him and pulled off a pass, but then Stewart made an error in that rhythm section and Reed got him back. Then Reed ran into Eric Sorby, who was going a lap down and for some reason chose to hold Reed up, and Stewart took the lead back. Then Stewart crashed when his pegs dug into the bottom of a deep set of ruts, and Reed had the lead back again.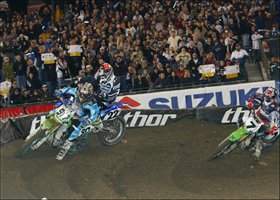 Sorby gives his friend James a little help.
It was wild and it was exciting, and Carmichael just sat back there and waited for it all to unfold. "I got a little worried when James got into the lead, but I was just waiting for it to come to me."
With Stewart down, Carmichael went after Reed, and Reed seemed to slow just a bit. "He seemed to be laboring in his corners," explained Carmichael. "I don't know if he got winded or what." Either way, Carmichael was able to get inside of Reed, and then Reed grabbed a handful of throttle around the outside of a corner and launched right off the track. For the first ten laps, Reed had looked steady, but now he and Stewart had tasted the damp San Fran soil and Carmichael had the lead. Stewart was able to mount one more charge on Carmichael, but lappers eventually slowed his pace enough in the rhythm sections to cost him a shot at a late-race rally for the win. Carmichael held on for a popular and exciting victory.
Stewart was second and Reed was third, and he was much closer to the battle here than he was at the last four races. It's encouraging for him, and just at the right time since Carmichael is taking time off again after this and won't rejoin the series until Atlanta.
We can only hope the racing remains even half this good until then.
As long as Ryan Villopoto is around to dominate, you just can't expect the same level of competition in the Lites class. RV quickly passed his teammate Chris Gosselaar to take the lead and check out (supercross scenario one). Gosselaar then rode under pressure from Red Bull KTM's Martin Davalos, but then crashed, and Davalos was left with no choice but to plow into him and go down himself. This opened the door for the Sobe/Samsung Mobile Honda teammates, Josh Grant and Jake Weimer, who ended up second and third for their first podium finishes of the year.
The real fireworks in the Lites class came in the first heat race, when Grant, Josh Hansen and Jason Lawrence exchanged takeouts in the home plate corner of the track, and then Grant purposely tried to block Lawrence when he was getting lapped, and then Lawrence went all crazy after the race and tried to fight Grant, and Hansen, who had already run into Grant earlier, also decided to get in on it. It was wild and offered more action than the main event, which basically featured Villopoto running away from it all. We could expect to see more of the same next week.