Where Are They Now: Dennis Hawthorne
"Nothing compares to motocross. The camaraderie between fellow racers and friends and the sense of accomplishment is like nothing else." These are the words of Texas-born motocrosser Dennis Hawthorne.


Dennis threw a leg over his first motorcycle in 1975. That year, he would enter his first race, at Texas' Denton Valley, on an XR75. It would mark the beginning of an amazing career that would eventually pave the road for the life he leads today with his family in Oklahoma.
Hawthorne didn't follow the stereotypical road to the top. His mantle is not full of trophies from Ponca City and Loretta Lynn's; instead, he has won more races in Texas than probably any rider in the state's history. Texas has produced some amazing riders throughout the years. We never get to hear much about them because they never stray far from home. Riders like Clay Cawthorne, Dale Storbeck, Ross Dhyer, Jack Ricks, and Tim Hodes had what it took to become top pros, buy they just never fought their way out of the Texas region. Dennis was an exception.
When he entered the 1984 GNC Finals at Lake Whitney, he was racing '83 Yamahas but still managing to hold his own at the front of the pro classes. This caught the eye of Texas entrepreneur Dick McCarthy, who took a vested interest in young Hawthorne. When he asked the feisty Texan why he was racing on old bikes, Dennis replied, "Because that's what I have." Soon, McCarthy introduced Dennis to his business associate, Sammy White, who owned one of the larger motorcycle dealerships in Texas. This is where the ball really began to roll for Hawthorne.
In addition to his regional support he had from Sammy White Kawasaki, Dennis picked up a Team Green ride in 1984. In 1985, Mike Kidd started his arenacross series, and Dennis immediately took a liking to it. In fact, he would go on to become the young sport's first superstar, and he would accumulate five consecutive championships. It was only the beginning of his big-time pro career, as Dennis would soon turn his attention to the AMA Motocross Nationals.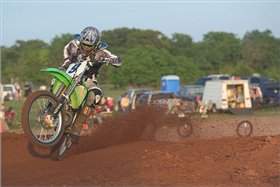 Dennis railing at Moto City MX
photo: John Craft
Hawthorne entered his first couple outdoor nationals in 1986, and he would kick enough butt to earn a respectable national number for the 1987 season (#35). In 1987, he and his famed Texan mechanic, Jack Yost, would compete the entire outdoor national series. At the end of the summer he landed in eighth overall in the 500 nationals and fifteenth in the 250 class. Dennis would claim AMA national #24 as he entered the 1988 season. This was a special time in his life, as it was also the time that his daughter Stacy was born.
With Kawasaki dropping their contingency for the outdoor nationals in 1988, Dennis could not afford to contest them anymore. He would return to the place that had been so good to him. The races he won and the rides he put in during this time are still stuff of Texas legend. Every year a hot new guy would show up at the GNC Finals at Lake Whitney, and every year most of them would go back with their tails between their legs. Hawthorne would line up on the far inside gate and cut through the gears on his rocketship LCS Kawasaki faster than everyone else. In almost every Expert moto, you would see a guy with all-white Answer gear standing tall on the pegs in a two-tire drift with a gigantic holeshot. Damon Bradshaw, Ryan Hughes, and Mike Kiedrowski have all eaten roost thrown from Hawthorn'es rear tire.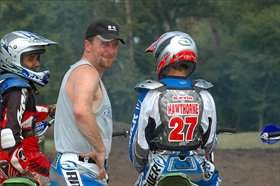 Dennis with his son, Kevin.
photo: Chuck Ball
But the good times were about to come to an end. As generous as motocross can be to a dedicated racer, it can be equally cruel. While Dennis was chasing a young Robbie Reynard to the 1993 arenacross title, he would encounter a devastating injury at the Indianapolis round at Market Square Arena. That weekend he would miss judge the "catapult" jump and land on a hay bale. The impact broke both of his ankles and, just like that, his racing days – and, more importantly, his means of an income - were over. With his second child being born in the same year, and Dennis being bound to a wheelchair for almost half a year, Hawthorne fell on some hard times. He fought hard to return to the track and made some ill-fated comebacks over the next two years, but it became clear that his days of winning races in the pro classes were over for the most part.
He was faced with one of the most haunting questions a 30-something motocross racer with a family can ever endure. "What now?" Just when it appeared all of the light had left the tunnel, he received a phone call from Team Green managers Mark Johnson and Ron Heben. They needed a Team Green technician in the Texas area and called upon Hawthorne to fill the position. He did a great job in this role and was soon offered a district salesman position in the Wisconsin area. Staring a real career in the face, he loaded up his family and spent the next four years in Wisconsin. Then, in 2004, a position opened up in Oklahoma, and the idea of returning to a living environment that was "closer to the Red River" seemed appealing. So Dennis once again loaded up wife Teri, son Kevin, and daughter Stacy and drove to their current residence in Oklahoma.
Today Dennis is celebrating ten years with KMC (Kawasaki Motor Corp) and spends his free time riding with Kevin and sending checks to Tracy, as she goes to school at Oklahoma University. Kevin Hawthorne will attempt to qualify for the 2007 Air Nautiques/AMA Amateur National Championships at Loretta Lynn's.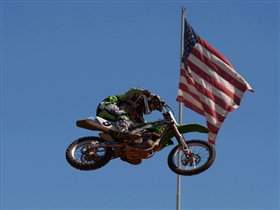 photo: Courtesy of Holeshot Magazine
Author's note: I made my first trip to Lake Whitney in 1984, Dennis' breakthrough year at the GNC Finals. I would always take my brothers down to the starting line and point out where Dennis would start and how he would get way over the back of the bike to get traction. In 1993, I found myself entering the 85 class at Market Square Arena in Indy. I was in the stands the night he broke both his ankles. Two years later, I would line up on the starting gate in the pro class at Lake Whitney for a Texas Series race. I was on the next-to-the-far-inside gate as my childhood hero occupied the far inside gate. I rounded the tight first corner fourth-gear wide open, standing tall on the pegs it a two-tire drift with Dennis Hawthorn two inches from my elbow on my inside. Only motocross can deliver moments like this!