Rev-Up: Motocross Starts Here
Hello, everyone, and welcome to the Rev-Up. With the 2007 Amp'd Mobile AMA Supercross Series now at full song, we arrive at a very special event. Not only will Ricky Carmichael be making it back to the starting gate, but also it will mark the last West Coast supercross race of his professional career. Ricky has made no bones about his disdain for the hard-packed West Region rounds, but the Northern California round in San Francisco has been pretty good to him. The track usually has softer dirt and may even be really soft with a little rain in the forecast.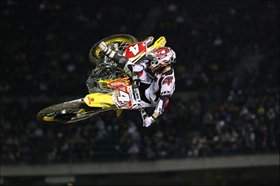 This weekend is RC's last West Coast race of his career. Will he make it a memorable one?
This race is also special because it is the home event for action-sports icon
Fox Racing
. I'm not sure there has been or will be an evening of racing that will be as special to the Morgan Hill, California-based company as this Saturday night. One of their most famous ad slogans was "Motocross Starts Here."
Fox Racing
has been with
James Stewart
and
Ricky Carmichael
since the start of their amazing individual careers. I believe the upcoming 20 laps in Saturday night's main event will be the ultimate focal point for
Fox Racing
and the two aforementioned superstars. There is a lot of soul riding on this race, ladies and gentlemen. Mark my words: this one is going to roll. Let's go ahead and get it up in here. Let's throw on some tear-offs, duct tape it wide open, and grow some wide eyes. It's time to get Revved Up for San Francisco!
Supercross Lites
The Ryan Villopoto show is firing on all eight cylinders. Last year at San Francisco he put in one of the most inspiring rides I have ever seen. He ripped through the mud and demolished his heat race, then came out guns a-blazing in the main, yanked the holeshot, and carted huge on the finish-line double on the first lap, then rode his way back into the top five. Rain or shine, there will be no stopping him this weekend. But the action behind him will be on fire. Jason Lawrence is riding his ass off. Other than Josh Grant, who appears to be in a late-90's-Jeff Emig funk, J-Law is the only guy with a real chance of winning. Behind him there is a freight train of fresh new talent that will be trying to scratch and claw their way to the podium. Look for Li'l Goose to be on the gas, and keep an eye out for Josh Hill to try to back up his podium finish at A2.
Supercross
There have been some amazing riders that have taken the checkered flag wearing Fox heads on their motocross gear since 1974. Brad Lackey, David Bailey, Mark Barnett, Rick Johnson, Damon Bradshaw, Doug Henry, Travis Pastrana – all of those legendary riders have made their way into the hearts and hallways of the Fox family. Be that as it may, I believe the two racers that will be going toe to toe in Pac Bell Park this weekend have left the most profound marks on the company and the family themselves.
For Ricky, Fox Racing is the main reason he is even entering the weekend. Although he left Fox in 1997 when he moved into Mitch Payton's Pro Circuit team, he would be wearing Fox just two years later. The company, and Head of Design Peter Fox in particular, were so happy to have him back that Peter traveled to Florida and hand-delivered the set of keys to a Mercedes to Ricky while he ate at an Outback Steakhouse. The Fox family has made similar efforts for the Stewart family. One of the most inspirational aspects of Fox Racing is that it is a racing family through and through. They treat their athletes like family members. They rejoice with them when they win and bleed with them when they fall. Over the past ten years, they have done an incredible amount of both for their two superstar motocross athletes.
This Saturday night, the Fox family will all be in attendance to send off one of their most cherished athletes as he battles with their current main attraction. What an incredible motocross moment this must be for them. It's incredible for all of us. Remember back to the first
Terrafirma
videos and seeing RC throwing nac-nacs on his KX80? Remember him sitting in the motor home with James and Pastrana talking about Dairy Queen? Remember the advertisement of Ricky crying with his mom after winning his first 250 title? Remember one year ago to the day, when these two fought each other for 12 laps in the impossible muck? Who is ready for an encore performance? Who is ready to watch The GOAT try to win in front of the sponsor that will follow him into his next career? Who is ready to watch James try to keep him from it?
I'm heading to the airport right now with goose bumps on my arms just thinking about it.