Privateer Profile: Logan Darien
Logan Darien, 24 years old and originally from Glenwood Springs, Colorado, isn't a globally known superstar pulling down a few million dollars a year, but then again, he's intelligent, witty and amusing. Darien is well aware that he'll probably never win a supercross, yet unlike many riders in the pits who took the homeschool path to stardom, he would have no trouble at all driving down to the local college and passing an English or History class. Coming off a 16th-place finish at Anaheim 2, the 250F West Region Supercross pilot took the time to tell us about his past, present, and future in the sport.
Racer X: Logan, what did you think about your race in Phoenix?
Logan Darien: It was better than A1, that's for sure.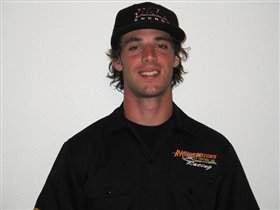 Logan Darien

photo: Chris Ganz

What happened there?
I was in eighth in my heat race and someone had just crashed, and I thought to myself, I got it. No problems. Just stay up and keep riding. Right when I started thinking that, I dropped the front end in the whoops and did an endo, so I ended up not making it. And in the LCQ I got a bad start and crashed in the second turn with some guy. So my goal for this year was to be in every main and get in the top 15 every weekend. So to start off the season like that, I was super bummed out. And then at Phoenix I had just made a pass on the last lap to get into ninth, but then my teammate actually passed me for ninth a couple of turns later to get the last qualifying spot. So I was, like, freaking out that I wasn't going to get in the race again. In the LCQ I ended up holeshotting, which was pretty sweet because I hadn't done that forever. I ended up getting fourth, so I finally got into a main. Then in the main, everything was going pretty good. I got a bad start but caught up to 14th. Then me and [Michael] LaPaglia hit each other before one of the triples, and I had to double it. When I doubled it, I heard someone jumping the triple behind me and I looked up and I thought there was a good chance the guy was going to land on me, so I tried to swerve to try and miss him and ended up riding off the track and stalling my bike and couldn't get it started, so I ended up 21st, which is a bummer. My dad gave me $100 for pulling the holeshot, though [laughs].
Your own private holeshot award, huh?
Yeah, exactly. He gave me $100 for getting the holeshot.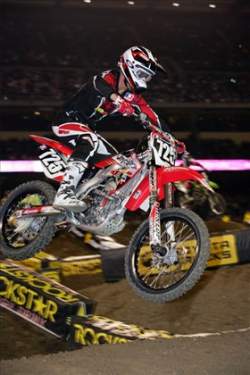 Logan Darien finished 16th at Anaheim 2

photo: Simon Cudby

Did you feel good about your riding in the Phoenix main event?
Yeah, that was best I ever felt in a main before. I've made a bunch of mains before, but I've never been up that high. Usually when I make the mains, wherever I get a start is usually where I finish—usually around 18th or 19th. But in Phoenix, I was in 20th at the end of the first lap and caught up to 14th pretty quickly. It was the best I had ever done. This year I worked really hard, so I feel like I should be up there in every race. It's hard to get real bummed on myself, because I'm doing better than I ever have, but I feel like I belong there now.
Is this your second season as a professional?
No, this is like my fourth year. Last year I rode for the same team, the Richardson's RV team. I did one of those BooKoo races before the West Region started, and I ended up breaking my wrist. I came back and tried to race some of the West Coast rounds, and it didn't go that good, and I ended up crashing and tearing my ACL. So I had to get my knee worked on and I was out for six months without riding at all. I didn't start riding again until October. It was a long year and I was almost over it. I started working at One Industries and everything.
How was that?
Well, I went to school for graphic design a few years ago when I broke my wrist and thought I was done racing. So the guys at One knew I had nothing to do that summer and said, "Hey, if you want to come down, we'll find you something to do while you're out." So I started working with Marc Blanchard, and all those guys were super cool and hooked me up, and I'd go down there a couple of days a week and started learning things. It was pretty sweet.
What's your goal for this year now?
My goal at the beginning of the year was to plan on being in every main, but I already blew that at the first round. So now I'm just kind of starting over, and at every race I just want to do better and better. I made the main and was doing all right, and in this race tonight I want to get a top-ten. I mean, the ultimate would be a top-ten. That would be sweet. But it's just race-by-race now because my points are all screwed up. All I can do now is race my best.
How's the team? Is it a good setup for a private effort?
Our team is awesome. Last year it was pretty good, but this year it's really good. It's really legitimate. You'd be surprised. Our mechanics all fly to the races. We all fly. These guys back us 100 percent. They're awesome. It's a really good program.
So you're making a living?
It's awesome. They pay us and stuff. It's perfect. I couldn't ask for anymore. I don't know how I lucked into this deal.
Will you do the Nationals?
No, we'll just do the West Coast ones. We'll do Washougal, Glen Helen, Colorado, and Sacramento. That's it.
What are your plans for the future?
I don't know. After I hurt my knee last year I almost gave it up. You have to stop sooner or later, you know? I'm going to be 25. I mean, I can keep doing it, and I can live off of it for now, but sooner or later you've got to be like, "I need to start making real money."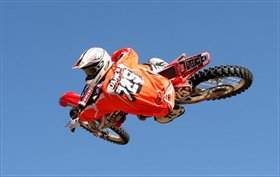 Darien got style

photo: Chris Ganz

I don't mean it the wrong way, but you don't sound like you expect yourself to be the next James Stewart or Ryan Villopoto…
[Laughs] No. No, I know I'm not going to retire off of motocross, that's for sure. But I'd like to stay in the industry. If I could work at a place like One and do something like that designing stuff, I'd be pumped. That's kind of why I started that whole thing at One: I wanted to get an idea of what things would be like when I was done racing. It was cool. I was having fun doing it. It was sweet, dude. At first I was all nervous because I hadn't worked since I was 16, you know?
Hey, I've heard a lot about this house you live in. What's the place all about?
Yeah, I live with Nate Adams and Ryan Morais. Then there's a guest house next to ours with Jiri Dostal and Jimmie McGuire, so there's five or six of us, and it's pretty gnarly.
Do you guys all get along?
Yeah, we all get along. We're all not around another a whole lot, so it works out good. It's awesome living with all those guys. It's cool. I think Ping always calls it the "motocross frat house." All we do is ride, go cycling, and play video games all night. It's kind of like the same thing every day. Ride, train, play video games, and sleep and eat. Oh, and we ride pit bikes a lot at the house. We have pit bikes and jumps all over the place.
Logan Darien's sponsors: