Welcome to the Shift Number Cruncher. While everyone was speculating on who was going to claim the third spot on the podium, Nick Wey was shadow boxing. Well, maybe. All the same, "Nyk" had to like his chances of getting himself on the podium for the third time in less than a year. He was banging on the door of the podium for most of the 2006 supercross season, making it at San Fran and Orlando, and while he had a slow start in 2007 due to a weird weightlifting injury, people had to expect Mr. Wey to get that rocketship MDK CRF450 on the steps eventually. Not only did he put himself on the podium once again, he made another resounding statement that privateers can get it done (he even got the $1500 Progressive Holeshot Bonus!). I took a look at his ride last weekend and then took a deeper look at his #27. It seems that number has made its way to some other hard-nosed, hard-charging privateers like Nick. Check out this posse.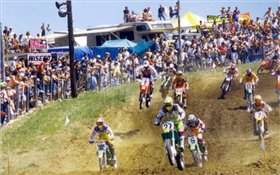 photo: Rob Harris
The Junkyard Dog will always be one of the baddest privateers in motocross history.
John Dowd
's win at the 1991
Hangtown
mud fest and some great rides like this one in Mt. Morris in 1993 wearing the 27 put his name on the map. This year he won the Endurocross on a privateer Suzuki—at age 41!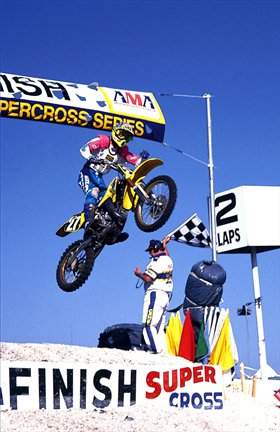 Denny Stephenson
photo: Courtesy of Moto Verte
Like Nick,
Denny Stephenson
is a former factory Suzuki rider that kept digging for many years after the yellow squad dumped him. Shown here in the highlight of his career winning the 125 class at the 1990 Daytona supercross, Stephenson would spend the next few years breaking wrists before landing at Team Great Western Bank, then onto a successful arenacross career where he was coined Mr. Dash For Cash (as well as Mr. Michelle Falls—seriously, well done, Denny!).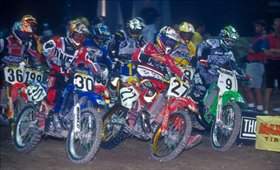 Brock Sellards
photo: Simon Cudby
Pictured here racing RC for a holeshot at the 1999 U.S. Open of Supercross,
Brock Sellards
met RC earlier that year at the
Washougal
125 National, where Sellards clinched the overall win after a wild last-lap, last-ditch effort by Carmichael saw him pass everyone…. But Jason McCormick. As a result, Sellards' 1-3 on the day bettered RC's 2-2.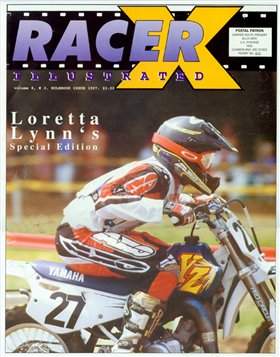 Matt Walker
I am not sure if there has ever been a rider like
Matt Walker
. He had a mouth that could challenge any sports announcer in the world and the speed to beat almost anyone on the track. It's too bad he never had any luck, because Walker is a good dude. This photo, by the way, is a cover from the
Racer X
newspaper days, and Walker wore #27 that particular year at Loretta Lynn's.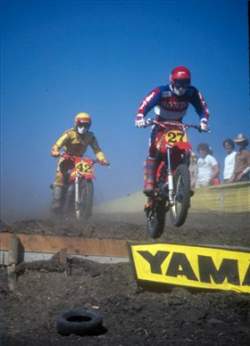 Gary Semics
photo: Dick Miller Archives
We dug this photo of
Gary Semics
from 1979 out of the Dick Miller Archives. That's Gary Semics on a factory Honda, leading none-other-than Danny "Magoo" Chandler off one of the old-school drop-off jumps. Over the years, the forever-young Semics probably raced with more numbers than anyone—and he still hauls ass!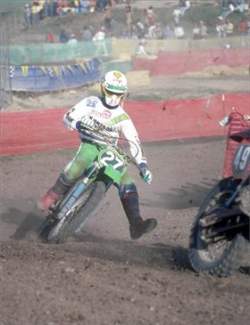 Larry Wosick
photo: Dick Miller Archives
One year after Semics wore #27, it went to
Larry Wosick
, a Team Green rider from NorCal. Wosick was teammates with David Bailey that season, and he made a go of the national circuit in the late 1970s and early '80s. He's now the guiding force behind the highly-acclaimed Honey Lake MX Park in California.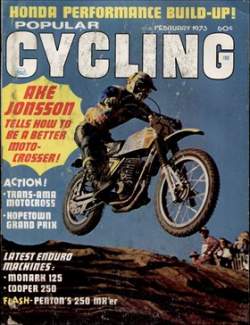 Ake Jonsson
Ask any old-timer and they will tell you #27 belongs to
Ake Jonsson
. He's the Swedish motocross star who dominated the 1972 Trans-AMA Series, winning the last nine races in a row on a Maico over the likes of Roger DeCoster, Heikki Mikkola and "Bad" Brad Lackey. Jonsson switched to a then-new-to-motocross Yamaha, and he was never the same.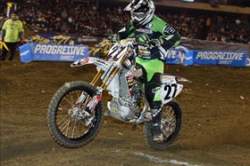 photo: Steve Bruhn
AMA Permanent number 27,
Nick Wey
is a great story. He is making Team MDK look like an incredible privateer team (and his new French teammate has to agree). I like watching him ride. He has sick style and always charges hard. Here's to some more podiums in 2007.
Here are some other # 27's from around the world: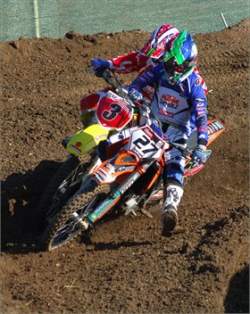 Wyatt Avis
photo: Steve Bruhn
Wyatt Avis
ran #27 at the 2006 MXdN. He rode the Open class for South Africa on a KTM. He went 11-DNF. Other than he is stuffing the crap out of Ivan here, that's all we really know about the guy.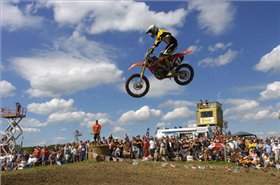 Kyle Keast
photo: Jason T. Griffiths
Kyle Keast
wore #27 on his Machine Racing CRF250 in the 2005 Canadian MX2 East series. It was a breakthrough year for the privateer rider, as he finished fifth overall and second Canadian in the four-round championship.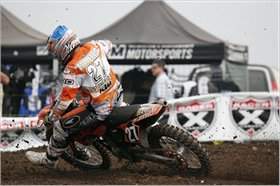 Johnny Montes
photo: Dan Stenning
The Spanish Fly,
Johnny Montes
, was hired on by Stoneridge KTM to contest the 2006 MX2 East series. Montes opened the year with a sixth overall in Ste-Julie, Quebec, and finished it off with an eighth overall at the MX2 East/ West Shootout.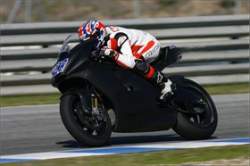 Road Racer X's Chris Jonnum made us run this photo of MotoGP racer Casey Stoner
photo: Andrew Northcott
Other notable #27s:
-Southern California's Ray Sommo earned # 27 two times (1989 and 1991)
-Cliff Palmer rode an F&S Sponsored #27 RM250 in 1996
-Ron Tichenor earned number 27 for 1998
-Goat Breker raced with the two seven in 1986
-Marty Tripes was #27 in 1978 on a factory Honda
-Kent Howerton wore the two-seven in 1974 as a Husqvarna factory rider.
That's all folks. If you have any other #27s worth mentioning, send them to me at andy@mxsports.com and we'll get you in the Redux and throw you some stickers.