Bench Racing Ammo: Green Streak
From a spectator's standpoint, 2007 looks to be a long year; from Kawasaki's standpoint, 2007 is going to be the greatest season ever. Three rounds and six main events down, and every winner—in both classes—has been aboard a green bike.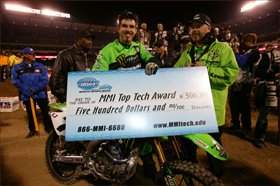 The Kawasaki mechanics are winning, too!
photo: Steve Bruhn
That brings us to today's subject: Has a manufacturer ever dominated right out of the gate like this before? Looking back, we've seen the same manufacturer dominate one class in the past, but not both classes.
In 2004, Ivan Tedesco opened up the West Region Lites series with five straight wins on his Pro Circuit Kawasaki, and James Stewart did the same on his KX125 on the East Coast. After the final round of the series, both Tedesco and Stewart tallied 14 wins out of a possible 16. As for the premier class, Kawasaki went 0-for-16.
Back in 2001, Jeremy McGrath and Ernesto Fonseca won rounds one and three, respectively, and both were aboard Yamahas. The blue streak ended after that, as Ricky Carmichael reeled off 13 consecutive wins in the 250cc class that year aboard his KX250. Fonseca did go on to win the West Region championship.
The 2000 250cc series was another good year for Yamaha, as McGrath and David Vuillemin combined for 14 wins and finished 1-2 in the series standings. In the 125cc class, they got an East Region title from Stephane Roncada and two wins in the West from Motoworld of El Cajon Yamaha rider Greg Schnell.
In 1996, McGrath opened the 250cc series with 13 consecutive wins on his factory Honda CR250R, but the only win for Honda in the 125cc class came in San Diego, courtesy of Honda of Troy's Jeff Willoh.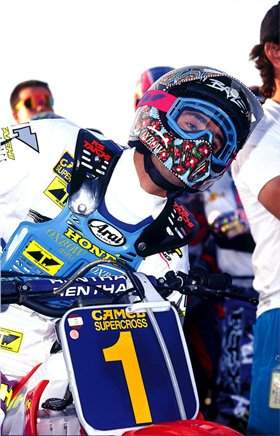 Jean-Michel Bayle contributed to Honda's dominant '91 SX season
photo: Courtesy of Moto Verte
Finally, and closest to what we're seeing now, in 1991, Honda began the 250cc series with five consecutive wins—two from Jeff Stanton and three from Jean-Michel Bayle. In the 125cc class, Honda was able to win four of those five races with the Team Peak duo of Brian Swink and Jeremy McGrath. At the end of the series, Honda totaled 12 250cc and 13 125cc main event wins, for a grand total of 25 on the season. That's the best supercross season on record by a single manufacturer, but Team Monster Energy is well on their way to eclipsing that mark in 2007.
Another interesting storyline for A2 is Christophe Pourcel dropping from first to fourth in the standings due to an injury. The Frenchman came to Anaheim as the co-points leader, but an injury last week, and again in practice at Anaheim 2, hampered him in the main event, forcing him to pull off. Has this ever happened in the past? The only time we can recall is back in 1999, when series points leader Casey Johnson, after winning the first two rounds of the series, was landed on over a triple and suffered a broken arm. This ended all title hopes for the then-Yamaha of Troy pilot, and Casey has never really been the same since.