Monday Conversation 2: James Stewart
Who is going to beat James Stewart? Just three races into 2007's Amp'd Mobile AMA Supercross Series schedule, Stewart has three wins, and he's not making too many mistakes. He's in control, and if he can run that fast and stay up like he has been, it's going to be a long season.

Racer X: James, three wins in a row. What are your thoughts right now?
James Stewart: I'm super happy. I'm super happy for the team and my whole camp. It feels like, when the main event comes around, I always find myself and put the speed in I need to win. Chad rode good all day long, so it was no cakewalk. That shoulder must have been feeling a lot better than it was last weekend. It's going to be a tough season, but we're just putting our head down to see what happens.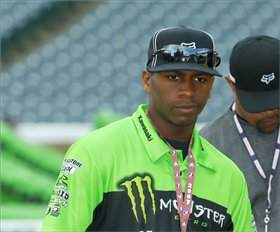 James isn't thinking about a perfect season

The perfect-season topic must be coming up, at least. MC almost did it in 1996. Is this possible or even on your mind?
No. I mean, I just think now there are so many guys that can win. When MC was doing it in 1996, it was just MC. He was just so much better than everyone else. I'm not knocking the other guys, but in supercross, he was just that guy. Now with Ricky still here on a partial schedule, there is Chad that's running a lot better than he had the last weekend [as possible winners]. As long as I keep doing what I want to do—like I said in the press conference, it's not about a perfect season, it's about trying to put myself in the best position to win the championship.

You had all your years in the premier class with RC as a rival. How does that change when he practically steps away overnight? Does that change your days or how you think about the week?
No, I think about my normal routine. I'm not going to change something up during the week. As far as racing him, I race the same all the time. It was definitely different not having him on the track. He will be missed. He'll be back next week and we'll have some more good battles.

Do you feel right now that the only person that can beat you is yourself?
Chad is going to be good, and Ricky. Hey, you never know, one of these privateers like Nick Wey—somebody might be out front, out of the blue, and there are bad starts, and who knows? That's what I'm working on. I don't want to beat myself. If I'm going to get beat, I want to get beat and not do it myself.

Are you making fewer mistakes than you used to?
No, I just think I'm a lot stronger than I used to be. When you come into the third year, you just learn a lot. Losing a championship by just two points, you go back through and "this race I should have done this, and this race I should have done that," and you just try to learn from those mistakes.