Kawasaki/Racer X Race Report: Anaheim 2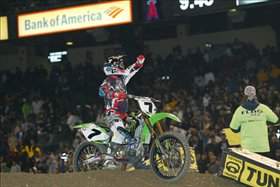 Stewart Wins His Third in a Row
Sometimes you can't think too hard in supercross. With
Ricky Carmichael
bowing out of the Amp'd Mobile Supercross Series in the first phase of his semi-retirement, process of elimination would show that Monster/Kawasaki's
James Stewart
would dominate the races
Carmichael
didn't compete in. After all, James won the last two rounds of the series and only Ricky was able to keep him in sight. So, with Ricky out, James was free to roll, and honestly it was about that simple.
Stewart was fastest in practice by nearly a second over Chad Reed. Reed bettered that time in his heat race, but then Stewart lowered it again in his. At that point it was clear that no one, not a still-not-recovered-from-injury Reed, nor anyone else, had the speed to run with Stewart tonight.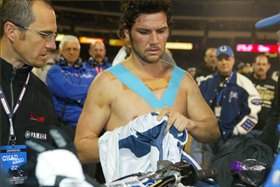 Reed struggles with breathing, and his shoulder is doing better.
But that didn't stop the field from trying. MDK/Xyience Honda's Nick Wey grabbed the Progressive Direct Holeshot, which was sweet justice since he had also taken it last week, only to lose it when the race was red flagged. This time Wey was up front again and red flags never came out. Stewart was able to slide through turn one and save it when he lost traction momentarily, and the he blitzed to the front quickly to get into second. Soon he worked over Wey, took the lead and took off. Meanwhile Reed and Ivan Tedesco were battling for third. Reed eventually gapped Tedesco and moved into third, and eventually then caught Wey and passed him for second. While before the race people had estimated some wild claims as to how big a lead Stewart would build after 20 laps, Reed managed to keep it from reaching comical levels by finishing 13 seconds off. Clearly, though, Stewart had more to give if he needed to.
Stewart's teammate Tim Ferry was on the move around the halfway point of the race. He battled Tedesco until the Makita Suzuki rider crashed, leaving Ferry to chase down Wey for the final podium spot. But Wey never faltered and held on for the coveted third, the first podium finish of the year outside of the Stewart/Carmichael/Reed trio.
Stewart is now three for three in Amp'd Mobile AMA SX this year and quickly showed he can handle the transition from the Carmichael era as smoothly as he pilots his KX450 around a technical track. Has the torch really been passed? We'll see, because Carmichael will return to racing next weekend in San Francisco.

The rest of the field is ailing. Reed said he may finally be healed to the point where he can ride twice next week. Wey had an arm injury a few weeks ago and is only now at the point were he can ride during the week. And Travis Preston, the hero of the last two weeks after a pair of fourths, crashed in practice and had to pull out of the event with chest injuries.
Stewart's dominance in the 450s was nearly paralleled by Ryan Villopoto smoking it in the 250F class. There wasn't anyone close to RV in practice or in the heat races, and when it came time for the main, victory for him seemed as assured as it did for Stewart. Plus, his main competitor, French MX2 Champion Christophe Pourcel, was apparently nursing a hand injury he suffered during the week. Worse yet, Pourcel then jammed his foot at some point during the evening, slowing him further. Reports are he might have broken a bone in the foot, which means he defiantly won't be racing anymore supercross this season. He won his heat race, but struggled in the main and eventually pulled off. Villopoto, meanwhile, got a bad start but just jammed his way to the front immediately, aided by his ability to triple into a rhythm section after the second set of whoops, and the triple again in a jump combo after that. He was the only 250F rider to pull the section consistently, and used it to open a huge lead and take his second win of the season.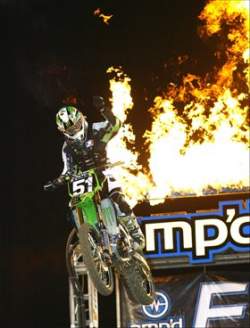 Villopoto wins Anaheim again!
A battle raged behind him between
Josh Grant
,
Steve Boniface
and
Josh Hill
, but then Boost Mobile/Yamaha of
Troy
's
Jason Lawrence
came out of the pack on fire to zap them all and take over second. Hill hung on for third, his first podium.
That's the word from Anaheim. Carmichael returns next week, but will that mean some competition, or has Stewart simply become the dominant factor he was expected to be when he made his supercross debut five years ago?