Where Are They Now: Tyson Vohland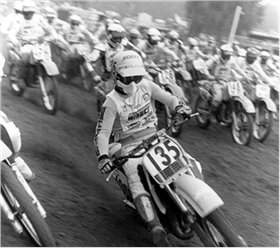 Tyson pulling the holeshot at Loretta Lynn's in 1984
photo: Racer X Archives
Tyson Vohland is one of the better riders to come out of the Sacramento area. Living in Citrus Heights, CA, his dad raced in the early 1970s. In 1974 he bought Tyson a 50cc Indian Bambino with a centrifugal clutch.
Over the next few years, the family got into flat tracking and rough scrambles in the Sacramento area. They soon found motocross, and Tyson landed his first support ride with Yamaha in 1980 as a mini rider. He was contracted to race the Golden State Series and other local events. He had a successful amateur career, winning two titles at Loretta Lynn's ('84 and '85) and numerous titles at Ponca City and the World Mini Grand Prix.
In 1986 Tyson moved into professional racing with a factory Kawasaki ride and won the very first supercross he signed up for: the Anaheim SX season opener. He finished second in the series to Donny Schmit that year and may have won it if not for a mechanical failure. He ended the national series in the top ten that year as well.
The following year, Tyson was not allowed to race the 125 class due to a quick move-up system the AMA used at the time, so he was forced to race the 250 class. He still got a support deal from Kawasaki, but an injury sidelined him for most of the season. The next year, Kawasaki hired him to race the Mickey Thompson Ultracross series and the outdoor nationals. Tyson won several of the main events and finished second in the series to Jim "Hollywood" Holley.
The next year, Tyson finished second in the series again to Holley. He was making a decent living but jumped at an offer to race for Suzuki in Italy the following year. He raced the 125 GP's for Suzuki in 1990 and finished sixth in the series.
The AMA reworked their points system the following year and reinstated Vohland's 125 eligibility. He re-signed with Kawasaki and finished the West Series in fourth. He signed with NCY in 1992 and ended up in third for the year.
The following year changed Tyson's life. His grandfather passed away and it really affected him. He took a year off from racing and it ended up being the end of his career. Starting in 1993, Tyson began acting as manager, trainer, and coach for his younger brother, Tallon, who also won SX races, an AMA National, and Grand Prix races in Europe. Together, Tyson and Tallon are the only brothers ever to each win AMA supercross races.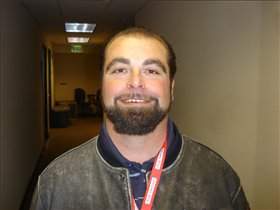 Tyson Vohland today
photo: Mike Farber
Today, Tyson Vohland is part-owner in a property management company called Lexington Property Management. He puts in his hours early and usually does some golfing in the afternoons. He still rides occasionally and does motocross schools once in a while for local Sacramento area kids. That's good news for the motocross scene in Citrus Heights.