Privateer Profile: Jim Neese
With all the hype surrounding the Amp'd Mobile AMA Supercross Series, it's easy to overlook the fact that another major series is also running. The Toyota AMA National Arenacross Series is midway through its 2006-'07 season, and it's definitely one of the most competitive seasons we've seen. Last weekend in Baltimore, Carolina Express' Jim Neese finished on the podium three out of four tries. We ran him up for today's Privateer Profile. Be sure to show Jim and his sponsors some support by clicking on the links below.
Racer X: Jim, while much of the focus is on the Amp'd Mobile Supercross Series this time of year, the Toyota Arenacross Series and all of the competitors are still going strong, aren't they?
Jim Neese: Oh yeah, definitely.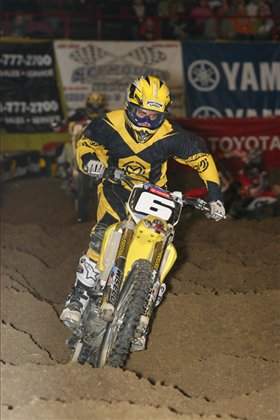 Team Carolina Express' Jim Neese

How has the rider turnout and attendance been this year?
The first three rounds were unbelievable. We had, like, 70 or 80 entries. We had eight or nine daytime qualifiers, taking two or three out of each one. It was just crazy. But now since supercross started, it kind of whittled down. It always starts pretty strong, but never as big as this year. But arenacross really seems to be thriving right now.
You've been at this for quite a while, and we've recently seen a lot of major changes to the series. What are your thoughts on those changes, Jim?
Well, there's two different ways to look at some of them. With the rule of only having to race one bike in one class, as a privateer, I like it because you only have to get one bike ready and you only have to focus on one class, so it's a little cheaper for us. But on the other hand, you only have one chance to do good on the night, so you either make it or break it. Plus, for me personally, I like riding both classes just because I like the extra track time. I ride both classes now since I'm not in the top eight in points, and I'm doing so much better. Just riding one class all weekend means you sit around a lot. I like being out on the track. I guess I'd rather have it back to riding both classes, personally. There's just an argument for both ways.
Didn't you start out the season focusing on the Arenacross class?
Yes, in the beginning of the year I was in sixth, so I didn't get to ride the Lites, because if you're top eight in points, you're not eligible to ride both classes. I planned on staying in that class all year, but the first three rounds were hard on me—I think I qualified for one out of the first six main events. But I got my starts figured out a little now, and we're back on track. So I had not planned on riding the Lites this year, but I'm really glad I'm able to ride it now. I'm winning the East Region, and I get a lot of press from it. Plus it just really helps me in the 450 class.
Have you heard the announcer, Tim Cotter, slip up at all throughout the season, calling them the "125" and "250" classes?
I think he's been doing pretty good. We screw it up more than he does. I never know what to call it—I just call it everything!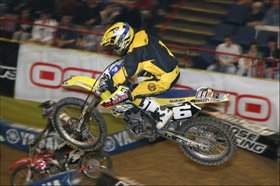 Neese won the AX Lites class last Saturday night in Baltimore

You had some good finishes in Baltimore last weekend. In fact, you only finished off the podium once all weekend, right?
Yeah, that's right. The last two weekends in a row have been that way. I figured out my starts, and that's huge in arenacross. The extra track time riding the Lites class has helped as well. I felt like I was so ready before the season, but then I just had some bad starts and crashes. Anything that could happen, did happen. During our break I changed up a few small things, and it started working out. Now I have some momentum, so that's a good thing.
Which bike do you like riding better?
I've always rode the bigger bike better, whether it was the 250cc two-stroke or the 450, but man, the 2007 RM-Z250 is an awesome bike, and it really suits my style.
You seem to improve with age, much like John Dowd has. What's your secret, Jim?
Well, the year I was a teammate with Dowd, he kind of inspired me. I was starting to feel old, but being with him woke me up a little bit. Heck, he won his first supercross when he was like 31 or 32, so I feel that I've still got awhile. I was really healthy growing up and I never had any bad injuries, so knock on wood. I think that's what hurts a lot of people, is the fact that we start off young and get hurt, and it sticks with you throughout the rest of your career. By the time most guys get to 30, they're done. But I don't feel that way. I feel good and strong and I definitely want to win as much as I ever had. I'm starting to figure stuff out now it seems.
How old are you?
I'm 33.
What are the chances of ever seeing you back racing supercross or motocross?
I don't know. I actually thought about it last year. I went down and rode at Lonnie Taylor's house, and I felt awesome—better than I ever have, especially on the four-strokes. I've never really ridden a four-stroke in supercross. But I felt so good, and I thought about it. I may even do a couple this year, it just depends on what's going on and how everything is working out. I'd like to, though.
How has the season been for you and the Carolina Express Suzuki team? That's a new team with you and Jim Chester.
Yeah, last year Tim Cotter joked around with Jim Chester and I, calling us the Carolina Express, so that's sort of where the name came from. I've been trying to put something together the past few years, and I decided to finally do it. The Carolina Express isn't a company or sponsor, it's just the name of our team. I really can't believe the press that we got. Ed Kuhlenkamp, our agent, has been awesome doing the marketing. We don't win all the time or anything like that, but it's all about marketing and just getting your name out there. We're trying to lean towards bringing North Carolina behind us a little bit. Our sport has never done anything like that. There's a lot of potential for getting some sponsorship from the state of North Carolina, especially with NASCAR being so big around here.
So was this team mainly your idea?
I kind of thought about it over the summer, and I called Jim to see if he wanted to do something, so we both started working on in it a lot over the summer.
You and Jim Chester have been friends for quite some time.
[Laughs] We were enemies at first, but friends now! We get along well, and he keeps me pumped up. He's a good motivator.
Do you guys travel together?
Yes, most of the races we do. My mechanic, Dave Lyon, and Jim and his mechanic and I all travel together. It's pretty fun.
Looking ahead, who do you see winning this year's championship? Danny Smith is consistent, but it looks like Chad Johnson has really picked it up lately.
Danny's consistency has fallen off the past couple weekends. I think Chad really closed in on him recently. But man, this is the most inconsistent season I've seen for a while. There's a bunch of different guys that can win, and they are winning. I think Reynard and Keith Johnson are close, so it's going to be pretty good.
What do you think when you see supercross regulars crossing over to arenacross?
I like it. I think it's good for the series. People assume they're just going to come in and kill us, but it's arenacross, and that's not going to happen. Like Pastrana came in last weekend, and he struggled. But it's good for the series. And those guys know how to race, too. You can trust them and they're fun to race with—you don't have to worry about any cheap shots. And then you have these guys coming in trying to get their supercross license, and if you leave the door open for one second, they're going to take a shot. Arenacross is aggressive, but you have to be smart about it.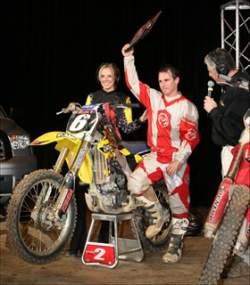 At 33 years of age, Neese is contemplating a return to supercross.

So what do you do when the series ends in March?
I do a lot of local racing. We have the Mega Series and Ultra Series back around home, and as soon as the arenacross series is over I go full time with my riding schools. I just started doing schools a few years ago, with summer camps, and it's growing like crazy. If I wanted to do, I could probably stop racing altogether and just do that.
Do you specialize in arenacross only?
No, not at all. I teach everything. I have a few full-time riders I teach now, during arenacross, but in the summer I'll give private or group lessons, stuff like that. It works out pretty good.
If a rider wants to find out more information on taking some riding lessons with you, what's the best way to get in touch with you?
Check out my website, www.jimneese.com.
In closing, you want to thank anyone?
I'd just like to thank our team, Carolina Express, and all of our sponsors.

Jim Neese's sponsors:
www.jimneese.com

www.totalcontrolsuspension.com