Welcome to the Shift Number Cruncher. This week's number is about never giving up. A smooth ride to the top of our sport is almost unheard of; riders can have all the talent and factory support in the world, but a blown-out ACL or a shoulder dislocation will put him on the sidelines just long enough for the next big thing to come along and take his place. Meanwhile, other riders make it to the top but just can't seem to break all the way through.

In motocross, only the strong survive. And when I took a good hard look at #102, I found that it surrounded some guys that were knocked down more than a few times in their careers but kept getting back up and swinging for more.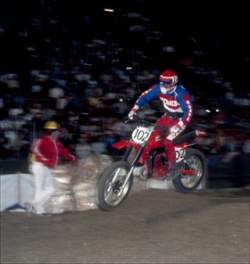 Jim Pomeroy
photo: Dick Miller Archives
At the top of the list is one of the all-time heroes of American motocross,
Jim Pomeroy
. In the 1970s, Pomeroy probably left some AMA National Championships on the table in order to chase his dream of being a Grand Prix champion in Europe. It was a time when the Belgians, Russians, Czechs and Swedes ruled motocross—not the Americans. He struggled for years on inferior equipment as he remained loyal to the Bultaco factory. When they finally pulled out of racing, he returned to America in 1977 to race for American Honda with #102. By then the years had been hard on the "Yakima Flash," but Pomeroy gave it his all, only to be out-ridden by Bob "Hurricane" Hannah. After he retired in the early 1980s, Jim had some troubles in life, and car crash set him back for years. But he had gotten it all together in recent years and was enjoying a new life on the vintage circuit, meeting old fans and friends and getting back to his roots. Last year, he was lost in a car crash in his native Washington.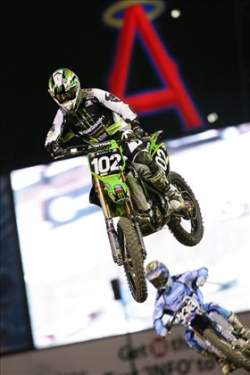 photo: Simon Cudby
Nothing has ever come easy for
Chris Gosselaar
. While he does come from one of the biggest racing families in the sport, Chris earned his rides with gritty determination and a never-say-die attitude. Yet Li'l Goose has struggled with injures ever since he holeshot his first national moto at
Washougal
and was pretty much written off after yet another injury riddled season in 2005. Mitch Payton took a chance on him, and Chris made the most of it by taking the #102 and placing it on the podium several times and finishing the '06 East Region Lites series in third place. He must have bonded with the number, because he earned #49 for '07 but decided to give #102 another run. Last weekend, Gosselaar helped make Payton smile bigger than he ever has by digging deep late in the race to make it a 1-2-3 podium sweep for Monster Energy/Pro Circuit Kawasaki in the Lites class at Phoenix.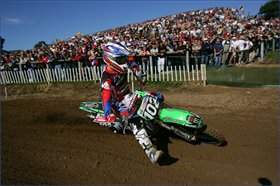 photo: Simon Cudby
Ivan Tedesco
is one of those guys who just keeps having to dig deep. After dusting up the last leg of his amateur career, he received a ride from Plano Honda and would jump into the 125 SX series. He wouldn't even make it to the first race because he dislocated his hip riding at a friend's house in Texas. Ivan kept digging and eventually became a Lites-class supercross champion, then the 2005 AMA National MX Champion. That landed him on Team USA for the '06 Motocross des Nations, and he helped
Ricky Carmichael
and
Kevin Windham
get to the winner's circle while wearing #102.
After switching to Makita Suzuki, "Hot Sauce" had a good indoor season in 2006 in the premier Supercross class, but Ivan crashed huge in Vegas and had to miss the outdoors with a shoulder injury. He came into 2007 faster than ever but broke his hand in Toronto. Once again, Ivan is back.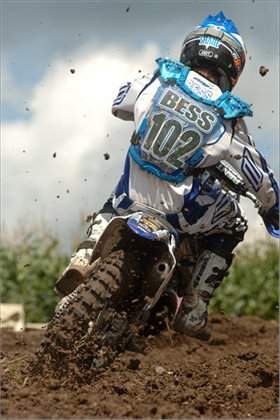 Shane Bess
photo: Allison Kennedy
American Suzuki Support Manager Cole Gress groomed
Shane Bess
to become a future supercross champion, and when Shane blasted into the professional ranks in 2003 on the now-defunct ECC Suzuki team, he appeared well on his way. Alas, Shane lost his way and would spend the next two years trying to figure things out … and also raising pit bulls. An opportunity in Canada came calling in 2005, so Shane took his #102 up north and rallied his fading career. Since then he has put in some good years racing arenacross.
Here are some other notable #102 guys:
-John Fesler from Reddick, Florida #102 in 1998.
-Chris Young raced Suzukis with #102 on the plates in the 1990 West Region supercross series. He made a name for himself as an iron man by racing, and usually qualifying for, both main events.
-John Campbell, from Dodge City, KS, entered #102 in the 1975 Lake Whitney National Motocross Races.
Okay, now it's up to you guys, the fans. If you have any pictures or additional information on #102, send it to me at andy@mxsports. I'll send you some stickers and we'll get it in the Redux.