Between the Motos: Erin Bates
If you're a fan of Amp'd Mobile Supercross on SPEED or CBS, then you are well aware of who Erin Bates is. If not, here's a chance to meet the pit reporter for supercross and AMA motocross, and to learn a little more about what goes on behind the scenes of these shows.
Racer X: So far, so good on the TV shows. I think you and Fro and Ralph are doing a real good job.
Erin Bates: Thank you! Yeah, it's an adjustment, for sure, working together as a team. We're starting to get to know each other a little better and how to play off of each other, but sometimes I just feel like I'm on my own little island down there by myself on the racetrack. We're just working on making it flow, but so far so good.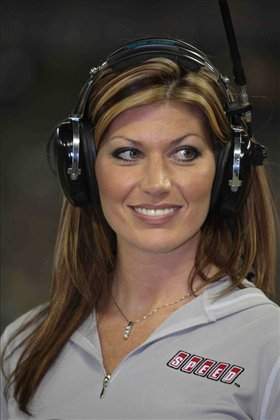 Erin Bates

photo: Rex Backman

Let's start with Ralph. He's the consummate professional, isn't he?
He definitely is. As you can tell by his experience in the past, he has brought so much professionalism to the table, and having Jeff coming in and having a championships under his belt, he's been there and done it before. It's a great group to work with, and I'm excited to be a part of it.
There was some people that were probably caught by surprise whenever Denny Stephenson did not return, and Jeff Emig showed up instead. Were you surprised by Jeff's performance out of the gate, or did you kind of expect that from him?
To be honest, I didn't know Jeff very much at all, up until getting to know him through work. We knew who each other were and we've spoken to each other, but we really never taken it past there. I'm not sure if I would say I was really surprised, but Denny Stephenson is a good friend of mine, but Jeff really had the itch to do really well at this. He is going to a speaking and announcing coach, and he's really making a go of it. He's done some pit reporting in the past, but he wants to be the best, like all of us. But I think his drive will take him to where he wants to be.
As far as your career goes, you started out doing some FMX stuff, and that was live floor work. You've slowly worked your way up, and as Terry Boyd would say, "Erin Bates, you've got to be happy right now."
[Laughs] I'm definitely happy, that's for sure. It's been a goal that I've always wanted to achieve, and it's been my goal since day one. As much as it seems like it's been a slow process, it's amazing how quickly it actually came. It just goes to show you that hard work and perseverance and having the right attitude will make anything possible. It's been a long road, though. It's funny, now that I watch freestyle, I get a little bored. I need the adrenaline from action-packed racing. Not taking anything away from freestyle, but racing is more for me, I guess.
As far as the racing goes this year, going all the way back to some of the madness in Canada, we've had some good races so far, and that includes both classes. Let's start with the 125, er, Lites class…. Do you ever call it the 125 class, and do you get your knuckles smacked with a ruler?
I think I had one time, but that was for live announcing. We had a little rule that if you said "125" or "250" you had to donate money into a swear jar. I don't even know who ended up getting the jar, but I know I put the least amount of money into it.
I guarantee Chris Bond [the director] took it!
[Laughs] It was split up with the Live Nation crew.
But in the Lites class, how has talking to Chris Pourcel so far?
Well, that's one of the challenges of my job—the obvious language barrier. But for him, he allows his racing to do the talking for him, but I think he understands and can speak a lot more English then he lets on.
Very JMB-like.
I think he understands a lot; he just gets nervous and doesn't like to talk. When he's up on the podium, he's like, "Geez, one question only!"
And then you have Ryan Villopoto, who, I think on or off the bike is mature beyond his years.
Absolutely. I would agree with you 100 percent. He's got a really good head on his shoulders, and it has a lot to do with his family. He's very dedicated to what he's doing. Even at his age now, all he cares about is going out and riding, whether it's his 50 or his 250F. So look out world, here comes Ryan Villopoto!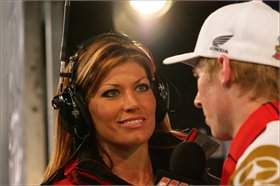 Bates is always focused on the job

photo: Paul Buckley

In the 450 class, we're looking at a real empty spot on the starting gate this weekend, but from what I understand, RC is going to be up in the box with Fro and Ralph—is that true?
Yes, he said he's going to bring his Ho-Hos and Twinkies and all that good stuff. But it's going to be really interesting to see what happens this weekend. A lot of people are on the edge of their seats saying "what is this going to be like?" He's been in the sport for so long and obviously he's one of the key players out there. So to have him sitting out this weekend, especially with the battles that we've had between him and James so far this season, it's going to be interesting to see if anyone can step up to that pace. But with the injuries a lot of riders had coming in, we're just going to have to wait till Saturday and see.
My next question is, you're down at the starting gate and you're trying to do an interview right before the gate drop, and they're getting ready to race. But did you find yourself a little irritated by the 30-second-board girl, who was going beyond the wiggle and was doing a full on "bump and grind" and was only lacking a steel pole to grind on? For the first time since you started this gig in supercross, all the guys and mechanics on the line probably weren't staring at you!
[Laughs] To be honest, my mind is so focused and I'm in the game at that point, that stuff really doesn't distract me. My job is very different from what the guys do, because I'm on camera and I have a very short time period to get out what I want to say. There are so many points running through my head, so it's a matter of putting them together to deliver it precisely and execute it so it all makes sense. And having the bikes in the background and the pressure of having only 10 or 20 seconds to get that out and for the races to get started. But every now and then I do look up and see the wiggle and wish I was 10 years younger, yes.
If you were the board girl, Erin, I would demand a three-minute board instead of 30 seconds!
[Laughs] Oh, that's sweet of you!
As far as the rest of the season goes, with RC coming in and out of the series, if you had to bet your entire swear jar, who would you take to be the third person on the box this weekend?
Well, I would have to go on the results thus far this season, and wow, that's a tough one, because there are a few guys who have a really good chance. I'd say Tim Ferry or Travis Preston. But this weekend I'm going to take Tim Ferry, because he did well at Anaheim 1.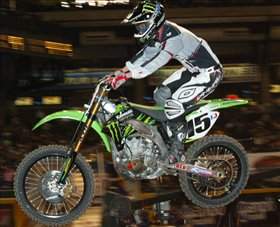 Will Tim Ferry grab a podium position this weekend?

photo: Steve Bruhn

Looking ahead, what's next for you? You said you wanted to do this all along, but what do you want to do down the road?
That's a funny question, because I've been so focused to getting where I'm at with this job, and now that I'm here I find myself asking that same question. In a couple of years down the road I'm really looking forward to starting a family, but as of right now I'm just taking it one step at a time. I'm focused on doing the best job I can as a pit reporter for supercross, and you never know what kind of offers will present themselves. That's sort of what always happened in my career, and I've just allowed it to come to me. I recently signed with an agent, so I'm hoping for some outside work aside from supercross will be coming my way, like modeling or acting or commercials. I like to get involved in a little of everything.
If you do anything as well as you do this, Ms. Bates, I'm sure you'll be fine.
Thank you so much.
Now, I'm going to name someone in the industry, and give me the first word that comes to mind.
Uh-oh!
Let's start with Bevo.
He's like the Jewish grandma that consistently tries to feed you.
Chad Reed.
He puts himself through pain because he's so determined.
Doc Bodnar.
The permanent fixture that keeps everybody healthy along the way.
Terry Boyd.
A good friend and mentor that has helped me to where I'm at today.
J-Law.
Matured.
Mitch Payton.
Manager of champions.
Andy Bell.
My rock.
Anyone you want to throw a shout-out to?
I'd like to really thank the support of all my fans, co-workers who have been there for me in the past. It means the world, because without that drive I wouldn't be able to do what I love to do. I also want to thank Live Nation—I've been working for them for the past seven years. Also the AMA, I love what they're doing for the sport.
Oh, one last question. You live in Utah. The governor: cool governor, or coolest governor ever?
[Laughs] Cool governor, because I've only lived in this state for the past five years, so this whole "governor" thing is all new. He likes to ride a lot, and he always calls my husband to go riding with him, but that's all I know.