Sign of the (Lap) Times: Phoenix
Supercross Class
The last time the same rider won the first two rounds of the AMA Supercross Series in the premier class was 2002. The rider: David Vuillemin. Unfortunately, DV12 didn't have a very good night in Phoenix, and the entire stadium was on the edge of its collective seat until David got up from his frightening crash. Get well soon, Cobra.

Back to the bench racing. This year, James Stewart pulled off the feat on his Monster Energy Kawasaki, taking a six-point lead over RC in the AMA series and a one-point lead in the World SXGP. And throughout both rounds, Stewart left no question as to who was the fastest rider on the track, logging the fastest time of the night in Anaheim and again in Phoenix. But at Phoenix, RC was right there, and the two rode almost perfect races, with Stewart having just a little more. That made all the difference: 1.22 seconds over a total of 20 laps!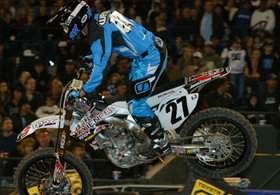 Nick Wey was sixth fastest

photo: Steve Bruhn

Biggest surprise: Xyience/MDK Honda's Nick Wey
Although Wey finished ninth, #27 was able to record the sixth-fastest lap time of the night in the Supercross class. With RC dropping out for A3, Wey is a solid contender for that third podium position.
| | | | |
| --- | --- | --- | --- |
| Pos. | Best Lap Time | Rider | Bike |
| 1 | 41.346 | | Kawasaki |
| 2 | 41.478 | | Suzuki |
| 3 | 42.706 | | Yamaha |
| 4 | 42.718 | | Honda |
| 8 | 43.063 | | Honda |
| 9 | 43.158 | | Honda |
| 6 | 43.243 | | Suzuki |
| 5 | 43.269 | | Kawasaki |
| 7 | 43.321 | | Suzuki |
| 10 | 43.625 | | Honda |
Supercross Lites
It was a great weekend for Kawasaki-mounted Monster Energy-supported riders in the Lites class, with Christophe Pourcel, Ryan Villopoto, and Chris Gosselaar going 1-2-3. It was the first win for Pourcel, and the young Frenchman is currently tied with his teammate for the points lead at 47 each. But RV shouldn't be disappointed, as he was again the fastest rider in that class.
Unlike the Supercross class, you don't necessarily need a top-five lap time to finish there. Motosport Kawasaki's Steve Boniface had the twelfth-fastest time in the main and finished fifth. Red Bull KTM's Josh Hansen was eleventh-fastest and finished in sixth.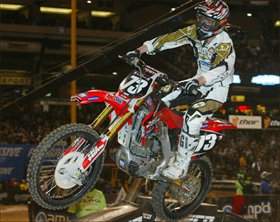 Weimer was fifth fastest, but finished 14th.

photo: Steve Bruhn

Biggest surprise: SoBe/Samsung Mobile Honda's Jake Weimer
Idaho's Weimer was able to log the fifth-fastest time of the night, which was less than a second off RV's fastest time. This proves he can run with the top guys, but bad luck is getting in his way. Weimer finished 14th in Phoenix.
| | | | |
| --- | --- | --- | --- |
| Pos. | Best Lap Time | Rider | Bike |
| 2 | 42.897 | | Kawasaki |
| 1 | 43.227 | | Kawasaki |
| 3 | 43.486 | | Kawasaki |
| 8 | 43.780 | | Yamaha |
| 14 | 43.874 | | Honda |
| 7 | 43.878 | | Yamaha |
| 4 | 43.933 | Matthew Lemoine | Yamaha |
| 9 | 44.355 | | Yamaha |
| 13 | 44.360 | | Suzuki |
| 10 | 44.361 | | KTM |