Bench Racing Ammo: Phoenix
We can derive several interesting Bench Racing Ammo topics from this past weekend's race inside Chase Field in Phoenix, Arizona, but let's start out with the red flag. When was the last time that happened?
Well, at the 2003 Daytona SX, Michigan privateer Kenneth Garcia got knocked out off the start of the 250 heat race, getting hit in the head by Kyle Farnell after he went sideways across a double. Thankfully, Garcia was fine after he came to.
As far as main events go, the last major race we know of was the 1992 Broome-Tioga 125 National. Guy Cooper snapped his femur, bringing out the red flag. The eventual winner that day? Jeff Emig.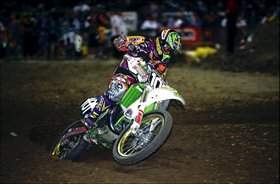 Will Pourcel follow in the footsteps of Mickael Pichon?
photo: Courtesy of Moto Verte
Now, in the Lites class,
Christophe Pourcel
took an impressive victory in only the second professional AMA supercross race of his career. For those who don't know much about the #377 Monster Energy/Pro Circuit Kawasaki rider, Pourcel is actually the 2006 MX2 World Motocross Champion, as he dethroned Italy's Antonio Cairoli to become the latest French MX world champ.
Pourcel is following in the knobby tracks of a very talented group of French riders who have come to America to race supercross. Riders like Jean-Michel Bayle, Sebastien Tortelli, Mickael Pichon, Stephane Roncada, and David Vuillemin have set the bar very high, with JMB being the only Frenchman to earn a 250cc supercross title Stateside.
Vuillemin has had an excellent career here as a premier-class rider—the longest of all the French imports—but both Pichon and Roncada experienced more success in the tiddler class. Mickael Pichon wore #101 on his way to two regional supercross championships (1995 and '96) aboard Mitch Payton-tuned KX125s, and Stephane Roncada won the 2000 East Region championship with Yamaha of Troy. But Pourcel is currently riding on the West Coast, and if he decided to race the entire series, he could become the first Frenchman to win there.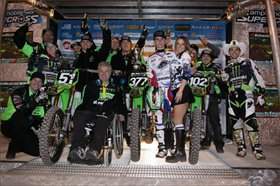 History was made in Phoenix!
photo: Steve Bruhn
Another nod to the French for sweeping both heat races in the Lites class.
Steve Boniface
joined Pourcel in winning the two heats, and
Chris Gosselaar
took the LCQ, making it a green sweep all around.
And in a press release issued yesterday, it states that the Monster Energy/Pro Circuit Kawasaki team made history by becoming the first team to ever sweep the entire Lites podium. Congratulations, guys!
Here's one for you: At the 1989 season-opening AMA supercross at Anaheim, Honda riders went 1-2-3 in the 250 class, as well as dead last. It was Ricky Johnson, Jeff Stanton, and Guy Cooper on the podium (with future Honda team manager Erik Kehoe fourth on a Suzuki). And dead last that night, in his first AMA supercross, was Jean-Michel Bayle.
And finally, a nod to Spain. Manuel "Manu" Rivas grabbed a twelfth-place finish, marking the best finish for a Spanish rider in AMA supercross. That's his second straight main event in the 450 class, and this guy is doing it on his own, too. Anyone looking to help out a very capable Kawasaki rider? Let us know: letters@racerxill.com.

Manuel Rivas is representing Spain in the Supercross class this season. Want to get in touch and help him out? Drop us an email.
photo: Kinney Jones