450 Words: Phoenix Supercross Class
A few years ago, the buzz in this sport talked nothing about the present and all about he future. The word was this: "I can't wait until
James Stewart
moves up to the 250s, because then we'll get to see some competition for Ricky." It sounded good, but such great horizons can't be taken for granted. These guys were so darned fast and so dominant and so unbeatable, something had to give. Either the world would blow up (and when it rained in Southern California at Anaheim 1, it sure seemed possible) or one of the two riders would fail to deliver, and everyone would go home disappointed. Could it really measure up against such great expectations?
It has. This much-hyped dynamic duo has actually come together. This has been three seasons of dramatic and dynamic racing. It has been as good as it was supposed to be, and probably better than anything that has come before it or might come after it. And it's scheduled to end soon, as Ricky officially becomes a part-time rider when he takes next weekend off. So enjoy every last morsel of this.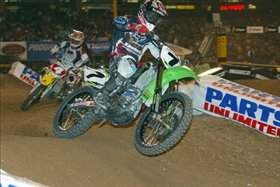 Phoenix was another classic battle between Stewart and Carmichael
Take this race in Phoenix: yet another Carmichael and Stewart classic, and in fact this one even had bonus time. After three intense laps in the main, David Vuillemin crashed hard in a rhythm section and knocked himself out, and he was in such a precarious spot on the track that the race had to be red-flagged. The officials re-racked the field and reset it to run 20 laps again. And again, the Stewart-Carmichael train raged to the front and battled to the finish. Was it better than Johnson and Bailey? Stanton and Bradshaw? Carmichael and McGrath? It sure seems like it. This one has maintained for portions of three seasons now, and we're no closer to figuring out who is faster now than we were before it all started. In fact, we may never get to answer that question because the two are so evenly matched that tiny differences, like bike setup and line selection, are playing the largest factor in who wins and loses.
In Anaheim, Carmichael said his bike wouldn't turn well enough for him to beat James, so he reworked his chassis and showed up much faster in Phoenix. But just when it looked like RC's night, Stewart made some changes to his bike, figured out his lines, and matched him. Thus we had a main event decided by just 1.22 seconds after 20 laps, with Stewart winning it and proving that maybe he's finally figured this "how to beat RC" thing out. But it was close. It was awesome and exciting and just as good as all that promise would have indicated when these guys were cleaning up two different classes every weekend a few years ago.
But now it's nearing an end. RC won't be around much longer, so be sure to remember every second of what you're seeing live, on TV, or on the internet right now. Because this is as good as it's supposed to be and, possibly, as good as it gets.