Kawasaki/Racer X Race Report: Phoenix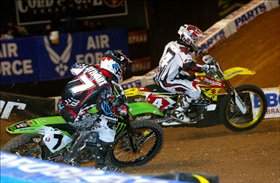 Carmichael versus Stewart. This is as good as it gets.

The Phoenix Supercross featured yet another classic battle between
Ricky Carmichael
and
James Stewart
. So good was it, and so good has it been between these two lately, that the battles have really set the standard for the sport, the level of unpredictable, closely matched competition that everyone is waiting for.
For once, the races aren't even being decided by who is fastest. The two are so evenly matched that small details, like line selection and bike setup, are now determining who wins the races. Because such minute details can decide the outcome, the races are completely unpredictable, just like it is in other forms of motorsport where the competitors have such parity that a small difference in setup makes all the difference. You know what we're talking about here, and you know that formula works. And, this race will air on CBS tomorrow. It's all good for the sport.
After taking a defeat from Stewart last week, Carmichael looked ready to rebound in Phoenix. He revised the front end geometry of his Makita Suzuki to pick up his corner speed, and he posted the fastest lap times in practice and in his heat. Stewart looked to be struggling just a bit. But in the main event, Kawasaki's Stewart found the right combination of the details—lines and bike setup—to match Carmichael's lap times and enter an all-out showdown. It was a fight to the finish, and Stewart ultimately won by just over a second after 20 laps.
Actually, the main event took 23 laps. After Nick Wey pulled the Progressive Direct Holeshot award, Stewart soon jumped into the lead and started pulling away while Carmichael worked his way through traffic. But on the third lap, Wey's Xyience/MDK Honda teammate David Vuillemin crashed hard in a rhythm section and knocked himself out. DV was in a precarious position where he could simply not be moved from the track, so the race was red flagged and started again on lap one. Vuillemin eventually got up under his own power and then headed back to the pits in the Asterisk Mule.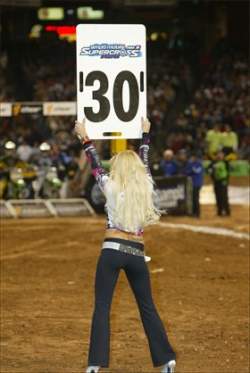 W e decided this would be a nice photo to run.


Impressively, Ware Racing's Jeff Dement grabbed the holeshot on the second start, but this time Stewart was buried in mid pack and Carmichael was up front. Stewart made some amazing moves to quickly get into second, and then he stayed absolutely glued to Carmichael's fender. Both had strong and weak parts on the track, with Stewart making up a lot of time in a right hander and whoop section combination, and Carmichael posting good speed through the rhythm sections. Eventually Stewart made the pass and tried to pull away at the halfway point. But lappers kept slowing him and Carmichael stayed close.

Carmichael gave it a run, but he couldn't figure the corner and whoop section out. He would get close but couldn't show Stewart enough of a wheel to get him back. Stewart held on through the lappers to win by just 1.22 seconds, and amazing and dramatic finish to a great race.

"I feel like things don't bother me anymore running up front like that," said Stewart. "I just feel so strong, the lappers, all of that stuff doesn't rattle me."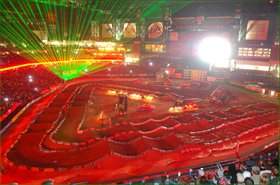 The Phoenix show was big, and it'll air on CBS tomorrow.


Carmichael admitted defeat gracefully, saying he wasn't good enough tonight, and also saying he has so much fun battling Stewart. "It's not like it was in 2001 when I was racing Jeremy," said Carmichael. "I just had raw speed. I don't think James went and found speed. In terms of raw speed, I don't think that was it. I think he just figured out good lines."

It's amazing to see things that are so small making such a big difference. But there's one caveat, one asterisk, one elephant in the room. Carmichael is heading toward retirement, and he won't be racing in Anaheim next weekend. What happens then?

Chad Reed dug deep again and finished third. He was struggling in practice and his heat and was also way back on the first main event start. But he got his start down in the second start, and withstood an early challenge from Kevin Windham and a late challenge from Travis Preston to finish third again. Reed was only able to ride for a few laps on Wednesday as he continues to recover from injuries suffered only two weeks ago.

Preston rode incredibly well again for fourth, passing Windham and Tim Ferry. Ferry was fifth.

Just as intriguing as the 450 main was the 250F class. The race wasn't terribly exciting, but the winner, French MX2 World Champion Christophe Pourcel, is creating a lot of buzz. Pourcel had the fastest practice times, won his heat race, got a good start in the main and completely checked out to win just the second supercross he's ever competed in.

His Monster/Pro Circuit/Kawasaki teammate Ryan Villopoto was leading his heat race but crashed, and he barely made the main with a ninth-place finish. This gave him a bad gate pick in the main, and he was nearly pushed off the track off the start. He methodically picked his way through the pack to get to second, but he was over 10 seconds behind Pourcel by the time he got there. Third went to Chris Gosselaar, which means the Monster/Pro Circuit/Kawasaki team swept the podium. Amazing.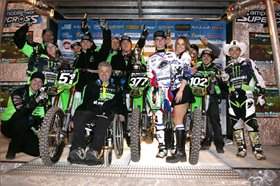 There are few great things the Monster/Pro Circuit Team hasn't accomplished, but they found another new one by sweeping the podium.

The whole night was a good one, and the TV show on CBS tomorrow shouldn't disappoint. Supercross has a winning formula right now, and we can only hope it keeps up even with the GOAT finally sitting on the sidelines.