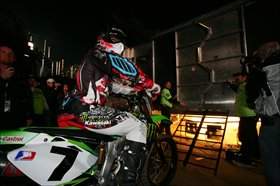 What was on the other side of that door was no problem.
photo: Simon Cudby
Hello, everyone, and welcome to the Rev-Up. The game is afoot. We were all waiting for the biggest night ever, and by the time the checkered flag flew on the Supercross main event, few could argue that we saw just that. The live broadcast was sharp, exciting, and poignant; the opening ceremonies were extravagant, emotional, and invigorating; and the racing action on the track was a culmination of all the aforementioned elements.
It is hard to find the words to explain how important that was. All that matters is that we were lucky to get the show on live TV and have the opportunity to do a better job next time around.
But for now, we have another race around the corner. And in many ways, this one is just as important as the first one. A few years ago the NCAA put out a slogan trying to pump up March Madness: "Every game counts." The 2007 Amp'd Mobile AMA Supercross Series is no different. Every race counts. Let's get Revved Up about why Phoenix counts so much.
Supercros Lites
When you look at the rider list for the East and West Region Lites classes, I picked up what appears to be a subliminal message that reads, "Avoid Ryan Villopoto." The only two guys who hung back out West and had a shot of beating him (Josh Grant and the longer shot of the two, Tommy Hahn) took themselves out with crashes. But after watching "RV Park" make a schoolyard sandbox out of that burly Anaheim 1 track, I'm not sure anybody would have deterred his winning efforts. I have been trying to pinpoint his riding style and match it with other SX greats. There is a little RC in there, a little Bradshaw, and something else that seems to be all RV. He stays toward the back of the bike, with his shoulders square and his head centered straight over the bars (and I do mean straight!). I could only scoff when he was carrying the front wheel through that sand section and hucking the triple at the end like he was bored or something. Damn!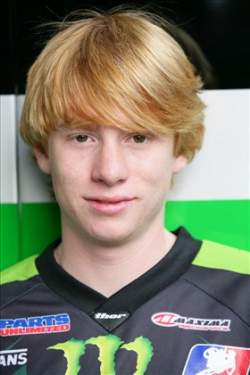 Silent Killer
photo: Simon Cudby
The only thing that surprised me more was
Christophe Pourcel
. That kid looked really good. It's hard to say who's the better recruiter, North Carolina's Roy Williams or Monster Pro Circuit's Mitch Payton!
Did you see how many Loretta Lynn's alumni were in the main event? Matthew Lemoine, who led the youth gone wild with a seventh-place effort, while
Kyle Cunningham
,
Josh Hill
, and
Kyle Chisholm
all spit Tennessee sawdust just last August! As a matter of fact, if you throw out Steve "Bonifast" and Oz' Cody Mackie, every rider in last Saturday night's Lites class had ridden through the Ten Commandments. And how cool is it that Christophe and RV were racing each other in the Supermini class at Loretta's just four years ago, along with a certain #800? It's great to see all those kids and all those families "making it." And atta boy,
Jason Lawrence
! Well done,
J-Law
.
Supercross
The royal rumble I was predicting last weekend didn't quite come to fruition – but for seven or eight laps, it sure looked like it was going to! How many of you jumped out of your chairs when Chad Reed banged the holeshot? Were visions and memories of Daytona filling your mind? What about when James dumped it on lap five? Déjà vu all over again or what? And although it was only for a lap, watching RC and Bubba race side by side was truly great. We will see it again this weekend, I promise.

Every race counts. For James it counts as another chance to prove that he is the man—he damn sure was last weekend! For Reed, it counts as a chance for him to get another podium. And for RC, this race marks the beginning of the end. This Saturday night will be the last race of Ricky Carmichael's infallible full-time career, as RC is stepping down and staying away from Anaheim 2—whether he's still the points leader or not (and right now, he's it in the WSXGP tour). Phoenix has always been good to him. The state produced his wife, who is carrying his twins and has been the site of some of his greatest victories. What better place for him to have the chance to walk away from the sport as the points leader?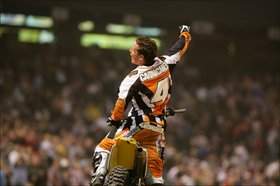 Everything that has a beginning has an end
photo: Simon Cudby
How much does that matter to him? Watching him last weekend made me realize that those thoughts aren't really in the forefront of his mind – but they aren't that far away! He still has it. Throw us some berms and mellow out the track a little and maybe we'll see a little wrist-locked, straight-leg action. You know what I'm saying? A little drain plug? What do you say, RC? How 'bout one last charge before you hang it up? Every race counts—including the next one, because in RC's case, it's more or less the last one.