Privateer Profile: Matt Lemoine
At his first Amp'd Mobile AMA Supercross event, rookie Matt Lemoine turned a lot of heads by finishing seventh in the Lites main event. The 17-year-old Texas resident is a former top amateur rider who has made the plunge into the pro ranks this season, and he's off to a tremendous start. We caught up with him for this week's edition of the Sponsorhouse.com Privateer Profile. Make sure to show Matt and all of his sponsors some support by visiting the links below.
Racer X: Matt, first off, congratulations on a very impressive seventh-place finish at Anaheim 1. Did you expect that race to go as well as it did?
Matt Lemoine: I kind of did, but I thought I'd be a lot more nervous, and I thought I'd slack off more than I did, but it ended up going pretty well for me.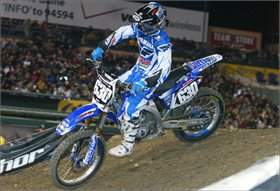 17-year-old Matt Lemoine finished 7th in the Anaheim 1 Lites main event

photo: Steve Bruhn

You got really good starts in both the heat race and the main event.
Yeah, I was working on my starts a lot at the test track, and I was stoked that I got that good of starts.
For being your first professional AMA supercross, was there anything that really surprised you?
I was kind of over-preparing myself for that race. Anaheim 1 is all hyped up, so I was kind of expecting more. I think it worked out well for me.
How did you block out all the hype and stay calm?
I kind of just focused on just going out there and riding like I practice, and that seemed to work better than me just going out there and trying to beat everybody.
Did you check your lap times after practice to see where you were at?
Yeah, I was kind of surprised. I was in the non-seeded-rider practice, and I was the fastest in my practice. But what really surprised me was my heat race. That showed me that I could finish up near the front.
Technically, your first professional race was actually back in October at the U.S. Open, wasn't it?
Yeah, that was it, but that race was crazy! It's just like an arenacross. I was really nervous at that race.
That was the first time I saw you on a Yamaha. You're a member of the Lucas Oil Star Racing team, so tell us how that deal came up.
Oh, those guys at Lucas Oil Yamaha are crazy. Brad and Bobby Regan and my mechanic, Andy, all of those guys are phenomenal, and my bikes are perfect. The deal came up after Loretta Lynn's. My agent, Jimmy Button, kind of got in touch with them, and he worked out a deal.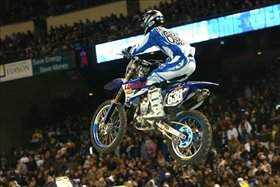 Lemoine is a member of the Lucas Oil/Star Racing/Bobby J's Yamaha team

photo: Steve Bruhn

So you're pretty fresh out of the amateur ranks; did you have much success as an amateur?
Yeah, I won plenty of titles—I couldn't even tell you how many, probably at least fifteen or so. I've been a Kawasaki rider ever since I've been on 60s.
Was it difficult switching from green to blue?
It was kind of weird at first, but we set up my Yamaha kind of like a Kawasaki, and I adapted to it really fast.
You're originally from Louisiana, correct?
Yeah, Baton Rouge, Louisiana.
How did you get started racing motocross?
We just went to a supercross one day, and I had raced four-wheelers a bit, and the next day after the supercross, we came home and we had a PW80. My brother and I shared that bike and rode for a couple months, and then we started racing after that. I was probably 8 or 9 years old.
At what point did you think you may be able to make it as a professional rider?
I don't know, when I was like in the (14-15) class on 80s and started doing well, and then I moved up to the big bikes and started doing well, I thought that I could maybe do something in this sport.
What are you expecting this weekend?
I think I won't be as nervous as the first race in Anaheim, and that should make things a lot easier.
What did you think of those Anaheim whoops?
Those were probably the sketchiest part on the whole track. Whoever built those whoops were crazy!
What's your goal for this season?
My goal is to just go out there and try and do the best I can, finish pretty high in points, and see where it goes from there.
I know this is very early to be looking so far ahead, but do you like riding outdoors?
Yes, I'm a very good outdoor rider. That's what I grew up riding.
Aside from all of the team sponsors, do you have anyone you want to thank, Matt?
Yes, I want to thank my mom and dad, my brother, and Bobby Regan, Brad, Andy, and everyone at Lucas Oil Yamaha. I also want to thank everyone at Toyota for giving me a free truck and helping me out with that stuff. Toyota hooked me up with a new Tacoma, so that was pretty cool.

Matt Lemoine's sponsors:
JD Built
Web Cams