Between the Motos: Jay Mitrowitz
Anaheim 1 is out of the way, which comes as a big relief to many of the people behind the scenes who help run the show. One such person is Jay Mitrowitz, who is the MX/SX Race Director for AMA Pro Racing. We spoke with Jay this week to see how things went for him.
Racer X: Jay, first off, you must be relieved that Anaheim 1 is out of the way?
Jay Mitrowitz: Yeah, it's pretty good. It went well with the new schedule and everything.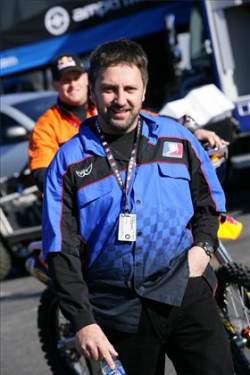 AMA Pro Racing's Jay Mitrowitz is glad Anaheim 1 is out of the way

photo: Simon Cudby

I wasn't able to make it out, but I watched the live broadcast on SPEED, and they did a great job, and I hope to see more live broadcasts in the future. From what I saw, it appears everything ran pretty smoothly, but how did it go behind the scenes for you?
Things went exceptionally well. The new format with the timed qualifying—taking the 40 fastest into the night show—went off without a hitch. There was a lot of positive response from the riders. There was a lot less wear and tear on the track from it, and we had a little longer break before the night show, which allowed the Dirt Wurx guys to prep the track real nice. And without the semis, again, it was less wear and tear. It was a little different format to get used to for us, but I think it's a good deal.
Did you hear any negative response from the riders?
I wasn't able to talk to all of them, but the ones I did talk with seemed to have a positive response.
What about from a fan's perspective—do you think they miss the extra racing action that the semis provided?
I don't know. When we're down on the floor running qualifiers and we'd look into the stands, it seemed like most fans weren't in the stands at that time.
We saw that Cernic's Kawasaki's Paul Carpenter already used one of his two available provisional starts to get into the Supercross main event.
Yes, he was the only rider at Anaheim 1 to use his. The requirement is is to be top 10 in either the World SXGP points or the AMA points to use that, and he was eighth coming out of the two rounds in Canada. We were thinking that Nathan Ramsey would try, but unfortunately he was 13th in the WSXGP points, so he wasn't able to use his.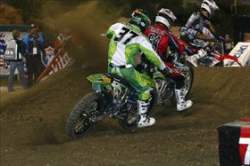 Paul Carpenter (37) used a provisional start to get in to the Anaheim 1 main event

photo: Steve Bruhn

So if a rider wanted to use a provisional start at the opening round in Toronto, you'd only be able to go off of last year's points.
Yes, that's correct. That's what we did for Tyler Evans in Toronto. He crashed out of the LCQ and used his to get into the main event. He was 10th in the World standings last season, so that enabled him to use it.
James Stewart looked very good out there. Do you see anyone stepping up and challenging him this year?
I hope somebody would! Chad [Reed] rode injured at Anaheim 1, but when he heals up he might give James a good run like he did in Canada.
Well, last week DC talked to Steve Whitelock, and he addressed a lot of the new changes for this year's series. What are your thoughts on the new changes?
It's new and it's just a change. I've been running the same format for the past 10 years, and it'll take a few weeks to get used to, but I do like it and change is good. Our sport needs to be evolving to grow. It helps the show when it's live, so hopefully we'll get more live events in the future.
Is live TV the key to get the sport to that next level?
Yes, absolutely. We have Monday Night Football, so I think it'd be neat in the future to have Saturday Night Supercross throughout the winter. I think that's something that would help the sport quite a bit if all 18 events were live.
So what is your official position with AMA Pro Racing, Jay, and how does your position differ from Whitelock's?
Steve is the Series Manager, and he oversees everything. I'm the Race Director or Assistant Manager, and I just run the floor. I run all of the races from the floor, including staging and getting everything started on time. I work with Jeff Canfield, who is up in the press box. He works with the promoter and the TV broadcast to make it all happen on time.
Do you oversee all of the other AMA Pro Racing officials we see out there on the track, either flagging or running tech inspection in the pits?
Yeah, I oversee them as well. The timing and scoring crew are kind of on their own, but we all work together. But all of the officials on the floor, from the guy who drops the starting gate to the manual score girls we have, I'm in charge of them.
How many AMA Pro Racing officials are there at a given supercross?
There's anywhere from 20 to 24, depending on the venue and where we are and what staff I have available.
Compare running a supercross event to an outdoor national.
A supercross is only one big day, but it's one long day. The outdoors are two days, and it's dirtier and dustier, but it's a lot more laid back.
A requirement of your position is definitely a passion for motocross. What is your background with MX, and how long have you been with the AMA?
Believe it or not, I've never raced a motocross event in my life. I'm just a big motorcycle enthusiast. I've raced Hare Scrambles and Enduros, and I've been to many local motocross races, helping out to run the event. My father and I also promoted some Hare Scramble events back here in the Northeast where I live, so I've just been around motorcycles my whole life, it seems. I've had other jobs, everything from shirt-and-tie jobs to being a carpenter and a mechanic, but this is a lot more fun!
Well, you have a long season ahead of you. Good luck, Jay.
Thanks a lot, Billy.