Monday Conversation: James Stewart
James Stewart laid his bike over after winning Anaheim 1 and punched the air, waved to the crowd, and shouted in excitement after winning a full-on battle with Ricky Carmichael and recovering from what could have been a costly mistake.
Stewart felt he had the speed, and after going back to basics after Canada, he found the answers. That was a good feeling, and you could see it after his win. Stewart talked about his race in the live post-race press conference on www.supercrossonline.com, and we caught up to him right after that.
Racer X: James, as you leave the press conference, what are you thinking right now?
James Stewart: I'm glad to win again! It's been forever, it seems like. After the Canadian races I just had to go back and put my head down and regroup. I felt like we went back to our basics, and it seemed like it worked tonight.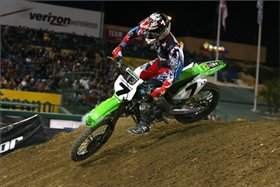 Stewart went back to the basics to win A1

When you say go back to basics, what does that mean really?
[Laughs] If I tell you what I was doing, I think everyone in the world will laugh. It's just some stuff that you wouldn't think a proven supercross racer would work on - just the little things like when I first started riding, working on stuff. We did a lot of laps and lot of just the basics.
RC made the comment that if you're not falling, you're not trying. Does that mean you guys - since you both fell - are on that edge all the time?
Not tonight, necessarily. I knew the track was super slippery. I was just trying to be really smooth. I came up short on the finish just enough where it popped my front tire up and I hit a little groove and just washed it out. Yeah, we are definitely trying when we go do down, but I don't think that was the case tonight.
How did your first turn go, and did you see Chad and what he did?
I thought I had a good start, and he came racing around on the outside. The first thing that popped in my head was, Maybe that shoulder isn't hurting him too much. But I think we both ride through some good pain, me in Vancouver and Southwick - any time you're out front people will say the same thing. I have nothing but respect. He's really hurt and he manned up tonight. It's going to be a good season.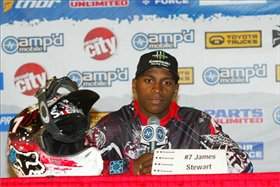 Stewart won Anaheim 1 for the second time in a row

Were you and Ricky matched on speed, or did you have him covered?
I felt I had a little bit extra tonight. He was riding super good. He picked it up between practice and the heat race. Our heat-races times were about a tenth from each other. He picked it up. I just felt that in the main, I found a little bit extra and I was just pulling away a little bit and then I would get caught in the lappers and not be able to jump something. I felt I was stronger and stronger as the time went on. When he fell, I was kind of bummed when that happened.
It was obvious you were super pumped when you came across the finish and laid your bike over and started punching the air.
It was just a moment of feeling good to win a race again. There were people that doubted me again and stuff like that. Just coming off the Canadian races, I wasn't too happy about that. It felt like a good victory to win, but that's not going to make or break the season right there. I have to keep my head focused and get the job done.
How do you pace yourself in a night like tonight, because racing, for you, is not pacing yourself?
I was just trying to be smooth, as far as that goes. I just fell back to my old self, like the 2003 kind of deal. When I got a guy, I wanted to go around and not wait up and fall. If it were a different track, maybe. Tonight, I just felt I had that sense or urgency that I wanted to get around and ride my own race. I was super focused on myself tonight.
You just turned 21, right?
Yeah, baby!
Is your dad going to keep getting the champagne at the podium or is that yours now?
No, I think I may have one or two sips after a championship, but I'm not a drinker at all.
Is your ankle and everything all right now?
You're looking at me. I'm feeling fine and walking fine. My ankle is 100 percent now. Tonight after the race I felt good, not tired at all. It's going to be a good season.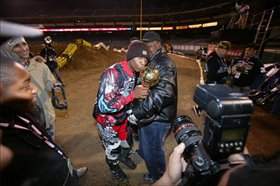 James was super-pumped on his victory

You and Ricky, even in outdoors, always seem to find each other on the track. Do judge your own speed based on his, or are you able to ride without that and block him out?
The difference with racing him, and also Chad, is you know, when you're winning a race against those guys, you're going pretty fast. Those guys don't back off. They don't give you anything.
This is the first time you rode without the Red Bull logos. Did you make any changes?
Red Bull has been a great sponsor to me. Monster Energy is sponsoring the team, being a good sponsor. It's been a while since I had the logos on, but I have nothing but good stuff to say about them. They've been super awesome, so let's move forward to the future.