Kawasaki/Racer X Race Report: Anaheim 1
It was a good night for supercross in the Mecca of it all, Angel Stadium in Anaheim. The typical sold-out crowd came to see a show, and they got it from opening ceremonies right down to the main event, all of which showcased a sport that just keeps getting bigger and better. And as one star begins to build the end to his career, another is beginning to come into his own just in time to take the mantle.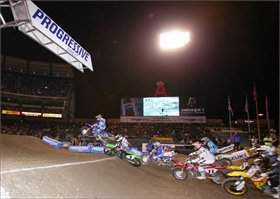 Busted shoulder and all, Chad Reed still managed to score the Progressive Direct Holeshot in the SX main event
Of course, fancy opening ceremonies and big crowds were to be expected here, but the big fear was that the racing wouldn't deliver the goods—something even more critical considering a live crowd was watching the show on Speed. But the race was plenty exciting, as a variety of dramas played out, including
Ricky Carmichael
's last
Anaheim
ride,
James Stewart
's ascension to the AMA Supercross throne, and a gutty ride by
Chad Reed
for third. Stewart seemed to have the edge on everyone all night, and he ultimately used that advantage to win the race for the second-straight year. Carmichael would end up second, which means he will probably end his career without having ever taken a win at
Anaheim
1, a fact that he maintains doesn't really mean anything to him considering he's won so many races.
But coming into the race the story wasn't Stewart or Carmichael, it was Reed, who was injured in a practice crash the weekend before the race wasn't even sure if he would be able to race at all. He hopped on his San Manuel Band of Mission Indians Yamaha and rode some laps in practice, then headed to the gate in his heat race looking to earn his spot in the main (Reed could have earned an automatic spot on the gate since he was in the top-ten in points, using the provisional gate pick that top ten riders get to use twice in a season). Unfortunately, he crashed immediately in his heat and then had to claw his way all the way back into a qualifying position. Right then and there, Reed considered quitting and using his provisional pick, but he dug deep and finished eighth to make the main.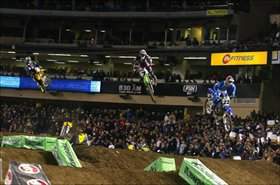 Reed leads Stewart and Carmichael early in the main event
Makita Suzuki's
Ivan Tedesco
gutted it out, too, and made the main through his heat, even though man expected him not to race due to a hand injury he suffered in
Canada
.
Carmichael and Stewart won the heats, and the crowd was all pumped up for the battle between them in the main. But Reed, ailing, pulled the start of his life with a holeshot from the outside (16th gate pick) and then let adrenaline carry him through the race. He couldn't hang on in the whoops, though, and Stewart quickly went past him there and took the lead. A lap later Carmichael passed Reed, but Reed hung close, and when Carmichael bobbled in the whoops, Reed improbably took second back from him. Then Carmichael was able to get back around and go after Stewart, but with the way Stewart was riding, it didn't look like that could happen.
But then, almost like a gift from the racing Gods, Stewart lost his front end in the corner after the finish-line jump and went down. He was fine, but now it was on, the big three in a big battle. As RC and Stewart left Reed behind, Stewart erased Carmichael's small gap and then made an unbelievably spectacular pass, scrubbing a jump hard, staying low, and going right past Carmichael.

"I felt like I didn't want to wait around," said Stewart. "I scrubbed it pretty good there. I felt my footpegs drag.

After that Ricky stayed close, putting pressure on James and hoping for another mistake, and the capacity crowd stayed on its feet in anticipation. But in the end, it was Carmichael who made the errors. He landed on a tuff block and managed to recover, and then lost his front end in the next corner and went down.

"James just had the edge on me all night," said Ricky. "I felt like I just had to ride on that edge to try to stay with him. I was really chasing my tail in the 180 degree corners. I couldn't turn early and get back to the inside. That's how you wind up going down."
Stewart was able to cruise through the last few laps and take the win, and he celebrated hard, happy to come back from a rough trip through
Canada
and also from a spill in the main to win.
"I felt like I earned it," said Stewart.
Reed, meanwhile, somehow held on for third. "That was probably the biggest start of my life," he said. "I was dealt a really bad hand, but I knew it was what I had to play. I just really want to win the supercross title, and this is what I had to do."
Travis Preston finished an impressive fourth on his Sobe/Samsung Honda, with Monster/Kawasaki's Tim Ferry fifth.
In Lites racing, the world expected Monster/Pro Circuit/Kawasaki's Ryan Villopoto to win, and he did. They may not have expected MX2 World Champion Christophe Pourcel to finish second, but he did, a spectacular ride in his supercross debut. Third went to a rejuvenated Jason Lawrence, now of the Boost Mobile/Yamaha of Troy team.
Villopoto's main championship rival was supposed to be Sobe/Samsung Honda's
Josh Grant
, but Grant crashed in the whoops in practice. He qualified in his heat race, but then didn't line up for the main event.
With a full stadium, a live TV audience and a sold out crowd, things were good for supercross in Anaheim. Now the march through the country begins, with Stewart looking to carry the points lead, the pressure, and the sport on his shoulders, and Reed just trying to get his to feel better.