Number Cruncher Redux: #8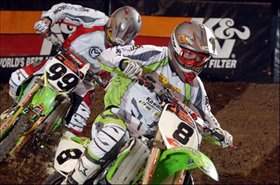 Josh Demuth (8) leading Damien Plotts in BooKoo AX action last season
photo: Tony Scavo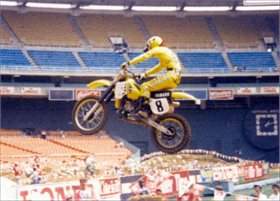 RJ sported #8
photo: Rob Harris
Awesome job again, but I think RJ and Josh Demuth need a shout out as well with #8. Josh used it to win the BooKoo title last year, and RJ used it in his early years with Factory Yamaha. The Demuth/Plotts photo is a favorite of mine. I've raced with both of those guys for a long time. When I fist met Plotts in 1987 at Sleepy Hollow MX Park, he was in a halo with bolts through his head! Happy New Year!
Rob Harris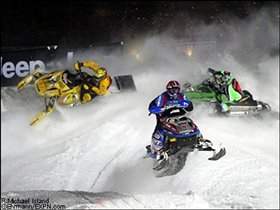 Michael Island
photo: Courtesy of Jayme Wood
Seeing as you were adding additional sports to the number cruncher thought i'd shoot you this one. In snocross Michael Island wore the #8 to victory at Winter X in 2004. Who finished behind him? None other than
Tucker Hibbert
and Blair Morgan, both of whom have extensive MX backgounds. Island also races pro MX up in canada.
Jayme Wood

KDK Sports
In 1982 Jim Gibson ran #8 on his Factory Honda, a great indoor/outdoor rider. He also finished third in the 1983 125cc World Championships.
Frog from Mototalk
What about Scott "The Burner" Burnworth who rode for Factory Suzuki wearing #8 in 1984?
Scott Burnworth
I believe Goat Breker was #8 during the 1985 season as a member of Team Kawasaki.
Andrew Erie
Austin, TX

Eight-time National Enduro Champ Dick Burleson, who started his career as a MX racer, used the #8. In some books he was the first US MX Champion because he was the top American in the Inter-Am MX series and that is what they used to pick the National Champion.
Mark Hyde

Andy, some riders that rode #8 that come to mind are Jim Gibson on the oh-so-cool factory hondas in 1982; Goat Breker Factory Kawasaki in '85 (I think that was his last year racing); and Erik Kehoe in '86 on the Factory Suzuki. By the way, I love this whole Number cruncher thing! It gets the old memory going!

Steve Coventry
Richmond B.C,Canada.

#8, Erik Kehoe, Team Suzuki
#8, Pit Beirer, 1996 250 World Championships, Pamo Honda team. "Pit Bull" was one of the greatest riders to ever ride a motorcycle. Just ask Stefan Everts, who had to race Bierer..
#8 Rob Herring, MITSUEI Yamaha, UK,
1988 250 World Championships
250 British National Championships
#8 Andre Vromans, former vice world champion in 1982 and 1983 250 World championship contender for Team Suzuki
#8, Jim Gibson, circa 1982, 125 national championship and teammate to Johnny O'Mara
#8, David Watson
250 World Championships, '82, '83
Factory Yamaha UK importer.
Teammate to 1981 world champion Neil Hudson.

Todd Applegate