My First Bike: Jessica Coombs
Do you remember when you got your first bike? For most of us, it's one of the best days of our lives. Thanks to the support of our friends at Spy Optics, we've decided to start a new Saturday column called "My First Bike." The subject of this week's column is Racer Production's Jessica Coombs, who has fond memories of her first bike, which sparked her passion for racing motorcycles.
For those of you who know me, then you know I have a twin sister. So, my first bike was not just mine, it was ours. My sister and I got our first bike, a 1982 Suzuki JR50, when we were five-years-old. At that time we still had our training wheels on our bicycles and were told we were not allowed to ride it until we taught ourselves how to balance the bicycles. So nonetheless, we hit the streets (literally) and figured it out.
We eventually got another bike, a Yamaha PW50, which I took because it was the cooler of the two. I was two whole minutes older and stronger and faster and would always make her [Melanie] take the used stuff.
Our first riding outfits were supplied by Rita Coombs. She gave us yellow riding pants with KOOL written down the sides of the legs and pictured penguins, just like on the cigarette packs. We had one cool Suzuki jersey and one stupid one with a quad on it. Guess which one I got? To finish off the stylish ensemble, we had cowboy boots and our parent's helmets that made us look like little aliens.
We didn't have much time to learn because our Dad was anxious to get us on the track. No practice, just straight out with the Big Doggs! And that's how we learned to ride.
My Dad use to race as a pro and we would hit several of the supercrosses. As pictured, in 1983, we were fortunate enough to make the Pittsburgh SX held inside the Three Rivers Stadium in Pittsburgh, Pennsylvania. We actually lived right across the river, so it was very convenient.
We are all still racing today as much as possible and would like to continue for as long as we can.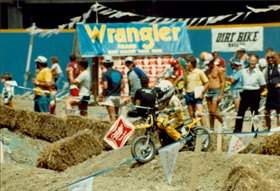 Jessica Coombs at the 1983 Pittsburgh SX
photo: McConnell Archives