Marty Moates World of Outlaw Grand Prix
Despite sporting a bad-ass flu and managing to trip down the side of a hill on the way in,
Racer X
made it out to the "1st Annual Marty Moates Outlaw Minibike U.S. Grand Prix" yesterday. Tossed together on the fly by Moates' longtime freind Eric Baker, close to 100 friends, family and racers made it down to the bottom of Palomar Airport and Melrose to both race and pay tribute to the beloved winner of the 1980 500cc United States of Grand Prix.
Competing on a small course etched out of the sagebrush remains of the original Carlsbad Raceway GP course, two dozen riders raced in the "Run What You Brung/No Rules, Just Right" format. While results are super-sketchy from the three-moto-format Grand Prix, we do know that Scott "The Original Burner" Burnworth handily won the last five-lap moto. A former National Championship-contending factory rider, Burnworth grew up racing on Carlsbad's baked adobe that made the late Marty Moates famous.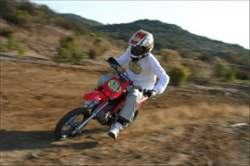 Scott Burnworth took the win
"I won the opening moto of the 250cc Support Class at the Grand Prix here in 1981," said Burnworth. "The race was still a huge deal then. I think I would have won have won the overall, but got splashed in one of the big mud holes they used to have on the track. My JT Racing gloves got soaked and I couldn't hold on!" With large building developments swallowing up pretty much the entire Carlsbad Raceway, Burnworth will likely go down in history as the last rider to win a race at Carlsbad. He smirked when this writer mentioned that fact.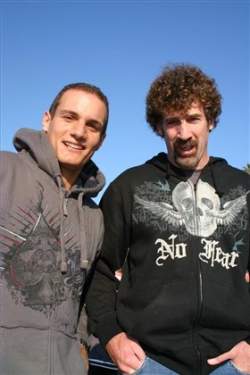 Alex Hoffman and Boris Said
A BIG shout out to the Carlsbad Police Department. Marty Moates was close friends with numerous members of the force and a few members of the department took it upon themselves to calm down a couple of overzelous security guards. Moreover, and while they likely can't admit it, many officers quietly "looked the other way" to let the event actually take place; in this day and age, it was cool to see a few buddies were willing to bend the rules and help a brother out. With the glitz and glam of Anaheim 1 less than a week a way, for a number of salt of the earth motocross fans, the 2007 season got off on bitchin' good note at Carlsbad.