Privateer Profile: Jerry Lymburner
Alaska isn't known for producing supercross stars, but 22-year-old Jerry Lymburner would like to change that. Hailing from Fairbanks, Jerry competed in the second round of the Amp'd Mobile WSXGP series in Vancouver and finished 13th in the Lites main event. Now he's on his way to Southern California for the opening round of the Amp'd Mobile AMA Supercross Series in Anaheim, CA. We talked to Jerry about his 2007 plans for today's Sponsorhouse.com Privateer Profile. Be sure to show his sponsors some love by clicking on the links below.
Racer X: Jerry, what's going on?
Jerry Lymburner: Well, I'm actually sitting on a plane getting ready to take off for Anaheim 1. The plane was leaking oil, so we're delayed.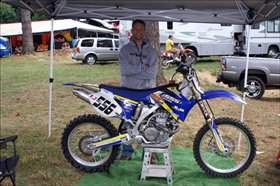 Jerry at Washougal in '06

photo: Jody Littell

Wow, that's not good, but at least you're headed down to race supercross!
Yeah, I'm doing all the West Coast rounds, at least.
Are you racing the Lites class or the Supercross class?
I'm going to ride Lites on the West, and if possible I'd like to race the 450 on the East.
Your supercross season started off well when you finished a respectable 13th in the Supercross Lites class in Vancouver a couple weeks ago. Was that the first main you've made?
Yes, it was. I tried qualifying at Seattle last year, but I crashed in the mud and didn't make it.
Where did you start out in the Vancouver main?
I started around 17th or 18th—I didn't have the best start, obviously. But I worked my way up pretty good. I crashed in practice and hurt my knee, and it started bugging me towards the last few laps and Brady Sheren got around me, but it was okay.
Regardless of how you finished, that is some valuable experience for you to take into Anaheim. How old are you now, Jerry?
I'm 22.
Before we go any further, let's get some background about you. I think you're the first rider from the state of Alaska I have ever talked to. What town are you from?
I'm from Fairbanks—it's right in the middle of the state.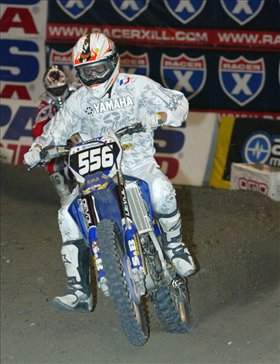 Jerry raced to 13th in the Vancouver Lites main event

photo: Steve Bruhn

How did you get started racing MX?
My father got me started, but that was down in Phoenix. We then moved around a bit and ended up in Alaska when I was 4 years old. But the most I get to ride is three months out of the year in the summertime. It's 65 below in the winter.
When did you start racing?
I started when I was 4.
How is the sport of motocross up there? I would guess that it's probably not the most popular sport, is it?
One of the bigger races in the state will get maybe 300 riders, maybe a little more. But the dirt is the best dirt you'll ever ride. Pingree came up here in '05, as well as Dusty Klatt. Guy Cooper was also up here and complimented on how good the dirt is.
Is it hard to find riding areas?
No. In the summertime it's daylight all the time, and you can ride whenever.
What's your favorite track up there?
My favorite is my hometown track, Polar Roller Raceway.
What else are you involved with, or is motocross racing your full-time gig right now?
In the summer I work construction. Last summer I didn't come down to the United States at all because I was working. But I want to get away from that because construction sucks and motocross is way more fun. That's what I'm trying to do, but it's a lot harder starting in Alaska. I have to travel 3,000 miles just to get to the States.
Since you're flying to L.A. right now, how are you getting your bikes and equipment down there?
I'm getting my bikes straight from Yamaha. My motor guy, Larry Laye, picked up one, and I had one other shipped. Greg Crater and his family, they set up the banners for the supercross series, and they're taking my stuff to the races for me, so I'll be traveling around with him.
You also raced some nationals last year, right?
I raced Washougal, but I didn't make the main. I fly down and try Washougal every year.
Do you feel you have the speed to qualify for some main events this upcoming season?
Yes, I definitely do. A lot of people behind me also think I do, so that helps my confidence a lot.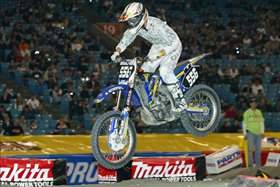 Keep your eye on #556 at Anaheim 1

photo: Steve Bruhn

What's the hardest part of supercross for you?
I'm scared of death of jumps. Like, in Vancouver I did the triples on the second lap, but the rhythm sections are tough.
I assume that you've driven from Alaska to the United States, so how long of a drive is that?
It's roughly around 40 hours straight through. I've made it in like 34 hours, but that was two guys hauling ass, going 100 mph.
What are your goals for 2007?
Just to make mains. I want to make mains to start off with. I'm not going to reach too high just yet.
I think it's safe to say that you're the first Alaskan to qualify for an AMA Amp'd Mobile Supercross, Jerry, so congratulations, and good luck in '07.
Thanks a lot for talking to me. I really appreciate it.
Jerry Lymburner's sponsors:
Northern Powersports
Liberty Homes
AX Helm Racing
Black Ice Paving
555 Racing
Larry Laye
Jody Littell