Between the Motos: Jeff Cernic
Jeff Cernic is one of the busiest guys in the industry. He has three booming motorcycle dealerships in Pennsylvania that he has built up throughout the years, and now he has a brand new team competing in the Amp'd Mobile World SXGP Series with Paul Carpenter and Jeff Gibson under the awning. It's a very busy time of the year for Mr. Cernic, but as always, Jeff made time to talk to us for this week's Suzuki Between the Motos.

Racer X: Jeff, the holidays usually are a time for rest and relaxation, but I'm sure that isn't the case for you. You recently added your name to another race team, which will be competing in Amp'd Mobile Supercross. Tell us about your new business venture.
Jeff Cernic: Well, we've teamed up with Billy Whitley, who was running the previous Richmond Racing Kawasaki team. Richmond dropped out so we jumped in, and we're really excited about it and we're glad to be a part of the Kawasaki supercross team.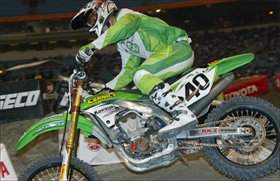 Cernic's Kawasaki's Jeff Gibson finished 10th in Toronto and 8th in Vancouver

photo: Steve Bruhn

The Cernic's Kawasaki team actually debuted in Toronto a few weeks back, and both of your riders—Jeff Gibson and Paul Carpenter--scored top 10s. Are you happy with those results?
Oh, I was thrilled. I really do believe that they'll be in the top 10 all year, barring injuries. We're excited about that. They're both hard workers and I think they'll get along really well on the team. You'll see good things out of them.
Are you involved with any operations of the team, or are you leaving all of that up to Billy Whitley?
One hundred percent of it is up to Billy. We're there to help them out financially, or whatever else we have to do, but he'll be running the day-to-day operations and it's mainly his team.
It comes as a surprise to some that you already have a Kawasaki dealership because you've only been a Kawasaki dealer for two years. In your opinion, what part of your business does having a race team help out the most?
Brand awareness. Cernic's is mostly known as a Suzuki dealer, so having this team will get the word out that we're not only a Suzuki dealer. Besides Kawasaki and Suzuki, we also carry KTM and Honda.
Your Suzuki dealership has been in the limelight through your involvement with Team 199 and Travis Pastrana. Do you still keep in touch with Travis even though he's not riding a Cernic's Suzuki?
All the time. I talk to Robert Pastrana at least once a week. The relationship that we have with the Pastranas runs a lot deeper than just racing. We have a close-knit family friendship. I don't talk to Travis as much as I'd like to, but he's a very busy person, and we'll always be close.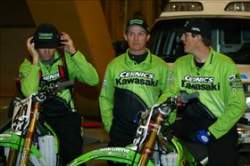 Billy Whitley (center) is in charge of the Cernic's Kawasaki team

photo: Steve Bruhn

It seems that you maintain a close relationship with all of your riders. In fact, I spoke with Jeff Gibson a few weeks back, and he's very excited to be on your new team because you've helped those guys out throughout their careers.
We have, and that's the good thing about having Jeff and Paul come on board. We've had previous working relationships, so they know what Cernic's is about and they know where we come from. It's a good fit. They're hard workers and I know they're going to give 110 percent, and that's what Cernic's is known for too—working for the riders as much as we possibly can.
Cernic's Racing is still a staple in amateur motocross. Who are some of your top amateurs right now?
We have Nico Izzi, Shawn Rife, Ian Trettel, and we just brought on Ashley Fiolek. We're really excited about that. We already have some good women riders, and to bring Ashley on board is exciting. She rides Hondas, so that shows people we're multi-branded.
Do you personally go out and find these riders, or do you have people working underneath you recruiting this talent?
I have people working underneath me, but I also go out to a lot of the races. I didn't go to the Mini Os this year, but last year I did a lot of work at that event. The biggest place where I do everything is Loretta Lynn's. That's when riders' contract are ending, and that's where I meet the riders and the families. That's where I go and do all of my homework.
You probably wish there were eight days in the week, huh?
[Laughs] I sure do! I need that 26th hour in the day—that would help out a lot.
Speaking of Ashley Fiolek and Honda—you also get the Cernic's Honda name out there through the AMA Toyota National Arenacross Series, don't you?
That's right. We also field the Cernic's/Tuf Racing Honda team, and it's our second year and Dave Antolak does a great job with that team, and we're very happy to be with them also.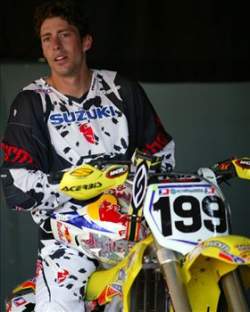 Travis Pastrana has been a Cernic's Suzuki rider since he was on an RM80

photo: Steve Bruhn

You mentioned Nico Izzi—he has kind of fallen off the radar due to an injury.
He has been out for a while, but he came back at the Mini Os and won a couple championships down there. But he's back, and he's going to be a rider to be reckoned with this year. He's training hard with Ronnie Tichenor down in Georgia, and I really look for him to be the next "big thing."
We've seen your dealership really grow here the past few years, so I have to ask if there's anything on the horizon?
Oh man, I don't know if I could handle anything else right now! But you never know. When the right opportunity comes, we jump on it. We're happy with what we have. We weren't expecting Kawasaki to come on two years ago, but we're happy with it. You never know, a blue bike may come on in the future, or another Suzuki shop.
Well, congratulations on all of the success with the Cernic's Racing squad, and good luck in the New Year, Jeff.
Thanks a lot, Billy. Happy Holidays!
You can visit Cernic's online at www.cernicsracing.com.