Between the Motos: Josh Coppins
Josh Coppins continues chasing his goal to be the 2007 World MX1 champion with some hard work in New Zealand. The Rinaldi Yamaha rider is known for his work ethic, and it will not surprise anyone to know that he has actually picked up his training this year. We sat down with Josh at his very remote farm in New Zealand and had a chat about what the Lizard has been up to recently.

Racer X: Josh, we've been checking out www.joshcoppins.com and it looks like you're doing it tough down there on your farm. I hope that sun and beaches are not draining you of all your energy?
Josh Coppins: I love to be at home! I miss it a lot when I'm in Europe--I have everything I need here on my farm, with two tracks and workshop facilities. The weather has been great and I've been making the most of it. It's going to be hard to come back to the cold.
It's already two months since the season ended, or at least the serious GP and MXdN part, and there's only six weeks before Mantova. How are you as far as being in shape goes?
I couldn't be happier. My condition is good and like I said, I've had a great time at home; time has flown. I had a good two-week break, and since then I've been working with my trainer, Stephan Nuesser. We have just finished stage one and I'm about to start doing more riding. Mantova will come round fast, but to be honest, I can't wait.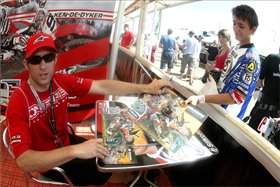 Josh Coppins signs a poster for a young fan

photo: Simon Cudby

When do you arrive back in Europe?
The 15th of January. I leave New Zealand on the 11th and I have four days in the America, visiting sponsors, etc. Once I get to Europe I will sort everything at the house and then head south to the Rinaldi workshop. I hope to be on the bike by January 22.
Did you work out your final schedule for the pre-season? Which races you will do?
Yes, I'll be at Mantova, Valence and Hawkestone for sure, and maybe Mons [Belgian championship].
What about training in Europe once you get back; where will you head?
I plan to stay in Italy until Mantova, then I'll work with Jacky Vimond either in Italy or France, just before Valence, then I'll be in Belgium before Hawkestone, and after that I don't know. Of course this all depends on the weather and Carlo Rinaldi.
How's your good friend bubbles [Jamie] going to look in blue? Is he already getting ready for his assault on the Belgian babes?
Bubbles is flat-out working on my training bike. He's riding a lot also, and even started going to the gym! He's got an RM125 and is riding pretty good of late. As for the Belgian babes, I'm not sure, as I think he's got a new girlfriend.
What about your preparation this off-season--did it change at all from last year? I know you mentioned you did a lot of SX riding last off-season.
Everything has stepped up a little from last year, and yes I'm riding a lot of supercross on my 250F. I do a moto on MX then ride SX for the rest of the afternoon. I like it—it's different and fun. It's also good for your technique. Scotty Columb is here; he's my training partner now because Stephan, my trainer, has gone. We've done a lot of kilometers on the bicycle also.
What's going to be more important to win the championship in '07: experience, or work ethic?
That's a tough question, Geoff. I would say experience, because if you have the experience you'll know the work ethic you need to win.
Have you had much contact with Michele, and how is that all going? Is he very demanding on how he wants you to prepare?
I deal mostly with Carlo, but I cc Michele in on everything. So far my experience has been great. I have contact via e-mail, so they know exactly what I'm up to. As far as demanding, no, we talked a lot about what's best for me. At the end of the day they want what's best for me and to win the championship, so far we've all been going in the same direction. To them the racing is much, much more than a business--it's a passion and a life just like for me, and I love that.
What are your plans for Christmas and New Years?
Christmas with the family at the beach, and for New Years I'm kayaking down to some islands and camping at a beach also, so that should be cool.
How are the nerves? Is there a feeling of coming into the season as the man?
I spoke about this with Carlo and right now I am training just like normal. I'm sure I'll be nervous at the first Grand Prix, just like 29 other guys. After my work is done, I'm trying to relax and keep a clear mind. I'm not expecting too much at Mantova, or even Valence or Hawkestone—there's still a long way to go.
Thanks again mate, and have a great final week of your off-season.
Cheers, Geoff.