Bench Racing Ammo: Marty x Three
Dear Racer X,
With the recent tragic loss of 1980 U.S.G.P winner Marty Moates, I was reminded of some very interesting trivia that I thought I would share with you. As you know, Moates was one of U.S. motocross' three famous riders named Marty: Tripes, Smith, and Moates.
All three Martys were the same age, and all three are from San Diego, the El Cajon Zone. But the most amazing tidbit is this: all three are also the "first Americans" to win the United States Grand Prix in the three classes - Moates the 500 USGP (1980 at Carlsbad), Tripes the 250 USGP ('78 Unadilla), and Smith the 125 USGP winner ('75 Mid-Ohio).
Quite a coincidence, huh? Three cheers for the El Cajon zone.
Jim Myerson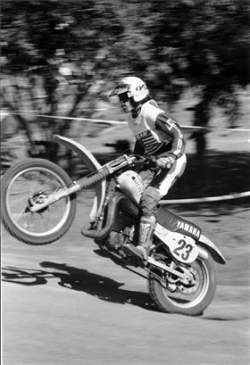 Marty Moates
Wow, it's hard to follow up a letter like that when it has such incredible bench-racing ammo, Jim. Good stuff! Working off those very strange coincidences, we will discuss a little of each man's career.
Moates was a well-respected journeyman. He bounced around the U.S. and Europe, often on bikes that just didn't have what the other guys' did. An Ossa, for crying out loud? The first time Moates scored points in an AMA supercross was 1978, when he scored 17th the second day at the Pontiac Silverdome on a Suzuki. He was 11th at the next round in Pittsburgh, then ninth at the next round in New Orleans … and that was the best he ever did at supercross.
Moates was a motocrosser, going back and forth to the Grand Prix circuits of Europe. He preferred Open-class bikes too, and his two best years in the 500cc Nationals were '78 (ninth overall) and '79. His greatest day, of course, came in 1980—the day he won the 500cc USGP at Carlsbad. Before his death, Moates was an executive at No Fear, a company he helped found, and also with FMF.
Marty Tripes was a natural. He was a big kid out of San Diego, and his first win came ten days after 16th birthday. It was the 1972 Superbowl of Motocross at the Los Angeles Coliseum, and it certainly remains the biggest of Tripes' career wins, which included five 250 National wins, a couple of other supercross wins, and that "first American" win in the 250cc USGP at
Unadilla
. (Another thing history remembers Tripes for was the fact that he rode for so many different teams: Yamaha, Honda, Husqvarna, Can-Am, Bultaco, Yamaha … a bunch of them.)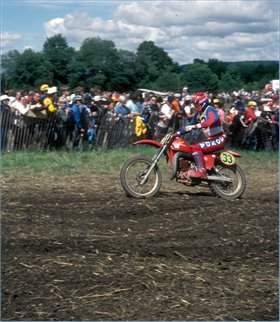 Marty Tripes
Today, Marty Tripes and his brother Mike—a very good racer in his own right—own the Moto Locker in El Cajon, where they work on bikes and prep them for busy riders.
Marty Smith remains one of the best-known motocross riders in AMA history. He won the first two AMA 125cc National MX Championships ('74 and '75) and the first two 125cc USGPs at Mid-Ohio ('75-'76). He would also beat his nemesis, Bob "Hurricane" Hannah, in a thrilling battle for the '77 AMA 500cc National MX Championship. And while he never enjoyed the same success in supercross as he did outdoors, he contended for race wins throughout his career.
Today, Marty Smith still teaches a popular motocross school in Southern California, and he can often be found in the pro pits at Amp'd Mobile Supercross races, talking to the fans and helping younger riders.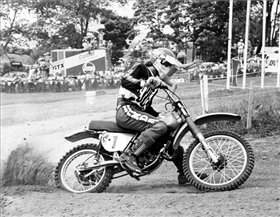 Marty Smith