Monday Conversation: Stefan Everts
With the American motocross scene mostly quiet last week, we decided to call an old friend this morning on the other side of the pond. Stefan Everts really needs no introduction, so.…
Racer X: Stefan, first off, congratulations on winning the fifth Sportsman of the Year Award. I don't know how much our readers know about sports in Belgium, but I know that's a huge honor for you in your country.
Stefan Everts. Thanks, and yes it is. You know, there has been a long time that I thought I would never win it, but then, now at this point, I won it five times, and it's of course nice to go into retirement with the Sportsman of the Year. Plus I got a Lifetime Achievement Award, so that was an extra one I got too.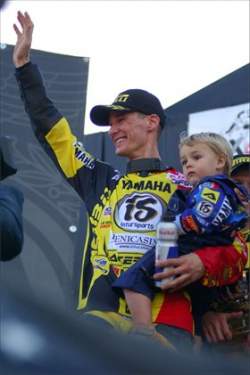 Stefan and son on the podium of the 2006 MXdN

photo: Steve Bruhn

Nice! Kim Clijsters is from Belgium, right? She had a pretty good year in tennis.
Yep, she had a good year, but the other girl, Justine Henin-Ardenne, was better and was Sportswoman of the Year [Henin-Ardenne is the #1 ranked WTA player; Clijsters was fifth]. But Kim got the Sports Team of the Year Award with Justine.
Could you ever have imagined that the last year of your career would go this well?
No, I never thought so. I have done a lot of homework during the winter, and when the new bike arrived, I knew I could do really well and do better than in the past, but I was never expecting to win 14 of 15 GPs and have such a great race at the des Nations. You know, ten championships and 101 GP victories, yeah, I've done it all this year, and I never thought so. It was of course a big challenge and a big motivation to go for the 100 GP wins; this was a very big thing for me. And I knew if I would win the 100, I would also become the champion again, so it was a really important thing for me.
What was your favorite win: your last race at Namur or Matterley Basin in the Motocross des Nations?
From all of the races I've done, Matterley Basin was for sure the best. There are still a lot of fans talking about that race, and I was riding on my foot pegs, passing everybody, so definitely that race!
After the race, Simon Cudby and I tried to count how many times you put your feet down, and we came up with three! With the deep berms and the ruts and the jumps, it truly was a clinic you put on there. Admittedly, I was pulling for the American team to win, but I was blown away by how well you rode, and I was also very happy for you.
Yes, it was very good. I think the best team won. I believed we had a small chance to win, but for sure, Team USA has the biggest chance and the best team. I am in a way happy that I could manage to win the individual race—that really made my day good.
After the race, everyone was waiting in the traffic jam, just hanging out in the pits, and maybe one of the coolest moments of all was when you walked in the Alpinestars trailer where Team USA was partying, and immediately it was a standing ovation and everyone was cheering for you.
You know, we had a small party at the Belgium team, and then I said I was going down to the Alpinestars truck, and I stood outside for ten minutes and said, "What should I do? Should I go inside or not?" In one way it was nice to go inside, but later from the other side, I came so drunk out of that truck!
I don't think you were alone!
No, I think everybody was! But thanks to Ricky and Ben [Townley], they really started with all the shots or whatever. Ricky is a real cool guy, and he showed his respect to me. I read many stories that that's one of the greatest moments of the year, so it's nice to remember that.
Have you been keeping an eye on Ricky here the past couple weeks? He's about to join you in retirement, but like you, he's going out on top.
Yeah, I saw the last results from Canada, and I don't know … it's kind of strange how he planned it. He's still going to do some races, and then he's going to retire.… I'm really confused of what he really wants to do now. If he still can be on top, which he is, I still have this small feeling that if everything starts to go better and better, then maybe he'll finish off the year. Who knows?
I know Roger DeCoster is hoping the same!
[Laughs] You never know, and I think it's a door which is open. But that's something which is in Ricky's mind, and nobody could read his mind, so we'll just have to wait and see how things will go.
What about your new role with KTM—have you settled in? Have you started working with the younger riders over there?
Well, we've done some physical tests now, and we're going to start working together from the 14th of January. Everyone is coming down to stay and we're going to start to do training sessions in Spain. I'm just preparing the new workshop here in Belgium, and we're going to have a base here with two mechanics. We'll have factory practice bikes ready to go out, and the factory bikes for the GPs will be prepared in Austria. So the old structure has changed a bit, but it's too soon to really be in the job already. I can say that after a year, for me, I think in a way it's been a strange year. First of all, my personal feelings that I'm not going to be able to race again is going to be tough, but from the other hand, to work with riders now is also a new thing, a new challenge, and I have to find the best way to do it. I've just got to try and make the best of it, and that's all I can do. I want to give a lot of information to the riders, and hopefully that will really help them out a lot and make some steps forwards and find solutions for the problems.
I know over the years KTM has really assembled some smart motocross men who has raced themselves, like Heinz Kindigadner, Pit Beirer, Kurt Nicoll, and now you. It seems like they really listen to the riders—they're a rider's factory, I should say.
Yeah, they try and get a lot of experienced people who have been very closely involved in racing to get them on the team and try to go to the top. The company has been doing very well and growing very fast, and if you look back ten years ago, KTM was almost nothing, and now they are so big, not only in motocross but also in enduro. Road racing is coming along, and they're focusing on the on-road market now too. It's very amazing what they've achieved so far, but they started with motocross, and that remains on the top of the list with KTM. They're going to keep supporting that for a long time, and they're going to invest and develop. What they're looking for is the MX1 title, and that's why I stepped in. Hopefully in a few years' time I can help them win the MX1 title.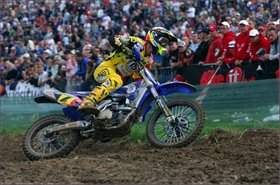 Wide open, feet on the pegs--classic Everts style

photo: Steve Bruhn

Well, I wish you luck, and as always, whenever you come to the States, just give us or Eric Johnson a call.
We'll be over sooner or later. We were actually planning to come over sometime in February, but we have to settle down a bit and find the new way of life, then we want to come over and see some supercross. It's been such a long time since I've been to one there—since '92 or so, so I'm pretty curious to see the level. Sooner or later I'll be there…. Oh, and I saw Pingree this past weekend in Bologna, Italy, at the Supermoto race.
That's right, how'd he do?
On Saturday I think he was around top-ten, and on Sunday we had an American-style race, and I don't know what he got, but he was not in the final.
How did you do?
Oh, I won the final.
It figures!