Where Are They Now: Junior Jackson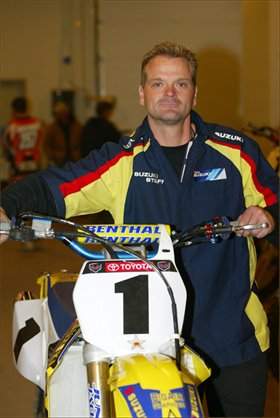 Junior Jackson
photo: Steve Bruhn
When, I first started racing in the mid 1980s, I recall a guy named Junior Jackson. I'm not sure if it was because of all the
Cycle News
papers I used to read, or maybe it was from the
MXA
s my mom used to bring home from the grocery store. This year, when I was at the Des Moines Arenacross, I ran into Junior Jackson. We started talking and I realized who this guy was back in the day.
"I started racing when I was six years old and pretty much raced for Team Green before switching to Suzuki at the end of my amateur career" replied Jackson. " I remember those battles I had down at Loretta's with Bradshaw, Swink, LaRocco, Emig…
"But the one race that really stands out is when I was in the Schoolboy class in 1987 and Tallon Vohland and I battled it out every moto that week," says Junior. "It was hot and I remember just giving it anything I had but Vohland never gave up and ended up winning the 125 Stock Schoolboy class. But I did get my revenge that week and edge him out in the 125 Modified Schoolboy class.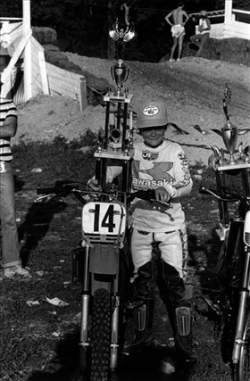 Jackson was a top minicycle racer back in the day
photo: Racer X Archives
"Man, I really miss going down to Loretta's," he adds. "It was such a cool place to go with the family. I remember swimming in the creek, the rope swings, and the racing was unbelievable."
In 1988, Junior was sixteen years old, had a Team Suzuki deal, and went straight to 125 Supercross. Things didn't go according to plan in his first year. "I broke my arm three times that season (including once at
High Point
) and from then on it was just injury after injury. I never really recovered and I was out of racing when I was twenty years old."
What's Junior Jackson up to now? Well, do you know who Chad Johnson is? He's the reigning AMA Toyota Arenacross Champion, and that's Junior Jackson's race team that Chad rides for. Over the years Junior has been building engines and suspension out of his shop. Three years ago he was wrenching for Branden Jessemen in the AX series and last year he worked with Chad. They won the AX championship last year on Yamahas; this year, they have switch brands and Junior is back with Suzuki and he has also picked up multi-time SX winner Greg Schnell. "Right now, I have put everything on hold for this race team with Chad and Greg. I want to give these guys 100% of my time. After winning the championship last year it makes you want to even work harder. I have two guys this year that I'm confident that can get it done and put us back on top again," says Jackson.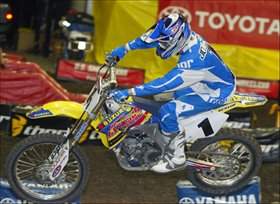 Chad Johnson hopes to give Junior Jackson racing a 2007 AMA Arenacross title
photo: Steve Bruhn
If you guys ever go to an arenacross make sure you stop by the Junior Jackson Racing camp. You'll see a guy with a big smile on his face talking to his race team, to the fans, tuning his #1 Suzuki, and just having fun with everyone that's walking by.
To check out Junior Jackson's race team go to
www.juniorjacksonracing.com
.