Privateer Profile: Eric Sorby
France's Eric Sorby has been racing full-time in the United States for the past several years, and he is making another go at it this year, but this time he's doing something different: he's moving to the 450 class. We tracked down the likable Frenchman to get his thoughts on the 2007 season, which he is with a new team: Team Tamer Kawasaki/Maestrocard/Leo Vince Racing. Be sure to show Eric and his sponsors some support by clicking on the links at the bottom of the page.
Racer X: Eric, tell us about the deal you have going for supercross.
Eric Sorby: This year I have a deal with Tamer Racing, and it's going to be with Team Green, actually. It's a pretty good program. We got some good suspension—factory stuff. I've just been busy testing and riding every day, and I've been training with DV a lot. DV and I have a supercross track, so we've been practicing a lot and been doing a lot of laps.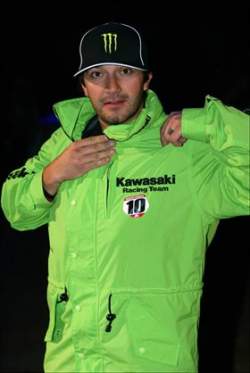 Eric Sorby is always supporting his good friend, Ernesto Fonseca

I've got to admit, DV12 has been pretty impressive there in those World Supercross rounds, and it seems he's a nice fit there with Team MDK.
Yes, he's very happy with his new program. I'm pretty much with him every day, and he looks like the old DV—the one I used to know. We ride together and do a lot of motos. He's happy and he's having fun, and he likes the bike and the program. So I can tell you that DV will be on the podium pretty soon.
I hope so. We need more guys on the podium. Not that the guys up front now aren't deserving, but after a while you want to see new faces up there. So how about you—are you riding the 450 or the 250?
I'm riding the 450 in supercross only. It's not like five years ago when I was on the two-stroke. I'm a good two-stroke guy, but it's hard to make a difference. So I'm just going to do supercross only, and then maybe find a job and work for the industry—maybe even for you guys! [Laughs]
[Laughs] As far as your off-season goes, where all did you race in the last few months?
I was in Europe and I went to do some French supercross. I went to Bercy and got fourth overall and didn't have trouble with anyone, so that was the main thing. Three days of racing over there was pretty fun. It seems every time I ride Kawi I improve myself, so I can't wait. I'm riding the 450 and it's going to be a long season and I've never done that before, so I'm looking forward to it.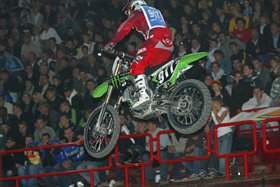 Eric on his way to a fourth-place finish in Bercy

Let's back up to Bercy for a second. What happened to the Americans over there? You know our guys and you've been on the circuit for a while, but it just seemed like we didn't have a very good showing, did we?
No. Before Bercy, I was pretty sure that Josh Grant was going to win, and with him and DV, they were the fastest ones on the track, but DV was more smart, you know, and Josh tried to go too fast and crashed. I raced Bercy so many times, and I don't why, you just get so excited and you crash every time, no matter what. You just have to be patient and relax, and everything will go okay.
It's definitely a beautiful racetrack, but it does seem kind of tight and it seems like it would be easy to feel pressure.
Yes, plus the track isn't very technical. The first night was pretty good because we had a big set of whoops that was pretty easy for me, DV, and Josh Grant, but if you tried to go too fast you'd crash. But that was more difficult for a guy like Alessi, or a lot of French riders, because in supercross, if you're good in the whoops that makes a huge difference, and if you suck you lose everything! So the first night went pretty good, and the second night they changed the track and made the whoops smaller because a couple guys went and cried about them, so they made smaller whoops.
I know that sometimes the whoops, if you can't get them down, it could ruin the rest of the lap because you're worrying about them. What about Pourcel? Are you surprised that he seems to have adapted to supercross, or do all French guys have tracks over there?
I'm surprised, yes and no. I know he's a very good rider—he's a World Champion. When you're a World Champion that means something, no matter what. He's young and now he rides for Pro Circuit. When you're on Mitch's team and you're a good rider, you're going to win and be on the podium. So no, it wasn't a big surprise for me. He had surgery a couple weeks ago, but this kid is going to be on the podium. I was never a really close friend with him for some reason, but for sure he's going to win some races in America.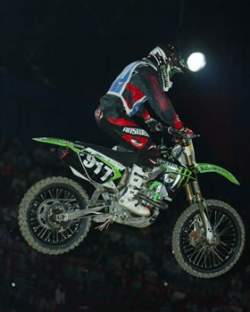 Sorby is joining the Tamer Motorsports Kawasaki team for the 2007 SX season and will be racing the Supercross class
I
hope that when he comes here he takes him time in supercross, because as we've see in the past, and as you know, we see guys knock themselves out of the nationals. It seems like that's where Pourcel is really going to impress American fans—outdoors.

Yeah, he's very good outdoors. And like I said, when you're on a Mitch Payton bike, you have everything you need. I made the mistake to leave the team two years ago, and I think about it every day.
[Laughs] Like a beautiful girl that you broke up with!
Yeah, but you can find another girl, but you can't find another Kawasaki team like Mitch! I can't find that anymore! You know what I mean?
One last thing I wanted to tell you, I thought it was really cool that you raced in Fonseca's jersey in Paris. I'm sure Ernesto saw the pictures, and that's a real nice gesture for a fellow rider.
Yeah, I have been a very good friend with Ernesto and he's a very nice guy. It sucks what happened to him, and this could happen to anyone who rides a motorcycle every day, including myself. I just wanted to show him some love.
Well done, Eric. I'll see you at Anaheim 1, so get back to work and tell Vuillemin I said hey!
I will DC, thank you!
Eric Sorby's sponsors:

Bud Racing
CKX Helmets
Faction MX
JD Jetting
Trail Performance coatings