Monday Conversation: Ricky Carmichael
December 11, 2006 11:58am
Ricky Carmichael doesn't look like a part-timer, or act like one. "The GOAT" still did his boot camp-style preseason preparation for supercross, and he still wanted to relax for the holidays with the Amp'd Mobile World Supercross GP points lead. He got that and a big win in Vancouver by listening to Roger DeCoster's advice and not pushing too hard on the strange, rocky Vancouver dirt.
Carmichael followed an injured James Stewart for way past half a main event at Vancouver, and just waiting for his chance. He wasn't always known for being a patient racer, but he is now, and it will be even more important as he transitions into his new life on four wheels.

Racer X: Ricky, let's start this one differently. What do YOU want to talk about?
RC: I just want to talk about how happy I am to be in the points lead going into the holidays. I'm going testing on Monday—do a little driving—and then I'm going to Anaheim in the top spot. It was a fun race tonight. I know you said to me, "Hey you looked good tonight," and every time you say that it seems like I win, so keep saying that to me.

[Laughs] Okay, I will take full credit!
All right! You know what, it was an epic race. James and I have good battles. All last year, all this year, the Open, it's really, really, really fun to race that way. I enjoy it.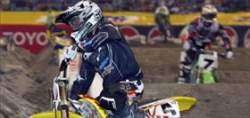 RC passed Stewart late in the main event

You said in the press conference that it was taking a long time to make a pass and you were not really sure, so you had to be patient…
No, I wasn't sure. There have been times I wasn't seeing too many mistakes on his behalf and he was arcing his turns really well. He could roll really well through the center. It just seemed like he was piecing the track together a little better than I was.

So if nothing had happened by 2 laps to go, were you just going to grab your balls and go for it?
[Laughs] If I was that close, yes, I was going to grab them and go. That's the great thing about not racing the whole series: I can hang it out, and I wouldn't have to take a second to think. If I were racing the whole series, then I just need the points. But, to hell with it, I would have gone for it! I wouldn't have put myself in danger but…

How much different now is a race day for you? When you don't have that pressure, what really changes?
The biggest thing is the night before. I don't stress on everything being perfect. Everything has to be just right and I have to get the right amount of sleep. Now I almost feel like the first year when I was racing 125s. I would just go out there and go for the win. I didn't think about the titles because I didn't know any better. That's what it's all about—having fun. The only thing I don't like is the practices are so long. They get a little monotonous out there. Everyone goes out and does their hot laps and the track deteriorates. I just want people to use their heads when trying to set fast laps because it can get a little hairball, a little dangerous.
Do you like the new system with qualifying practice and no more semis?
Yeah, it's nice. I like it as long as it makes the track better for the main events, and they keep up with the track maintenance. Then it's worth it to do that.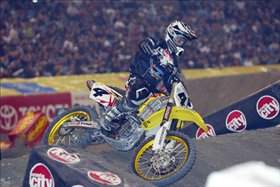 RC likes the new timed practice

Are you training same as years before?
Yeah, it's very close. I still do my boot camp and my training regimen; my training that I have done for the last six years, I still do that. You have to be prepared. I don't want to be in a heated battle like that and be tired and crash and hurt myself. That's why I want to be 100%. I don't think I have had as many hard days so far in my training camp. At the same time I am not racing the full season. These last three weeks I have been gearing up for this race. We are going to hit it really hard the next two weeks.

On bikes?
No, with training. I am going to take next week off and be fresh for Anaheim.

You said in the press conference you are driving Monday, are you doing a lot of that too?
Yeah, I am doing a lot. I drove last week. I am driving this week and the week before Christmas, so that's quite a bit.

Are you where you think you should be with those cars?
Yeah, I can go out there and do a decent lap. But I have a lot to learn. After our last test at New Smyrna (FL), they said we are further ahead than we thought we were, so that was a great sign. As far as going out and racing, I still need more seat time. You are so constricted in those things. In the last test, it finally didn't feel too foreign to me. I just have a long ways to go.

When you are in a long main event like tonight and you have to be patient, are you thinking 'Hey, this is what my racing future is going to be like? I have to race patiently all the time.'
Absolutely. I think it's great. I'm telling you too, I think driving the car helps me in motocross, because you are going so fast, SO fast in that car, that when you get to this, it feels like you can go in harder, brake a little deeper, so it's nice.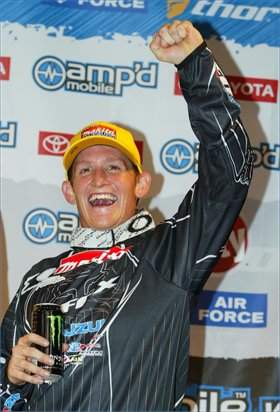 RC will be smiling throughout the holidays

How did you handle this track surface, with it so loose and then with rocks? You said in the press conference the bikes won't stick any better, you are on the edge of what you can do…
We are on the rivet. We are right on there. That is what is awesome about working with Roger DeCoster: He gave me some great advice before the main. This track he said, the harder you try, the more time you are going to lose. He was exactly right. He said don't ride fast and you will win. You don't need to ride fast. You are faster than anyone out there, he said just go out there and put consistent laps in and that's what I did. It was like gravy.

Do you have any predictions about the outcome of the series?
On speed obviously you have to go with Stewart. Chad has proven himself and he is consistent, so it's a toss up, it really is. If one of them gets on a roll it could be dangerous. It's going to be fun with me in there. I think I might mix it up a little bit. I can really help a guy or really hurt a guy…

How many Monday Conversations are we going to do next year?
[Laughs] I would love retire with 150 AMA wins. Unfortunately, this didn't count. I have 144, and 150 would be my goal.

Thanks Ricky.
Hey, thanks for everything you guys do.