Where Are They Now: Steve Lamson
We didn't have to look far to find Steve Lamson, one of America's all-time great 125cc riders: He was at the Loose Moose last Friday night in Toronto, enjoying the crowd at the Racer X Canada and talking supercross and old school. Lammy was in town for his expanded role as manager of the MDK Motorsports Honda team, where he keeps an eye on Nick Wey and David Vuillemin while also looking out for up-and-coming talent.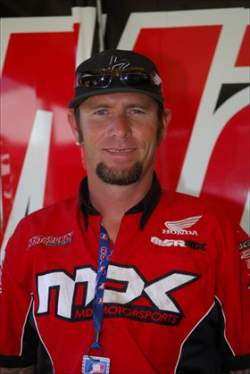 Steve Lamson today
photo: Steve Bruhn
So that's where he is now, but it's where he's been that makes Lammy's story a special one. Back in the 1980s he was a top prospect from NorCal, racing at big events like Loretta Lynn's and
Ponca City
and doing his best to get noticed. He turned pro in 1990 and immediately made a splash—he landed on the cover of
MXA
when he rode over a pack of downed riders at a 500 National while riding a DGY Yamaha YZ360!
Lamson's effort on that big air-cooled bike earned him the attention of Mitch Payton, who was just putting together the first Peak/Pro Circuit Honda team. Lamson was invited to join Brian Swink, Jeromy Buehl and a kid named Jeremy McGrath on one of the most talented 125cc teams of all time. Strangely enough, Lamson was the only one of the quartet not to win a supercross main event, and he soon moved on to Suzuki, and from there to Team Honda.
And while he may not have done better than those three in supercross, he did win more outdoor nationals than all three of them put together. By the time he was done, Lamson had 21 outdoor wins and a pair of AMA National MX Championships to his credit. Only Mark "the Bomber" Barnett had more—until Ricky Carmichael and then James Stewart came along.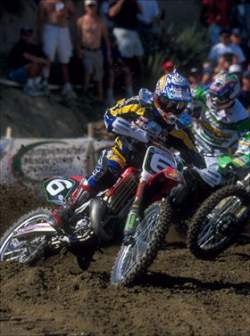 Lamson in 2000
photo: Simon Cudby
Lamson would team with McGrath and Jeff Emig on the '96 version of Team
USA
, and they would put one of the all-time beat-downs on the rest of the world on a supercross-flavored track at
Jerez, Spain
. It was sweet revenge for Steve, who had been on a losing Team
USA
the year before in
Slovakia
.
But the sweetest win of all for the kid from Pollock Pine might have come after his factory day were over: Riding a Troy Lee Designs-backed Honda CR125, he beat all of the factory guys at the Hangtown National in 2000. It was his last, best win, and it came in front of a hometown crowd. Well done, Lammy!