Last night, a little bit before midnight, my cell phone started buzzing with a text message. I was in bed, and I figured it was some of the gang urging me to come out or to see if I was in Vancouver. I was in bed, so I turned it off and went back to sleep.
At 6:20 this morning, I read the message. It was from Cameron Steele, asking me if I'd heard the terrible news: Marty Moates had shot himself. Then I saw another message on it, this time from Jeff Emig. Then another one and another one….
Marty Moates was an immensely popular man. He was a great rider, and although he only won one major race in the U.S., it was the biggest one of all. Back in 1980, the Carlsbad 500cc United States Grand Prix of Motocross was
Red Bud
,
High Point
, and two or three Anaheims rolled into one. It was the only race on network television, and Moates—a full-on privateer with LOP Yamaha—swept both motos and became in instant American motocross folk hero.
In the time since, he worked throughout the industry, helping build both No Fear and FMF into the huge successes they are.
He committed suicide just a few days after his 50th birthday. He had long been in pain from the injuries he took over the years, but his smile was ever-present, and he was headed for Cabo on a vacation this weekend. Obviously, there's more to this than we'll ever know.
What I do know is that Marty was a really, really great guy who always had time for you, whether you were a kid seeking an autograph or a rider looking for help or an aspiring publisher looking for a $75 newspaper ad, or just wanted to talk motocross. I can't believe he's gone, and I hope our sport remembers Marty Moates for how lived, not how he died.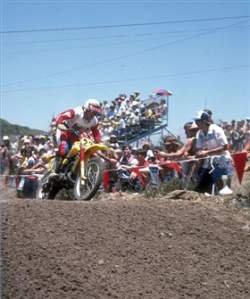 Moates on his greatest day as a rider: June 22, 1980
photo: Dick Miller Archives
With that in mind, here are how a few friends and fans in the industry remember Marty Moates.
French motocross journalist Xavier Auduoard, who wrote The Great History of Motocross and The Great History of Supercross, wrote, "A true hero is gone… Hero as a natural being, hero as a racer. His performance at the USGP was one of the greatest days in the history of this sport. But today is a very, very sad day. Godspeed, Marty."
Don Emde, the 1972 Daytona 200 winner, wrote, "Marty and I were both racers from San Diego, but I was in Class C and Marty in motocross, so I didn't ever talk much with him until just a few years ago when we both started being invited to Yamaha's Weekend of Champions events. My parents were motorcycle dealers in the area in the 1970s and Marty told me at one of Yamaha's events that he bought his first bike, a Bultaco, from my parents' shop out by San Diego State College. He said there wasn't a truck at the shop at the time that could deliver the bike, so Marty just bought it and pushed it home rather than wait for the truck to get there. He reminded me of the same story a couple of times after that. It was, in a way I guess, his way of helping two guys from different parts of the motorcycle world connect. And he was successful and I always searched him out at those events to see how he was doing. I don't know what else I can add to the others in this post that are absolutely stunned right now. Godspeed Marty. We'll all miss you."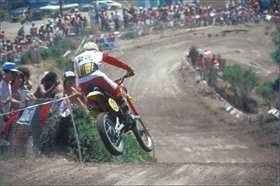 This is the way many will remember the King of Carlsbad

photo: Dick Miller Archives

Jimmy Button, former Yamaha factory rider and Grand Prix contender, said, "This is truly a dark day in moto. I have known Marty since I was very young, and for everyone that did not know him, you missed out on knowing a great person. Skip past all the moto accolades, and he was just a good guy. He really went out of his way every time to say hi and be genuine to you. Most people in this sport lose that after awhile, but he did not. The fact that I will not run into him when I pop into No Fear from time to time is very disappointing. Wow, still just stunned… I wish his family and close friends all the best."
And finally, this from Frank Eisler, a fan from back east who just followed Marty's career from afar: "Anyone who grew up with motocross in the late '70s will never forget the impact of his win on the Carlsbad USGP course that day. Beating the world's best on a privateer LOP Yamaha just made it more legendary. It was fitting that he was the rider chosen to take the last lap on that famous track… Heaven has a new entry for the '07 motocross nationals. I bet Pomeroy thought he'd have a cakewalk!"
Motocross life goes on.…
With apologies to the two top dogs in Toronto—L&M Yamaha's Chad Reed and Suzuki's Ricky Carmichael—I want to talk about the man who was missing from the podium. James Stewart finished third, but he was not up on the box with #22 and #4. Instead, he was being carried off the track by friends and family with a terrible look of anguish on his face.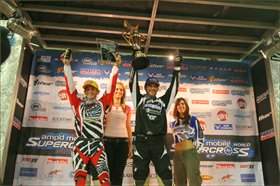 Someone's missing from this podium
photo: Matt Ware
So what did you think of what happened before and at the end of the Toronto Supercross with Stewart?
Ivan Tedesco
obviously didn't think much of it, and I have a feeling we haven't heard the last from the now-injured Makita Suzuki rider.
Travis Preston
wasn't too happy either, but his ability to stay cool when he confronted the downed Stewart was something to see. And FIM Race Director
John Gallagher
felt that the Kawasaki rider needed to cough up $6,000 in fines and spend the next six months on probation.
Stewart himself was apologetic, to some extent—check out his letter to the fans—and yet also a little defiant, like when Erin Bates interviewed him on Speed TV after the Tedesco crash, and in an interview later on with the Los Angeles Times.
And in case you missed it, here's a fan's angle posted on YouTube.
I said it on DMXS and I will say it again here: I feel bad for James. He can't win for losing, and when he makes a mistake, it piles up on him in a hurry. The Tedesco thing sucked, but there's no way he meant to hurt the man he just rode alongside at the Motocross des Nations back in September. Stewart has a history of being aggressive in practice and heat races, and this time it bit him … but it broke Ivan's hand.
The Preston thing, while avoidable, was not intentional. Watch that film and you will see him get bumped off to the left on the takeoff of the jump by a closely following Reed. Chad didn't mean to do it, and James didn't mean to move over in front of him like that—it's racing, it happens. It wasn't that much different than
Unadilla
'05, when James and RC crossed lines and James ran into the back of him and they both went down—we blamed James for that one, right?
James was 100 percent at fault for pulling out in front of Preston. There was no yellow flag waving before Preston launched, and the quick glance James did seem to give offered no time to see #11 Honda coming down on him. Was Stewart going straight across the track like that to either try to block, blast, or re-pass Reed? Of course he was—that's why they are out there: to win.
Back in the day, this was on any Saturday night for Bob "Hurricane" Hannah and people loved him for it. Danny "Magoo" Chandler was a bona fide wild man, taking big chances and breaking bikes and bones everywhere, but the fans loved him for that. Damon Bradshaw was called the Beast from the East for good reason. And Ricky Carmichael's wild rides through the late nineties are something I will always remember fondly, because no matter how bad things got, he tried harder and harder.…
And then he got it all figured out. Well, that day is still coming for Stewart. Sure, it's taken longer than it did for RC—and Damon and Danny Chandler never did figure it out in time to claim some big titles—but I still believe it's going to happen. But right now he just seems snakebitten or something. Is he trying too hard? Is he riding too fast for the tracks he's on or the traffic he's around?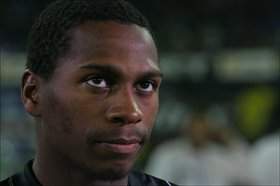 The look on James' face said it all
photo: Matt Ware
Stewart is at the point where Travis Pastrana was back in '02 or so: he has no fear, he has incredible talent, and he wants to win so badly that he just can't stand it, and his bike and body—and sometimes other riders—pay the price for his impatience. The price Pastrana paid is that his dirt bike racing career is over; Stewart's price is the wrath of fans everywhere. I truly think him falling off his bike after the finish had as much to do with the mental anguish brought on by the whole day as it did Travis Preston broadsiding him. He may not have known Travis was coming, but by the end of the race, he knew the haters would be all over him.

Now everyone I know is saying, "Six grand? That's it?" But that's not it. The thing is the probation—that's going to be the hard part. That's something that seemed to slow Mike Alessi last year. He rode on eggshells whenever he got around others because he knew Mr. Whitelock was watching. Now James is under the glare of the officials, and every time he gets near someone, someone is going to protest. That's got to be uncomfortable for a rider as aggressive and super-talented as Stewart.
James having fun not-so-long ago
photo: Simon Cudby
So what should James do now? Change his style? Change his strategy? I'm no expert—that's why my SX career wasn't as long as this Racerhead—but if anyone ever asked me, I would say this: Simplify. Relax. Have fun. Go back to being that kid with the big smile, the great laugh, videos of RJ and McGrath playing all night long, riding minibikes with your family and friends and just looking like you were having more fun than anyone else, because I think you were. Heck, put #259 back on your bike for new "New Beginning." You're only 20; you've got a lot of time to figure it out.
Back to that can't-win-for-losing thing. Think back to the MXdN. Stewart went there to lead Team USA after RC went down, and he and his teammates brought back the Peter Chamberlain Trophy. Yet because he wisely slowed down after cartwheeling in the first moto and didn't challenge the extraordinary Stefan Everts for the personal win, he's taken a lot of crap—especially from the British moto media. David Villalpando forwarded me this from Doc Wobbly's British magazine, MOTO. It's a cruel-to-be-kind video of the race focusing on Stefan's individual win over James, plus shots of Tedesco getting passed and Tony Cairoli celebrating. It's well done, though very subjective, just as I'm sure U.S. moto media is viewed in their eyes. Regardless, it's an interesting film.
Great music, by the way. And I can't wait to hear about the reception Doc Wobbly gets next time he steps under the Team Kawasaki tent.…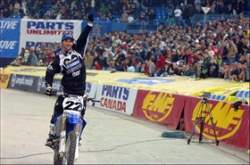 Chad Reed was a revelation on Saturday night—his time off was well spent!
photo: Carl Stone
Okay, the Vancouver race is tomorrow night. Expect a battle between the extremely impressive
Chad Reed
and
Ricky Carmichael
again (and, if he's halfway healthy, Stewart too). Reed was absolutely brilliant in Canada. I'm not sure what he did in the off-season, but he really checked his head and came out firing. It was a much different Reed than the one who showed up in Canada last year, and I think it means a great series from here on out.
And then there's Carmichael, who blew just about everyone's minds with the way he rode. He clipped that Tuff Block and lost his shot at the win, but I can't remember ever seeing him so happy about getting second place. He took off his helmet, showed a huge smile, and rode a lap around the Rogers Centre to thank the fans and enjoy his come-from-behind ride. Tomorrow night, I expect RC to go all-out in a bid to beat Reed—and Stewart.
You can listen to the Vancouver Supercross and the soothing voices of Jason Weigandt and Jim Holley on www.supercrossonline.com, starting at around 10 p.m. in the East and 7 p.m. out west. The Speed TV coverage airs at 6 p.m. EST (3 out west) with Ralph "Speed" Sheheen, Jeff "Fro" Emig and Erin "Master" Bates on the job (sorry, I thought we could all use a joke just now).
So with Ivan out and RC obviously, speed-wise, still right there, would he consider staying on the bike for longer than his planned departure on "probably after Phoenix?" He's happier with the bike than he's ever been, especially after Suzuki worked on the brakes and suspension for him and seems to have done everything he asked.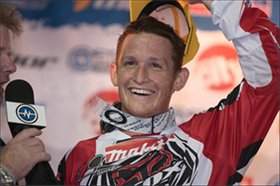 This man has options
photo: Carl Stone
But I don't think it's going to happen—no matter what. When you're Carmichael, what's the difference between 15 major titles and 16? He's going out on his terms, on top, and has absolutely nothing left to prove (unless you just can't let go of that fuel thing last year and feel that he has to beat Chad and James again … but didn't he already do that in 2005?). Even if he's the points leader in January, which is possible, I don't think he's in for the long haul.
And as if things weren't already complicated in the Kawasaki camp, word comes that there's trouble brewing on the horizon in the form of an energy-drink battle. Kawasaki as a team is said to be negotiating with Monster Energy Drink for a team sponsorship, but James Stewart, of course, has a personal Red Bull relationship. He owns his helmet, which means he can run any personal sponsors he wants there, but Kawasaki likely owns the rest of his personal signage space on the racetrack and all of the motorcycle.
Now Monster is already all over motocross, but with their main man Carmichael stepping away, and a relationship already there with Kawasaki via the Monster Energy/Pro Circuit Kawasaki team, it seems like a natural fit. (Chad Reed is Unbound Energy all the way, and Kevin Windham is powered by SoBe.) This could get really interesting come Anaheim.
Here's a note on how to get faster over Christmas: Former National MX & AMA Supercross Champion Donnie Hansen will be conducting motocross schools in California during the holidays. Scheduled classes will be on 12/27 (minis only), 1/15 (big bikes only) and 2/19 (Vets & +25 only) at Elsinore MX at Lake Elsinore, CA ; 12/29 at I-5 MX, Gorman, CA; and 1/3-1/4 at L.A.C.R., Palmdale, CA. Call 951-609-2709 or email Donnie@DHMA.com for information and registration. Enrollment is limited. www.DHMA.com.
As you probably know, Honda rider Nick DePalo suffered a dislocated hip and shoulder and severe spinal-cord injury while racing at the Gatorback Winter Olympics on November 24. A CAT scan revealed a shifting of his sixth and seventh cervical vertebrae and an almost complete severing of his spinal cord. There will be a Benefit Ride/Auction on December 17 at Seminole Tribe MX Park (www.seminoletribemotocross.com). Also visit www.nickdepalo.com.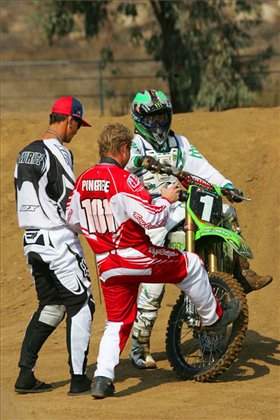 Ping tries to slow Ryan Villopoto down as Randy Lawrence looks on in horror
photo: Courtesy of Pingree
This came from
Jeff Hain
of
Pit Racer
mag: "We recently snapped this photo of
Racer X
's
David Pingree
kicking the front wheel of AMA Motocross Lites Champion
Ryan Villopoto
's KX250F. Rumors have it that Ping is still upset about the fact that unlike Villopoto, he was never able to win a championship for his buddy
Mitch Payton
's Pro Circuit team, and he wanted to take it out on Villopoto! Seriously, Ping was just helping the young champ straighten out his front end after a little mishap he had in the whoops while training on his test track with coach
Randy Lawrence
."
This is as good a place as any to turn it over to Ping:
This Monday, Alpinestars held a ride day at Starwest Motocross Park for all of their athletes. The first annual Motocross-Over included A-Stars moto athletes as well as their skate, surf, and other action-sports athletes. And some big names showed up!
If you follow skateboarding, you know who Ryan Sheckler is. The skating phenom did some hot laps on a Honda 100 and looked like he knew what he was doing. Jeremy McGrath was also hanging out. MC is still not back on a bike yet. His doctors advised him to wait until January before riding again. He says his neck doesn't hurt but it does feel like his spine is jammed. Jeremy said a trip to his chiropractor will fix the problem, but he can't be adjusted until January either.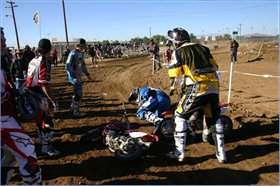 photo: Ping

Mike and Jeff Alessi also showed up and did some riding. I guess you can't believe everything you read on the internet (imagine that), because while Mike did injure his foot a week earlier, he was riding very fast on a new KTM 450 at Starwest this week.
The Metal Mullisha was well represented as Brian Deegan, Jeremy Stenberg and Josh Hansen did a little riding as well. Hansen fractured a small bone in his thumb last week, but the KTM rider was back on the bike already and looking good.
The day started with open riding on the main track but at around noon, things got a little less serious. Honda brought out some CRF50s and 70s and a team minibike race was held. The first heat race ran smoothly, but in the second qualifier, which featured Deegan, Twitch, Ox Kargola, and Cameron Steele, among others, debauchery won going away. Riders waiting for their turn to ride started tackling other riders that were on the bikes. It wasn't the most professional race I've ever seen, but it was fun.
After the qualifying rounds, A-Stars front man Malcolm McCassy decided to skip the main event and head straight into lunch. It was a good call. Wahoo's catered the event, and after fueling up, everyone got back on the main track for more laps. Thanks to Malcolm and Alpinestars for putting on such a cool event.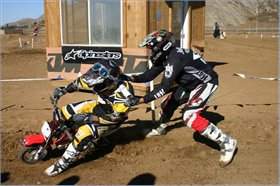 photo: Ping

Sebastien Pourcel has been riding at local tracks all over Southern California for the past few weeks. The French rider is set to return home in the middle of January but is spending time here now to ride and train. The weather in France this time of year, well, sucks, so he's staying here so he can ride. While his brother, Christophe, is set to ride several of the opening supercross rounds, Sebastien will ride only the GP series in 2007.
Thanks, Ping.
The latest issue of Pit Racer just hit the streets, and it features Pit Girl Jennifer on the cover with Red Baron's 20th Anniversary Z50 Chrome Special Replica – a really cool, complete bike that Alex and LeAnn are offering for this Christmas. You can subscribe to Pit Racer at www.pitracermag.com. Pit Racer would also like to wish everyone a safe, and Happy Holiday Season!
Our man in Italy,
Mario Marini
, sent along a note that
Motocrossdigital
is now available. Sign up and get the first issue for free right away, for the next issues they'll provide you a complimentary username and password:
www.motocrossdigital.com
.
People in this part of the country have known about Tyler Bowers for several years, but the big 15-year-old really lit it up last weekend at the BooKoo Arenacross Series in Columbus, Ohio. Bowers swept the weekend in 450 and 250 racing, serving notice that he's a force to be reckoned with sooner than later. Tyler has battled injuries the past couple of years, but believe me, he flat-out flies.
Cool news from Works Connection's Eric Phipps on one of our favorite readers in Iraq, motocross legend/mystery man Johnny O'Hannah: "We have been staying in touch with Johnny O'Hannah via e-mail for a while now, and he just sent us some recent photos from Iraq. We sent him a care package for Thanksgiving (cookies/candy etc.) and he fired these photos back for us to check out!"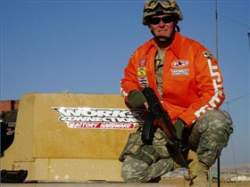 The fastest man in Iraq also has the coolest retro JT jacket
photo: Courtesy of O'Hannah
Guess that's all. Thanks for reading Racerhead. Godspeed, Marty Moates. And thanks for the memories.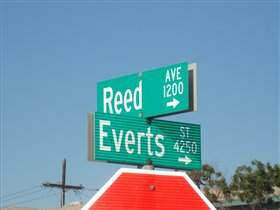 That's quite an intersection
photo: Scott Wallenberg