Privateer Profile: Broc Tickle
Just five months ago, North Carolina's Broc Tickle was a top amateur rider dreaming of making a career in professional motocross, and now he has already got his first supercross podium finish under his belt. Tickle, who has been aboard Hondas since he was 12-years-old, signed with the Star Racing Yamaha team following the 2006 Toyota AMA Nationals. In his first professional supercross last weekend, Tickle rode an impressive 15-lap main event and finished second behind Red Bull KTM factory rider, Martin Davalos, who ironically rode for the Star Racing Yamaha team last year. We spoke with Tickle today for this week's Sponsorhouse.com Privateer Profile. Be sure to show Broc and his sponsors some support by clicking on the links at the bottom of the page.
Racer X: Broc, congratulations on your second-place finish in Toronto! You have to still be excited about that.
Broc Tickle: Yeah, I had a good time. I just wanted to go up there and get experience to see where I was at.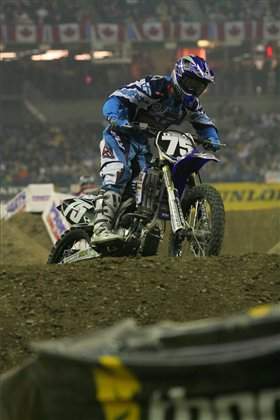 Tickle is running #75 on his Star Racing Yamaha in 2007

How nervous were you up there?
Well, on Friday in practice I was a little nervous, but after that I was fine. And before the main event I was a little nervous, but once the race starts you don't even think about it any more.
Did that meet or exceed your expectations?
I was just hoping for a top-five. After I got up there, I felt pretty good, so I changed my mind and decided I wanted to be on the podium, so that's what I did.
How much preparation have you been doing for supercross?
I've been riding since the first of October. When I first started out, I was struggling, so I've been riding a lot just trying to get up to speed in supercross, because I really never rode supercross before.
What part of supercross was giving you the most trouble?
Definitely the whoops. Before, I was just going slow into them, but you just have to go fast into them. And I was also struggling in the corners too, just not carrying speed.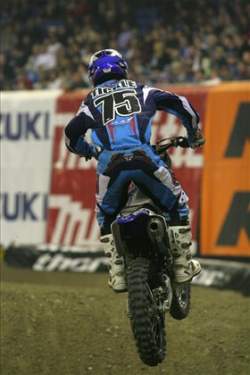 Broc Tickle will be racing the Eastern Regional SX Series

It's pretty scary hitting a set of whoops wide open, isn't it?
Definitely! But the ones at Toronto weren't that big. They were sketchy just because they had holes in them—you just had to pick a good line through them every lap.
Since this was your first professional supercross, what did you think of the triples?
Oh, they're not that bad. On Friday they were rutted up and that was sketchy, but during the race they were pretty good. You just had to hit them pretty much wide open.
Looking back, you turned professional after Loretta Lynn's this past year, and you rode the last few nationals, correct?
Yes.
What was your best finish in those few races?
I got two elevenths—at Steel City I got eleventh in one moto, and at Millville I got an eleventh in one moto.
When were you approached to ride for the Star Racing Yamaha team?
After Steel City, and it was a few weeks after Glen Helen when I signed with them. I went out there and tested first. We went to the Yamaha test track and Castillo Ranch, and then they sent me a bike.
How has the switch from red to blue been?
It's definitely different, because I've been on Hondas since I was 12. But I wanted to go pro, and that was the only thing on the table, and it was a good deal, so we took it.
So are you pretty happy with the bikes so far?
Yeah, everything is good. Next year we're going to have all factory suspension. Our team owner bought some 50mm stuff for our races bikes, and that's what Hill and Hepler are running, so you can't get much better than that. And compared to my amateur bikes, the engine is a lot faster.
How was your fitness?
Oh, it was good. When I first started riding supercross I was having some issues—like I wasn't breathing and stuff. But I've been doing cardio a lot, and I feel good.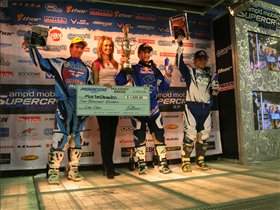 Tickle joined Martin Davalos and Zack Osborne on the Toronto 250F podium

Are you off to Vancouver this weekend?
No, I'm leaving Sunday to go back out to California and test.
Do you know which coast you'll be riding in the AMA SX series?
East Coast.
What are your goals for this season, Broc?
Definitely top ten, but I want to score some top-fives. But this is my first year, so anything in the top ten, I'll be happy with.
Broc Tickle's sponsors:


Star Racing