Welcome to the Shift Number Cruncher! This week's number rocks—literally. Having grown up living and racing in the '80s, I have a strong attachment to its lore. Ah the '80s… Ronald Reagan, the 49ers, and Diamond Dave, as in David Lee Roth, who fronted the band Van Halen in a decade of decadence. One of their lasting pieces was the album appropriately titled 1984. Might as well jump!
While on the subject of music, '84 was also the birthday of Canadian rocker, Avril Lavigne. And heck, while on the subject of Canada, Michael Willard, the 2005 Canadian MX2 East champion, earned AMA National Number 84 for 2007 in just a couple of motos—he spent most of his summer trying to defend his MX2 East Region MX Championship.
'84 was an amazing year. The first motorcycle I ever shifted gears on was a 1984 KX60. '84 was the last year the KX60 came with an air-cooled powerplant. It was also an astonishing year in the professional ranks. Imagine the reality of SIX different winners, as there were in the 1984 Supercross Series! Please enjoy the best of what we could dig up of number 84.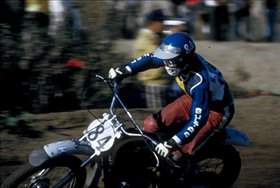 Bryar Holcomb early in the '74 season.
photo: Steve French
While digging through the Racer X Archives, I keep coming about a very well-dressed Bultaco and Maico rider who wore #84 throughout the 1974 season. I'm talking red, white and blue jerseys and sometimes red or lime-green MX leather pants! Turns out that's
Bryar Holcomb
, who has a very unique claim to motocross fame: He won the 500cc class at the 1972 Superbowl of Motocross—the first supercross race! A real Swiss Army knife in motocross, Bryar also invented the Mark Charles Works Bike Stand, and he's the spent the last several years running Factory Effex.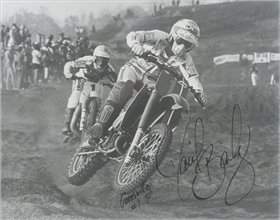 David Bailey and Broc Glover both wearing #1 in 1984
photo: Paul Buckley
Check out this incredible and rare shot of two #1 riders in the same AMA Motocross National—it's
David Bailey
and
Broc Glover
! Let me explain: Bailey won the '83 AMA Supercross and AMA 250cc MX title, plus what was called the "Wrangler Grand National Championship." However, he did not win the 500cc MX Nationals in '83—his main rival Glover did—so he did not get the #1 plate there for '84.
However, the Wrangler sponsorship said that whoever was the GNC #1 would wear their blue plate with yellow #1, all year long, regardless of his class. And when Honda moved David to the 500cc class so Ron Lechien could ride the 250 class, BOTH Bailey and Glover wore #1 on the same starting gate! This picture, by the way, hangs above DC's desk. It was taken by the incomparable Paul Buckley, who had David sign it, and then he gave it to DC for a wedding present—DC likes his MX history for sure!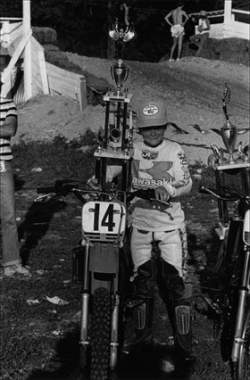 A young Junior Jackson at Loretta Lynn's

photo: Racer X Archives

Junior Jackson was AMA Pro National Number 84 in 1989. At one time Junior was on his way to motocross stardom. After an amateur career that boasted four Loretta Lynn's championships, Junior had trouble making the long jump to the pro ranks. He is widely regarded as one of the fastest racers to ever emerge from the Midwest and some of his rides at places like Byron are stuff of legend. What happened? His broke his wrist on amateur day at High Point one year and was never the same.
Today Junior has turned his attention to his private modification business and his duties as team manager for his factory Suzuki backed Junior Jackson Racing team. Junior was the mechanic/trainer for the 2006 National Arenacross Champion Chad Johnson and the dynamic duo are currently in the running for a successful title defense in 2007.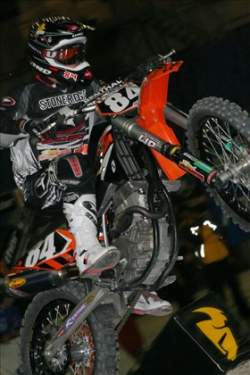 photo: Matt Ware
Ohio's
Michael Willard
has been contesting the Canadian National MX Series for the past two seasons. As mentioned above, he has been very successful in Canada, winning the 2005 MX2 East championship over
Kyle Chisholm
and following that up with a few MX1 podiums in 2006, along with the East/West Walton TransCan shootout Championship. Keep an eye on this rising star this weekend at Vancouver.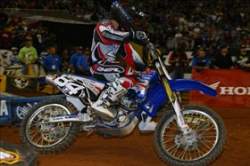 Tyson Hadsell in 2005
photo: Steve Bruhn
After a successful amateur as a member of Tim Buffalo's BSY Yamaha team,
Tyson Hadsell
has been scratching and clawing among the faster privateer racers in the country for the past four years, twice earning AMA #84, back to back for the 2004 and 2005 seasons.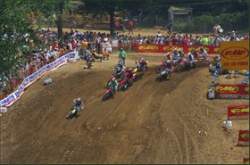 Barry Carsten pulled a huge holeshot at Budds Creek last year!

photo: Steve Bruhn

Barry Carsten is the man. As the oldest rider on the professional tour, he has seen hotshot rookies come and go. Meanwhile, Barry has kept his nose to the grindstone and earned a national number year after year. Barry shows up just about everywhere, from arenacrosses, to outdoor nationals, to major amateur racers like the one he visited over Thanksgiving where he took home a Vet class title over Kevin Walker. Although, his holeshot in moto two at Budd's Creek during the 2006 Toyota AMA Motocross Nationals has to be his most cherished recent memory.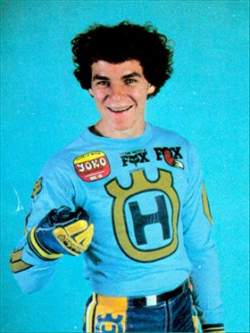 Mike Guerra
Check out the man in the baby-blue Fox jersey. That's
Mike Guerra
—not the one who's been with Yamaha for a long time, but rather than the former Team Husqvarna factory rider who actually did really well in the 250cc World Championships as a Grand Prix pioneer. Mike was also one of the main guys involved in the early Cannondale motorcycle project…. Did we mention he won a Grand Prix? He wore the #84 in 1980.
Two of my childhood nemeses would eventually go on to earn #84 in AMA Pro competition. 1999 AMA Pro number 84 was "Bad" Brad Woolsey. He and I traded paint on the track from the 60cc class all the way into our brief careers in the Mike Kidd Arenacross series. Always a great guy, Brad went on to become a Team Green regional manager and has been named as a member of AMA Congress for the Texas region.
Brian Stone, younger brother of Doug Stone, was a super smooth and super nice guy from Kansas City that would run the eight-four in several rounds of the 2001 Supercross series. Brian recently became a homeowner and a husband and now sells real estate in the greater Kansas City area.
One of the coolest aspects of 1984 has to be its association with
George Orwell
's novel of the same name. Written in 1948, the book is about what the author imagined society to be like in 1984. When the year arrived an alarming amount of similarities had come to fruition, especially its haunting theme of, "Big Brother is Watching." Filming for the movie appropriately began in - 1984.
1984 also marked the year California Governor "Ah-Nald" Schwarzenegger and
Terminator
hit the big screens.
Also, check out these Loretta Lynn's statistics form 1984:
- Jimmy Button winning the 85cc 7-11 title over Damon Bradshaw.
- Jeff Dement won the 51cc 4-8 title
- Shaun Kalos won the 85c 12-13 and the 125 schoolboy classes
- Bader Manneh won the 125 A Stock class
- Trampas Parker won the 125 B Modifed class
- Willie Surratt was the 250 B stock champion
- Eddie Warren won the 125 A Modified division
In closing, if you have anything to add on these guys or have some more number 84s that you know of, be sure to email me at andy@mxsports.com and we will try to throw your contribution into the Number Cruncher Redux.