Between the Motos: John Gallagher
John Gallagher is the FIM's Race Director of the Amp'd Mobile World Supercross GP. As you probably heard, he had a busy weekend in Toronto—and the one coming up this weekend will likely be a busy one too. We corralled him this afternoon to find out what's going on with the series, the protests, the decisions, and what we can expect in the next couple of days.
Racer X: As far as the Canadian rounds go John, one down, one to go. And for excitement and for crowd enthusiasm, Toronto was a winner. The races up there have come a long way since the first one when RC was up there riding around by himself.
John Gallagher: Oh, I agree. I think we're going to see a whole different season this year, considering that we have quite an interest from all of the factory teams. It was disappointing not to see Kevin Windham there, but I think we're going to have quite a series for both the AMA and World SX Championships.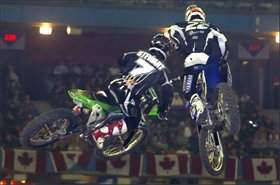 Are we in for close racing like this all season long?

photo: Steve Bruhn

We had yet another battle of the "big three" in Toronto, but it all kind of changes because Ricky is just a part-timer here, isn't he?
From my understanding, yes, he has a limited contract and is riding only a selected number of races, and it looks like we're not going to see him at all the rounds.
Well, for a part-time guy, he looked pretty impressive. If not for that one little hiccup when he hit that Tuff Block, there might've been three guys in the air at once on the dramatic lap towards the end.
Ricky's drive this year is difficult for me to understand, because in all of the time I've seen RC out there, his methodical way of winning championships involves being extremely fit and being extremely consistent. That all gets thrown out the window when you're not seeking a championship. So, it's a good question to ask because I'm not too sure what to expect from Ricky because he has horizons that are much greater than either this championship or even supercross or motocross, for that matter. And I'm sure that every time he makes a decision on the racetrack, it involves those horizons.
The defending WSXGP champion is James Stewart, and while the race did not end the way he wanted to, I thought he looked faster than he was up there last year.
I agree. It's amazing the speed that kid has, and I look forward to seeing him racing at future rounds. I hope he's okay to race at Vancouver. Even though this press release is saying he'll definitely be in Vancouver, I don't think that's completely set in stone yet.
Before we get to Stewart, let's talk about the third guy, and that was the winner. We saw the old Chad Reed, didn't we? He showed up ready to play.
Chad was on fire on Saturday night, and I think that the chemistry between he and Larry Brooks, and the way that they've designed their new team is going to be very beneficial to Chad. He needs to play on his own terms, and it's apparent that the chemistry is working out quite well so far.
Last year we had a three-way battle all the way to the end, and this year with RC stepping out, if something happens to James or Chad, for both series' we might be in for some real dominance by the last man standing. Does that worry you?
There are still a lot of guys who can jump right in. Look who got the holeshot in the main event – Nick Wey is an extremely fast rider and he certainly has the ability to win championships. I think due to his loyalty he's still with the team that he's been with because it works with him, but on the same token I think he would be somebody to be reckoned with on a factory race bike. But if what you said happened, there are a handful of guys who both have the ability to jump right in.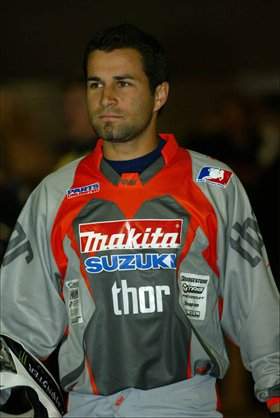 Ivan Tedesco filed a protest against James Stewart for their practice incident which left IT with a broken hand

photo: Steve Bruhn

And to be fair, we didn't get to see Tedesco because of his collision with Stewart in practice.
I don't think the amount of points he lost by not racing in Toronto or Vancouver is necessarily going to be an issue if that scenario you mentioned played out.
Attendance was always kind of mandatory for the FIM rounds in Canada to count in the series, and Ivan went there to race. And maybe this is a scenario that nobody really though about it, but will he be considered an FIM World SX contender when he returns?
Yes. It was mentioned in the rider's meeting regarding the rule where you have to race both rounds to be part of the series. However, it has already taken place in years past with regard to the Canadian rounds that in the event that a rider enters and has full interest in racing, and for some reason or another becomes injured, that is an excusable absence. With regard to the rule, last year we had that happen with Ted Campbell: Ted has raced every single World Round, even back in Seville and Arnhem, and he broke his leg or ankle just before we came into Canada last year. So not only did I not need a doctor's excuse, his bikes were even there, so it was pretty apparent that he wanted to be there. So that's not an issue with the FIM. We had several riders that entered and then didn't show up in Toronto, and there's no discussion about why they didn't show up. But anybody that showed up and was ready to race and the couldn't like Ivan, that's not a problem.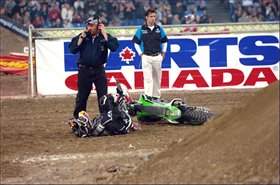 John Gallagher was the first person on the scene after the race

photo: Carl Stone

Speaking of Ivan, explain to me how a protest works? I understand that you received a couple protests, and they didn't come from teams—as FIM rules say, they came from the riders.
The protests that I got involved with on Saturday came hand-written from the rider's involved. In Ivan's case, it was not the hand that he writes with that he injured, so it appears that he actually wrote it himself, and I actually saw Travis Preston writing his own protest. The rider has to write out what it is that they're protesting, and both riders came to me and asked what "what do I have to write?" Three things should be included: What do you think happened? How do you feel about it? And lastly, what would you suggest that should be done about it? Both riders did that, and they have to accompany the protestiwth a $800 protest filing fee. They present it to me, and then we go from there.
Now, in the MX1, MX2, and MX3 (World Championship MX) classes, there is a jury that will accept these protests and deliberate upon them and then make a decision. In the supercross series, part of the contract between Live Nation and Dorna is that there wouldn't be a jury present—it would be more similar to the way the AMA handles protests. The appeals process would be a way to go further into a protest, but a decision would be made by the race director, which would be me. So, I didn't want to make a decision the night of Toronto because for one, both protests were very complex and I wanted to see various angles and video, if possible. I wanted to hear responses from live witnesses, and I wanted to seek guidance from the people I work for at the FIM to determine the best course of action. I've done that already and it's only Wednesday and the decision has already been made, so we just have to alert the parties that are involved.
So you can't tell us here? I mean, those guys all read Racer X Online so they could find out right here…
[Laughs] No, it doesn't work that way.
Okay, was there any talk of reprimanding Travis Preston for approaching James Stewart, even though he only talked to him after the race? Some people were under the impression that he grabbed him and shook him—which he obviously did not--but was his conduct a violation in any way?
Travis was very lucky at the timing of the whole thing. If you look at the photography from that event, the moment before that and after that has another body in every single frame. From the shoes up to the waist is my shoes and waist, and I saw every single thing that happened. I didn't know that he was going to do what he did, but I saw it as it happened, and I pulled Travis away from James, not knowing what his intentions were, and not knowing the injuries James had.
On the internet people talked about "What if the injuires were more extensive and it involved the torso?" Come on, that's silly. This is a guy that got back on his bike and raced three more laps with Ricky Carmichael, and then came back and laid on the ground grabbing his ankle, so I don't think the neck and back injuries were an issue here. Travis knew that and I knew that. Secondly, there was no violence in Travis, whatsoever. And I made that clear to the Kawasaki truck, because I was worried that it would become an issue, but it wasn't even an issue in the truck. They said they knew that he was not intending on hitting him or being aggressive—it was words and that was it. They even commended Travis for his restraint, so no, it wasn't a problem.
Good. Looking ahead to this weekend, will you be keeping a closer eye on everyone? Even though we have 16 more rounds of this series to go, tempers are already pretty high!
It's amazing that were in round one and we have postulation in the first round of practice, and the type of aggressive riding that I saw in the main event in Toronto seemed as if we were already in Vegas with a two-point spread. Now, up until the Travis Preston incident, every single pass that I saw between James and Chad was textbook supercross. I did not see anything that I would ever consider making a call on. So I was very excited. There were officials on the floor that were screaming at the race that we saw up until the incident with Travis—it was very exciting. We were amazed that this was the case at round one! We're looking at a hell of a year!
I'm glad that we're along for the ride, and I wish you luck in the next 48 hours. Hopefully you'll have just as exciting of a race in Vancouver then you did in Toronto—but with everyone on two wheels at the end!
I hope so too! Thanks, Davey.