Bench Racing Ammo: Vancouver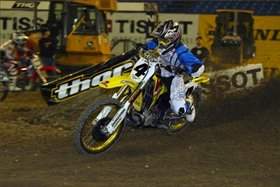 RC swept the Canadian rounds in 2005 on a Makita Suzuki RM250
In December of 2004 the World SXGP series came to North America for the first time in its brief history. The races were held in the exact same venues as they are today: The Roger Centre in Toronto, and the BC Place Stadium in Vancouver. For today's installment of Motosport Outlet Bench Racing Ammo, let's talk about the trend that we've seen the past two seasons at those two races.
The first year that
Ricky Carmichael
committed to racing the entire World Series, he started off the season in December of '04 by winning the first two rounds in Canada on his new Suzuki RM250. He then went on to win the FIM World Supercross title, which he unified with the AMA title he had taken back after giving it up by sitting out the '04 indoor tour.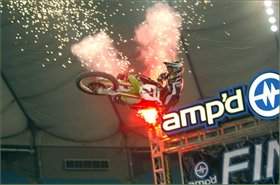 Stewart and his lucky #7 won both Canadian rounds last season
Last year, both
James Stewart
and
Chad Reed
committed to the World SX series full time, just like RC, and it was Stewart—making his debut on the new KX450F—who won both of the first two rounds in Canada, as well as the championship.
Which brings us to this season. RC and Stewart and Reed are all there, and it was L&M Yamaha's Reed who won the opening round—his first win ever in Canada.
So the question is this: Can
Chad Reed
win the first two rounds in Canada, then add the WSXGP title as well? Both of his main competitors have done just that in the past two years, so is this the year for Reed? We won't know the full answer until the series ends in Las Vegas in May, but we'll know of there's a "Reed Sweep" of Canada come Saturday night.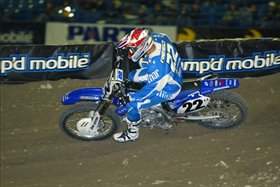 Can Reed keep his early momentum rolling in Vancouver?