Introducing a new Monday feature from Racer X Online, where we give your our take on the races: 450 words on the Amp'd Mobile AMA Supercross class, 250 words on the Lites race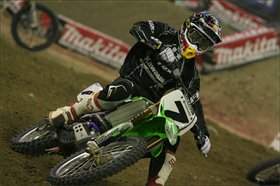 Toronto didn't exactly go as planned for Stewart
Before the 2007 season started this weekend, Team Kawasaki's
James Stewart
told us he would be approaching things a little differently. The fast but seemingly unlucky Stewart has had some well-illustrated crashes over the last two years that have kept him from realizing his big-bike title aspirations. Now, he said, he wouldn't be too upset if he lost races, and he wanted to stay in the points until Daytona and then see where he was—a strategy that has served his rival
Ricky Carmichael
well time and again.
Unfortunately, James got off to a rocky start in Toronto's Rogers Centre over the weekend. It started with a practice collision that left Makita Suzuki's
Ivan Tedesco
with a possible broken hand; carried over into the main event, where he had a few aggressive passes with eventual race winner
Chad Reed
; and then spiraled out of control at the end when he jumped off the track after brushing wheels with Reed, then came back on the track directly in from of SoBe/Samsung Honda's
Travis Preston
. Stewart took the entire blow with his right ankle, and Preston was knocked out of the race.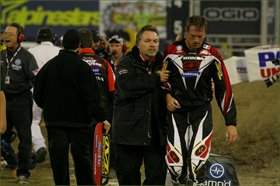 J.C. Waterhouse accompanies a distraught Preston after the main event
To his credit, James somehow got up and rode out the race to salvage third-place points, then dropped to the stadium floor upon crossing the finish line, writhing in obvious pain. An understandably angry Preston came over to let Stewart know that he wasn't happy, which nearly triggered a group scuffle. The night ended with Stewart in the hospital getting X-rays and the entire industry scratching their heads in disbelief over all of this activity. And this is only the first race?
How did it all go so wrong so quickly? Good question. But I believe the problem for James is the same problem Ricky had back in 1999: he's just trying too hard to be too fast. His aggressive passes on Reed were answered, which made for great racing and had the crowd on its feet cheering wildly as the two battled for the right to take over Ricky's role as the sport's top star. The contact that sent him off the track came from behind him—it was Reed who touched his back wheel—and his hurry to get back in there caused the ugly crash with Preston. The guy just wants to win in the worst way, and his lack of patience continues to haunt him.
Beyond that, we saw that L&M Yamaha's
Chad Reed
—sponsored by the San Manuel Band of Mission Indians—is back to where he was '05, and that Ricky "Bobby" Carmichael hasn't lost a beat. If not for that Tuff Block.…